The Style of Babylon
Setting foot on the dance floor of The Gardens of Babylon is like stepping into a warm bath of love, openness, creativity, and self-expression. The colorful and inventive outfits of our dancing community definitely contribute to the magical atmosphere of each event. Expect a cacophony of colors, prints, and textures with splashes of (bio-degradable) glitter, sequins, shiny metallics, feathers, and LED lights. How else can the style of Babylon be described best?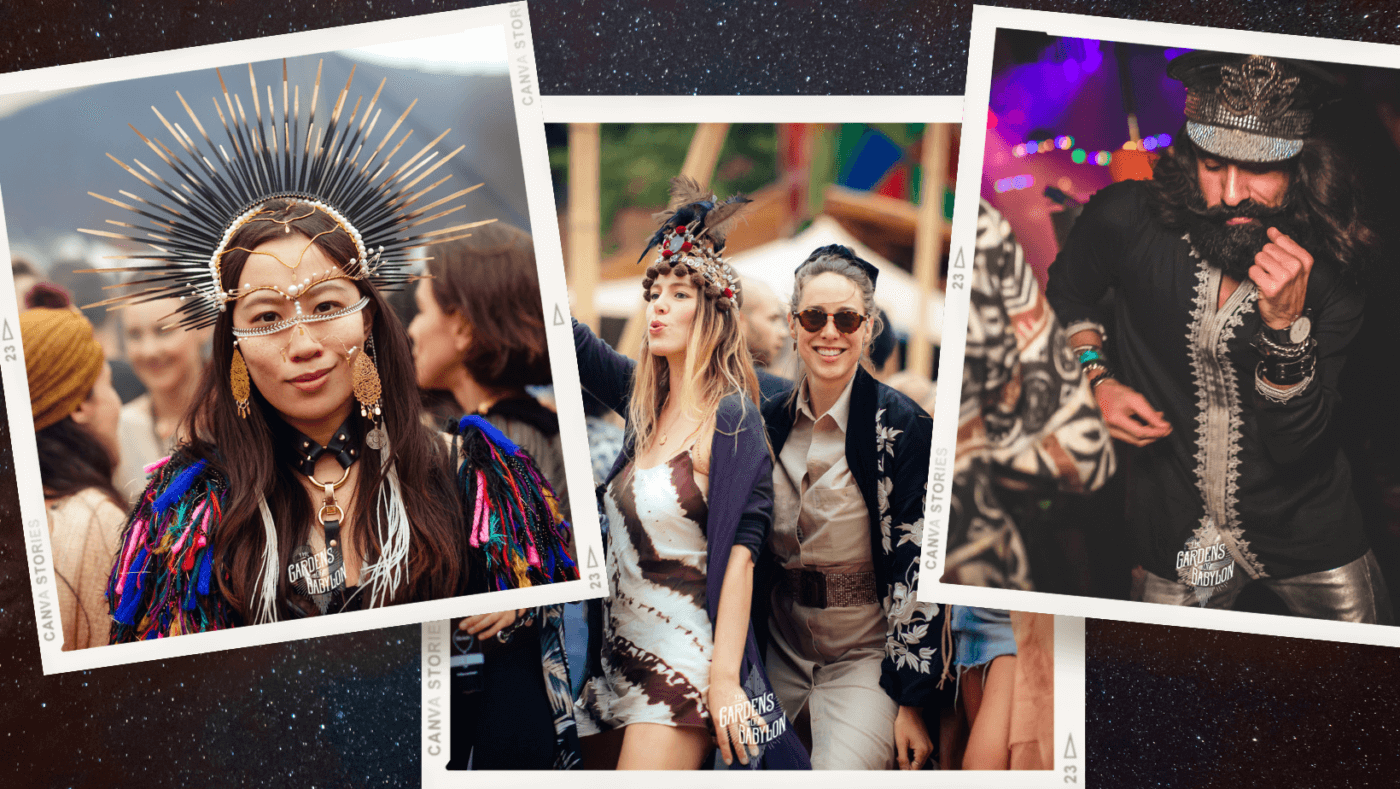 Dress to express
Here, we invite you to be as ornate and flamboyant as you want. The most important thing is to dress true to who you are. It's not about flashy brands, it's about expressing yourself. As we say, it's not necessarily dress to impress, but all the more: dress to express! For some, this means wearing a sequined bodysuit, a fringed boho outfit, or dusting off their Burning Man outfits. Others might feel more comfortable in a more casual ensemble, with just a hint of glitter. Be comfortable, and be you!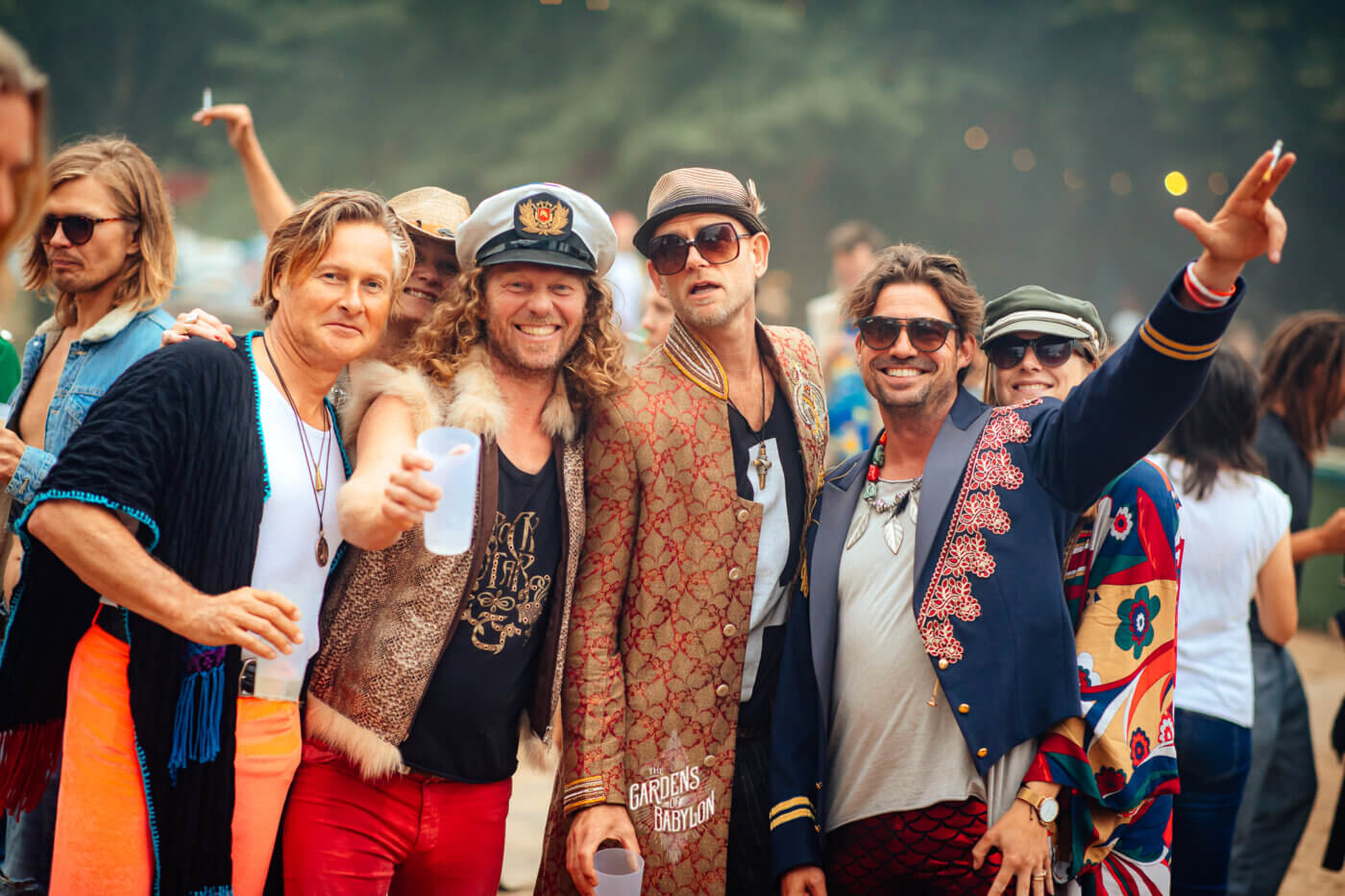 Traditional elements
You will see that gleaming caftans/kimono's, metallic leggings, and feathered headpieces are true staple items amongst our crowd, and we celebrate all fashion styles and (sub)cultures. Yet, we ask you to please be mindful when incorporating traditional elements into your outfit. Wearing ethnic items is fine in most cases and a form of cultural appreciation. But wearing a feathered headdress that's too similar to the Native American tradition, is an example of cultural appropriation.
Cultural appropriation
We understand this can be confusing, and that it's a challenge for many to see where the fine line lies. Take the following as a rule of thumb: is this an item/style/symbol that people of an ethnic/cultural group would wear leisurely in everyday life? Or is it an item/style/symbol that has a very significant cultural or religious status? The latter is definitely not ok.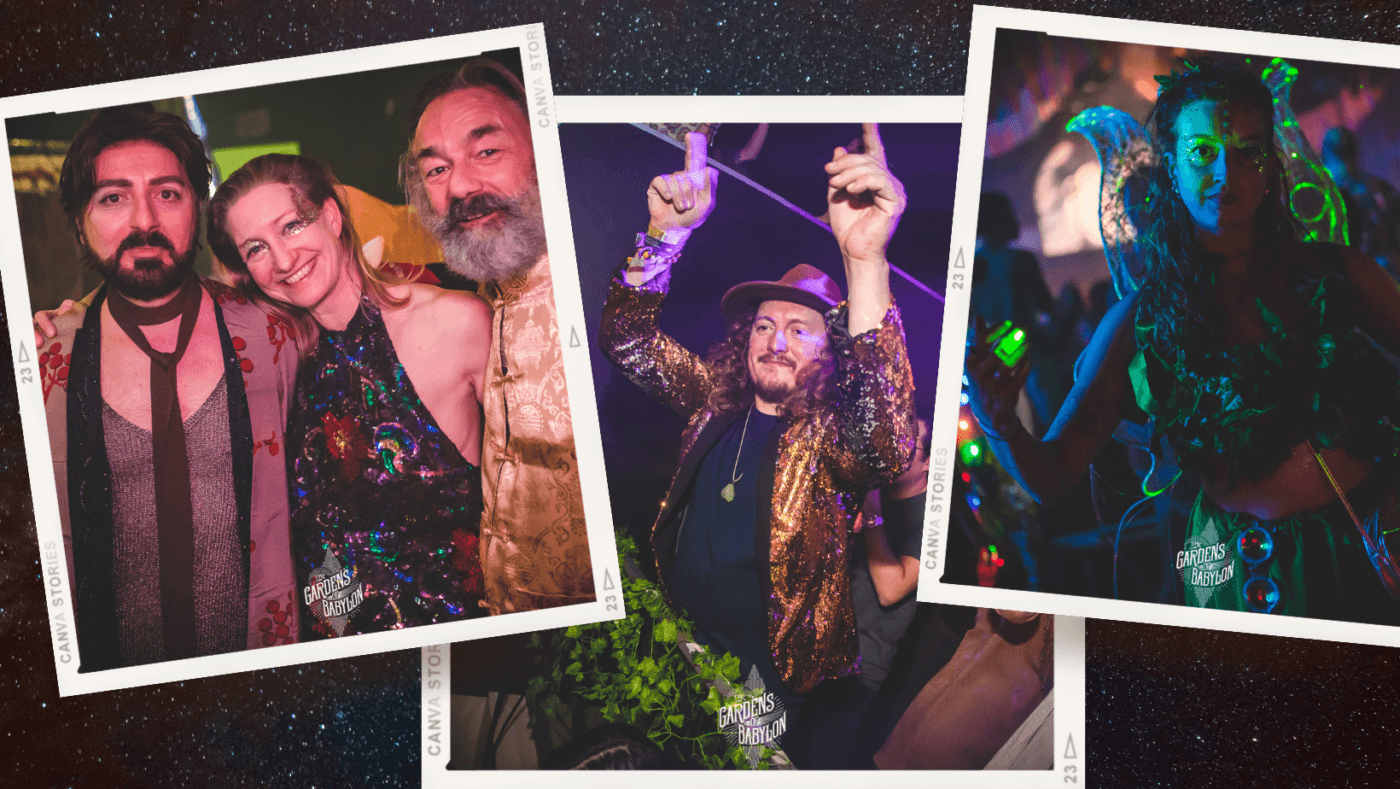 Become part of the ambiance
Fashion is all about playfulness and becoming part of the ambiance. For this reason, you will see many of our dancing family members wearing LED lights around their bodies, or incorporating them into their outfits. Together we sparkle into the night.
At each of our events, visiting the Market of Curiosities is a must. Here you will meet local vendors of gorgeous handmade garments and one-of-a-kind vintage pieces. It's the perfect place to add some extra flair to your outfit with an embellished hat, clothing item, or accessory. Moreover, our glitter girls will be present to add a little sparkle to your cheeks. Make sure to bring cash with you, as not all vendors are able to accept card payments.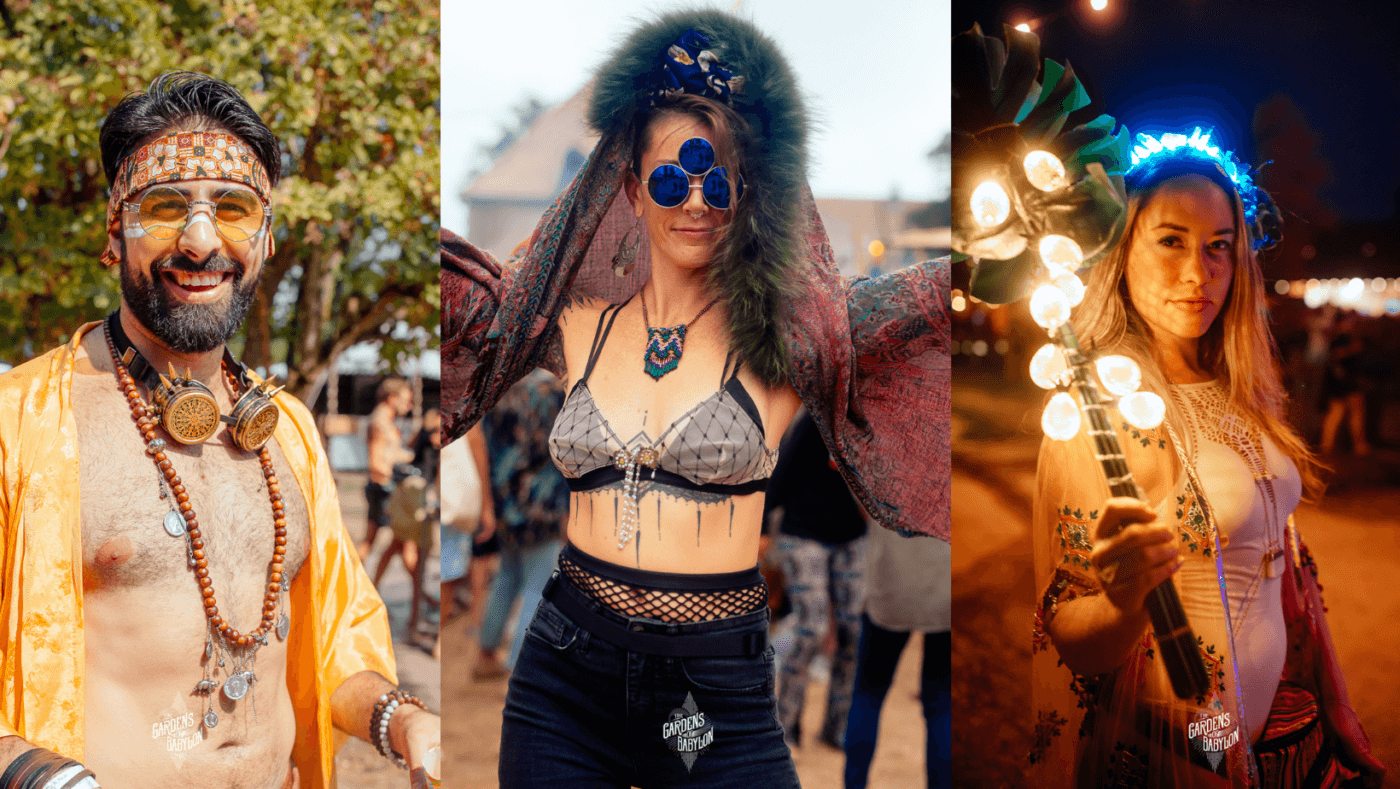 Where to buy outfits in the style of Babylon?
Of course, we know most of you want to have your complete ensemble ready before the next event! Fortunately, with some help from the family, we have a lot of recommendations for where to find cool clothing.
First of all, check out the profiles of our regular vendors at the Market of Curiosities. Most of them have their own shop/atelier/showroom/webshop besides the selection they bring to the markets. If you're able to drop by or make an appointment with them before the event, you'll be able to get your hands on some of the most unique stuff first:
House of Laloba
Cirque du Vente
Leona Design
Aye-aye Caps
Levantine House
Nonsens Clothing
Furthermore, find some other tips and recommendations from our community below.
Shops you can visit
Occasionally, you will be able to find something special at the well-known chain stores on the busiest shopping streets of Amsterdam such as the Nieuwendijk and the Kalverstraat. But if you want to be sure of finding something that reflects the style of Babylon, the shops below have more to offer.
Vijzel Vintage
Vijzelstraat 83, Amsterdam
Owner Iwrom welcomes you into his funky vintage shop Vijzel Vintage, where you can find the best second-hand trinkets and treasures. Go for it, and try on those groovy bell-bottomed trousers, or flowy retro dress. Most of the stuff here is 60's and 70's style. You will also find some beaded cocktail dresses, embroidered gilets, and dashing jackets.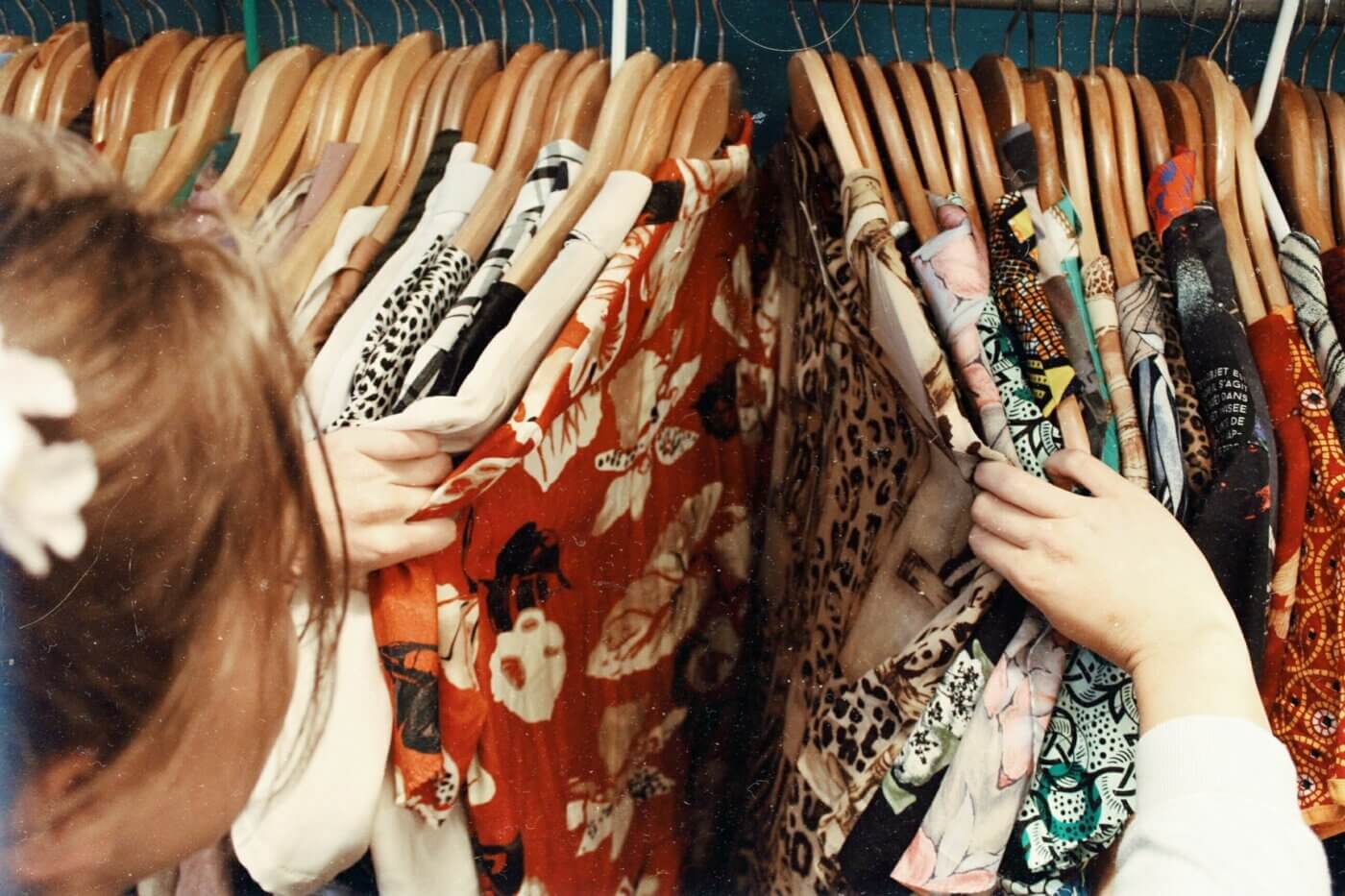 The Swapshop
Haarlemmerdijk 89, Amsterdam
St. Agathastraat 54, Rotterdam
This is a very unique concept! As the name suggests, you can swap clothing at The Swapshop. Bring in clothes that you no longer wear, receive points for them, and swap them around for other cool items. You will only have to pay an extremely low service fee. They have everything, from casual wear to festival gear and party outfits.
Diabolo
Nieuwe Hoogstraat 22, Amsterdam
Alternative clothing from every subculture imaginable can be found at Diabolo. Online, you will mostly find examples of their gothic, punk, and fetish wear. However, entering the shop, you will find a much more varied collection. Sparkling catsuits, embellished bustiers, and military jackets for example. They also have a magnificent range of corsets and a truckload of accessories.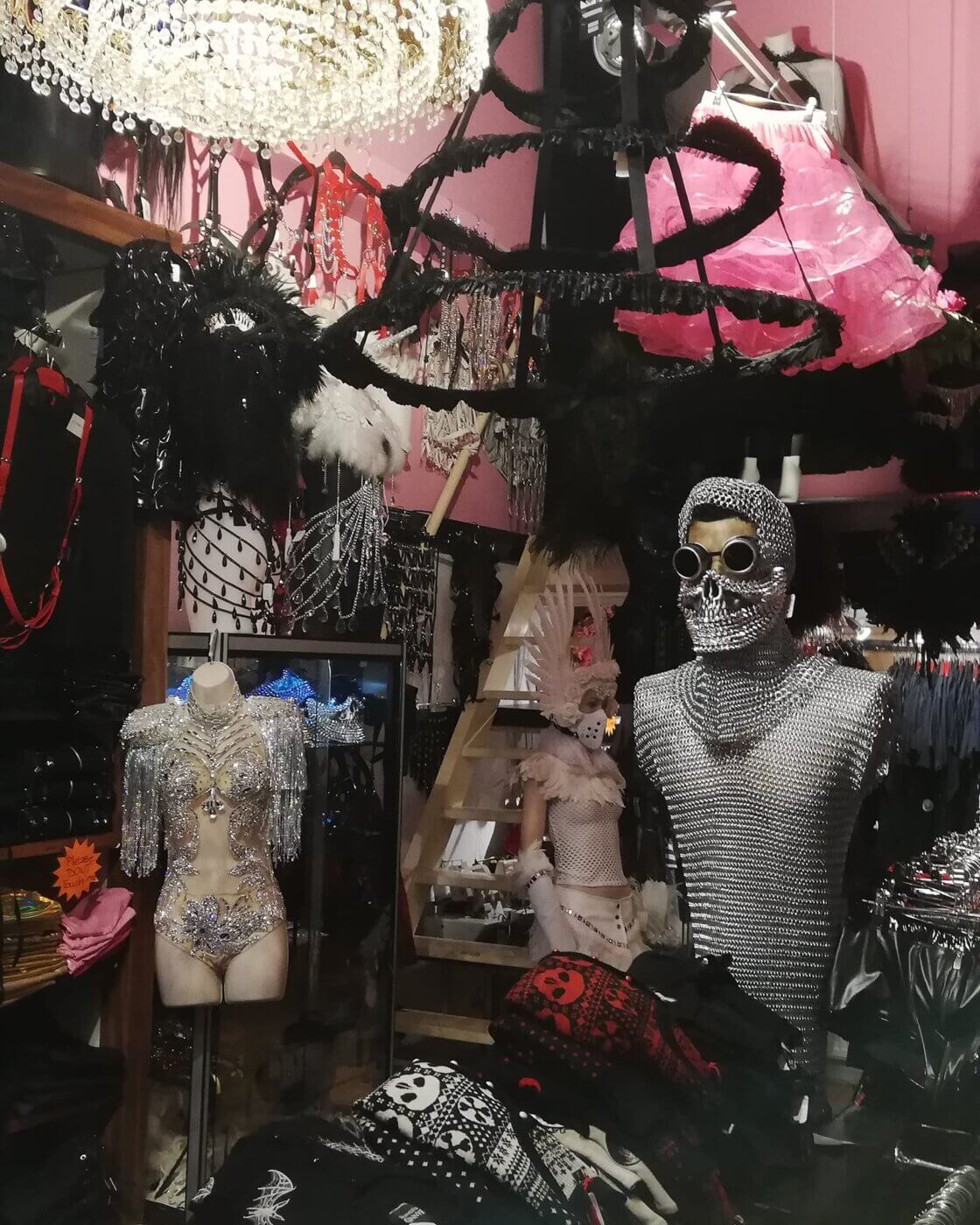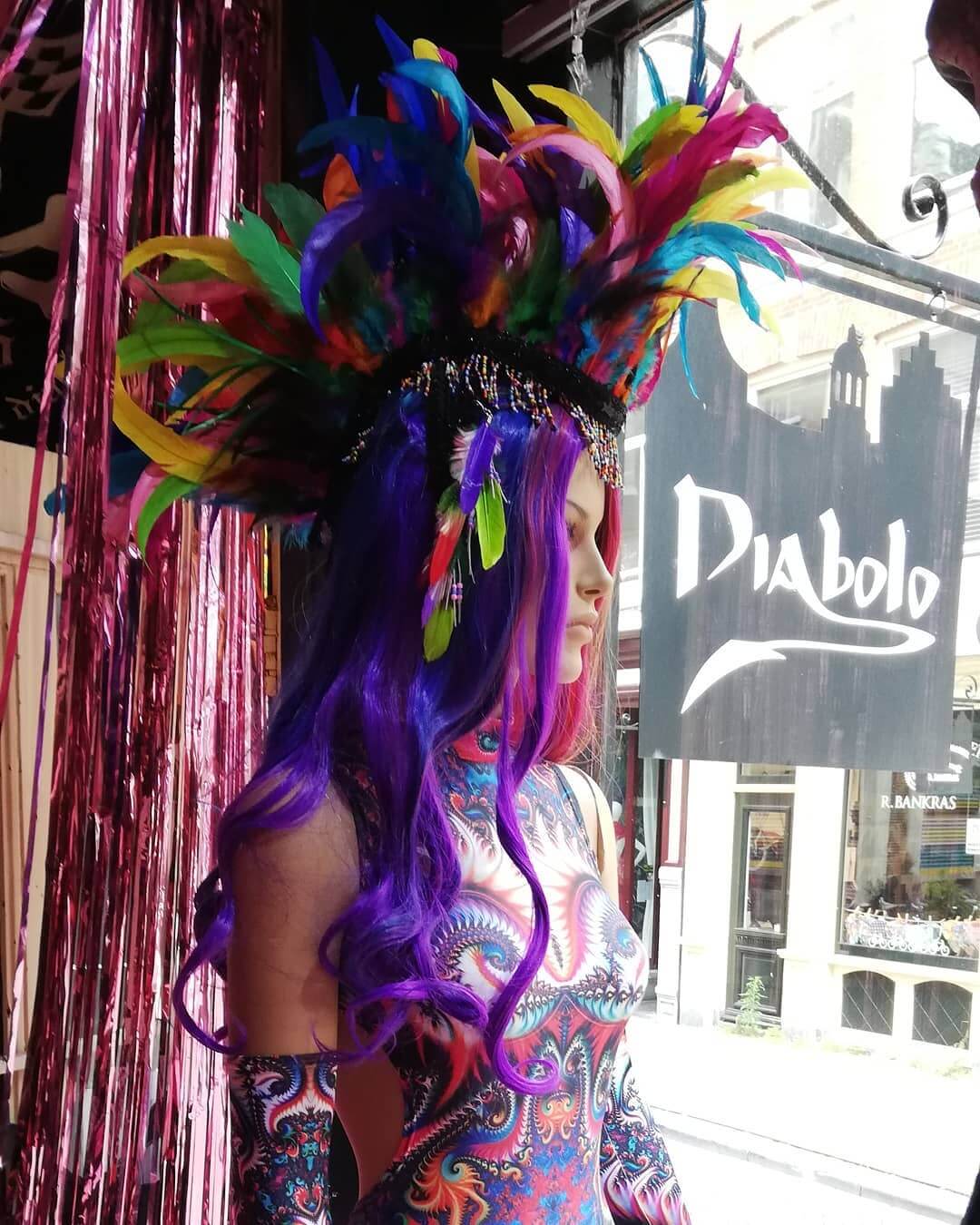 Studio Sabine Staartjes
Postjesweg 40H, Amsterdam
Sabine is a young Amsterdam designer who wants to bring more color to the world through her label Studio Sabine Staartjes. She works with bright (often neon) colors, and fun materials such as pluche, faux-fur, and spandex, which is super comfortable for dancing. Be sure to check out her flashy kimono's, bodysuits, and leggings. Don't skip the accessories department either, she often uses unusual artifacts for these such as little barbie shoes, etc.
The Nine Streets
Find addresses on the website
On the nine streets, you will find an eclectic mix of cool shops and coffee/lunch spots. Go for a wander around and check out the well-known vintage stores Episode, Laura Dols, or Zipper, among others. You will also stumble upon hip and upcoming labels, kitschy jewelry stores, and niche brands.
Vintage Market at Waterlooplein
Waterlooplein, Amsterdam
Those who are big fans of vintage shopping will be overjoyed to spend an afternoon browsing all the stalls at the daily Waterlooplein market. You might need to browse thoroughly to find the most unique gems, and there is a lot to see. Find everything from Indian silk to Arabic jewelry and beyond. Around the corner, you will find another Episode store and a few kilo vintage shops.
Fac Shop
Jodenbreestraat 50, Amsterdam
This very compact shop is so tucked away that you would miss it if it weren't for the garments with snazzy prints hanging in the doorway. At Fac Shop you will find a garish mix of clothing from independent labels, neon rave wear, and unconventional festival outfits. Most of it is more akin to the bright colored partywear from the '90s.
Online shops to check out
If you are planning your outfit ahead of time, there are a lot of webshops that you can order the style of Babylon clothing from. Discover some examples here below.
Dollskill
The ultimate online boutique for misfits and Miss legits; Dollskill has the most diverse range of alternative party wear. Iridescent skirts, vinyl pants, graphic co-ord sets, the options are truly endless here. Place your order ahead of time, as their warehouse is located in the USA.
Attitude Holland
Dutch webshop Attitude Holland specializes in goth and punk wear but offers a nice selection of festival/party wear too. Don't skip the beauty department while you're at it, they often have crazy contact lenses and glow in the dark make-up to add the finishing touch to your look.
Sea Dragon Studio
Macrame lovers, here it is! Sea Dragon Studio has a lovely collection of fringed festival wear by Bali, Indonesia brand Ladee Taha among the coolest holographic rave wear and sequined disco garb. Look around and don't forget the sale department.

We Koko
Opening the homepage of We Koko feels like the party has already started. This British webshop is home to some of the most interesting partywear brands that you otherwise would have had to visit separately.
Easytiger
The British partywear label EasyTiger specializes in retro styles, sequined co-ord sets, and beaded bodysuits. Only clothing for women.
L.O.M. Fashion
Louise O' Mahony founded L.O.M. Fashion as a colorful side project next to her 1950's wedding dress label. We are so glad she did because the bright colored prints and fringed silhouettes are giving us life!

EastnWestLabel
Get a super special fringed co-ord set from independent designer brand EastnWestLabel. With a matching jacket or kimono with tassels, you will shimmy-shimmy on the dance floor all night. Only clothing for women.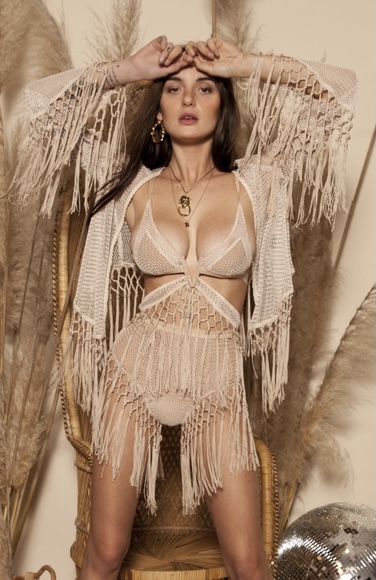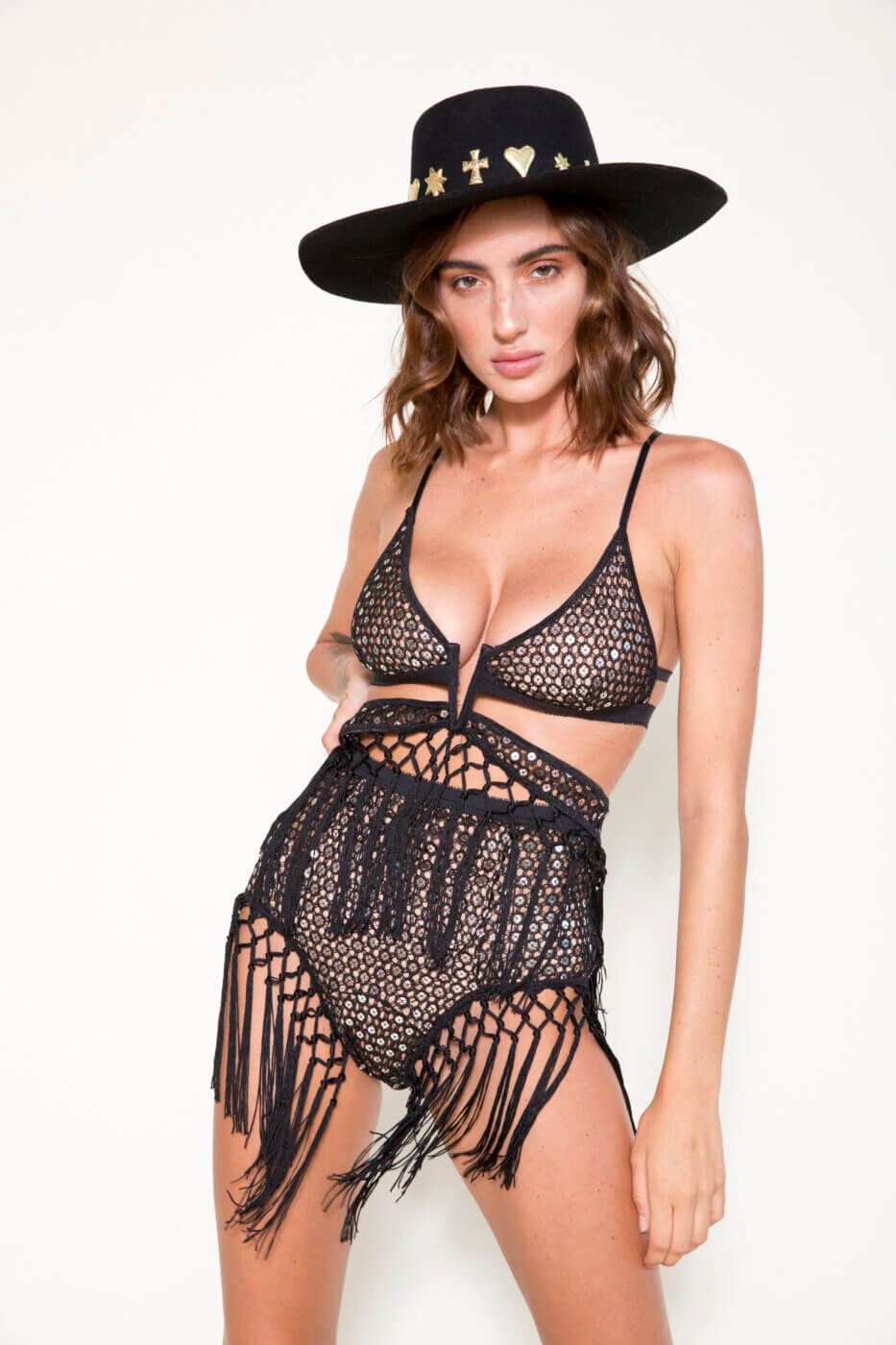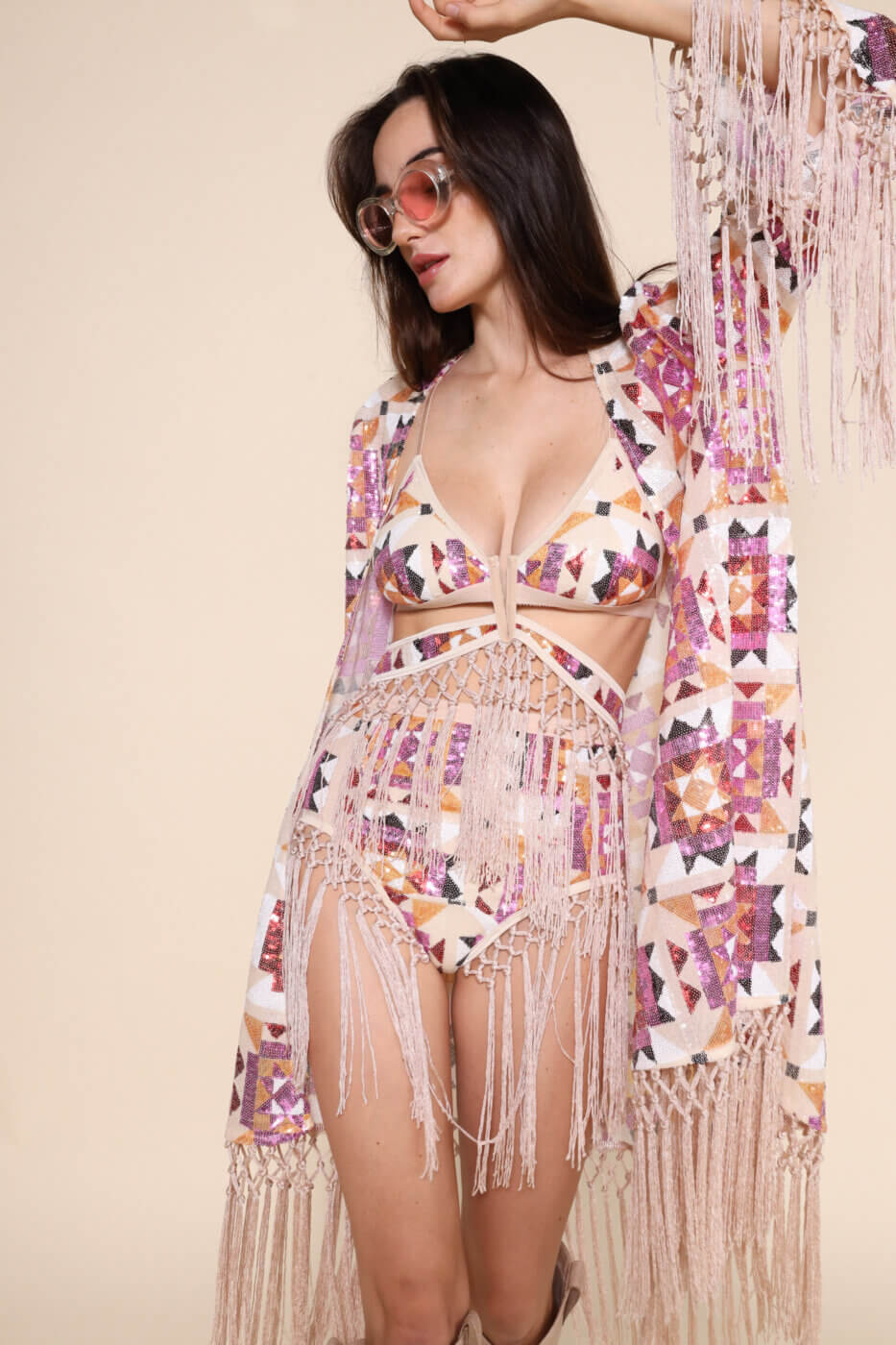 Other honorable mentions:
That's it for now angels!
If you know of more shops that embody the style of Babylon, please let us know so we can add them to this list. Send your tips and recommendations to joanna@thegardensofbabylon.com
Do you have your tickets for ADE The Seekers of Light already? Join us on the dance floor of one of our day raves on 16 and 17 October in Amsterdam! Also, be sure to check out our Amsterdam Guide and our ADE Dinner Deals to complete the experience.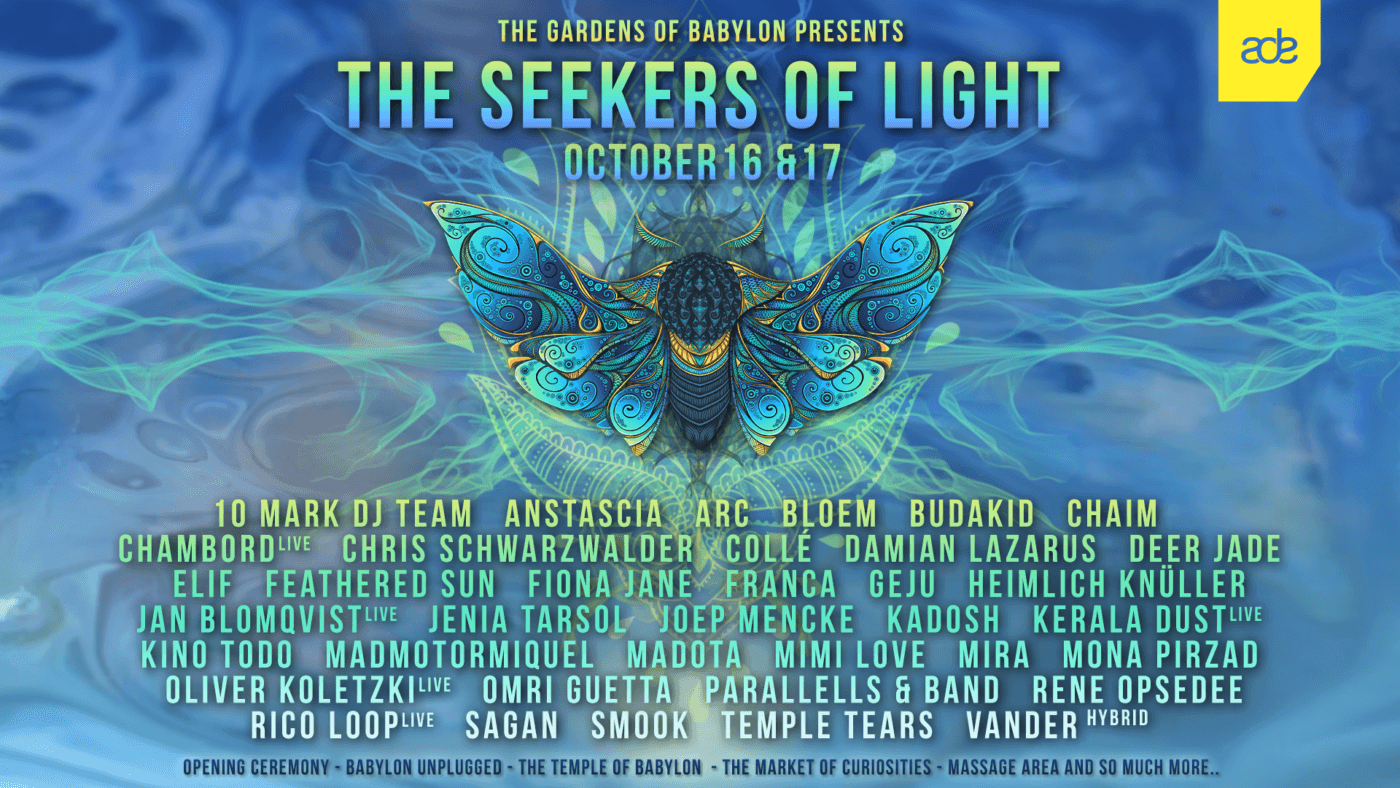 ---