There's magic in our connection...
"My soul is from elsewhere, I am sure of that, and I intend to end up there.." - Rumi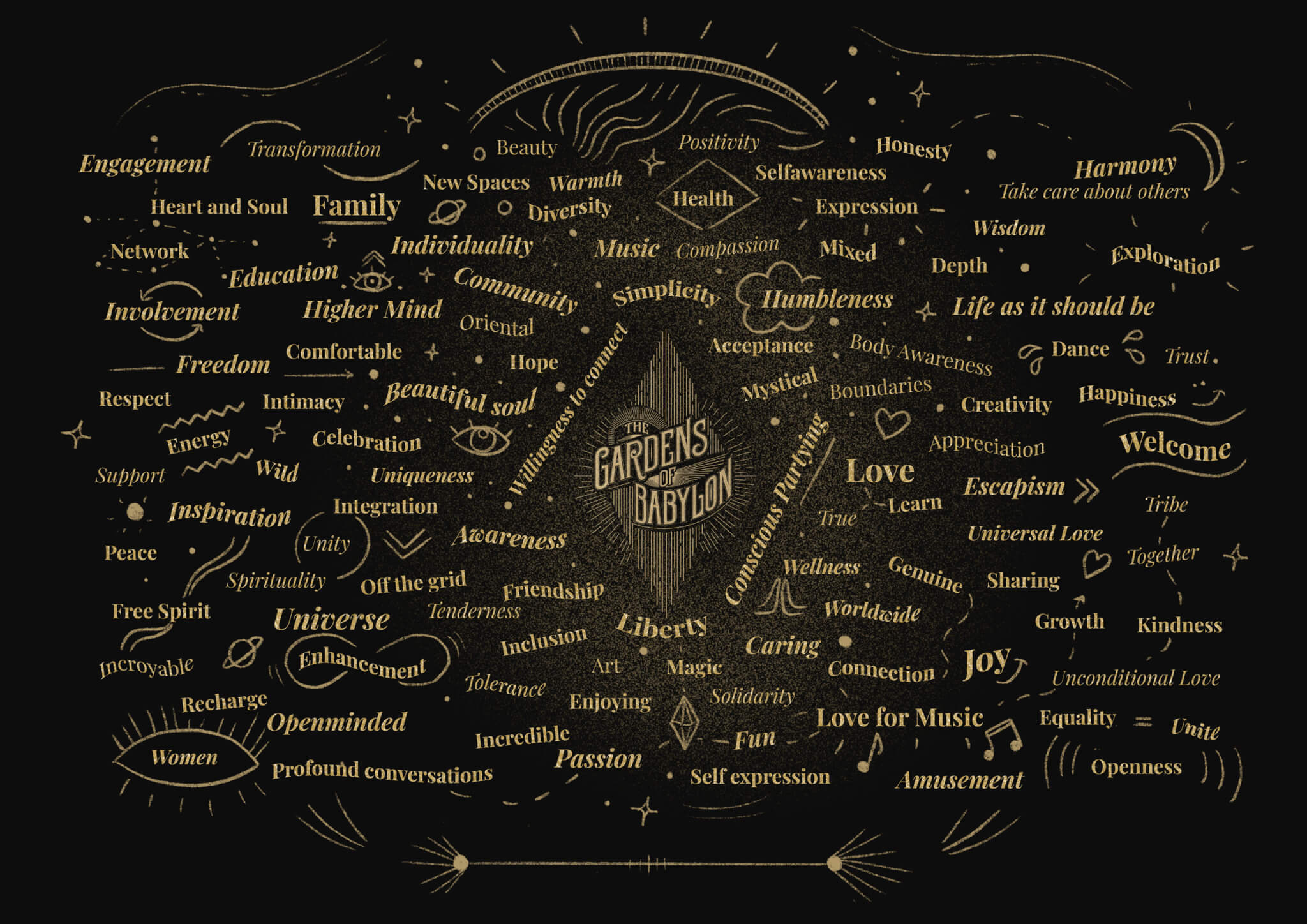 O nce upon a time, a family-based community started wandering around the world to hear the most talented artists play and invite them inside their Gardens… Affectionately called The Gardens of Babylon and with magical similarities to the Hanging Gardens of Babylon, one of the Seven Wonders of the Ancient World, one might think of a fairytale when reading the next few lines; and indeed, what these musical and spiritual event organisers are pulling together is quite often perceived as a miraculous dream come true.
Every event inside The Gardens of Babylon shares a special Opening Ceremony. A short group meditation that allows you to arrive, to set the right intention to experience the most beautiful time together, and to let go of whatever is holding you back in the outside world. This is the moment to connect with yourself and everyone around you to find each other at a mind-blowing event that combines the power of musical, visual and even spiritual dream effects…
With the blink of an eye, the spiritual opening is merging into a mythical rave night gathering some of the most renowned artists from all around the world. To name just a few, The Gardens of Babylon already had the privilege to bring Adriatique, Damian Lazarus, Lee Burridge and Oliver Koletzki as returning guests to their Gardens in over 30 international cities such as Los Angeles, Mykonos, Dubai, Bali, Istanbul and New York City. Today The Gardens of Babylon has already organised 111 events worldwide, still counting… But there's more to it. Entering The Gardens of Babylon feels like coming home. Being able to fully be yourself, being surrounded by positive, kind and like-minded people, a crowd rocking the dance floor as if there's no tomorrow… It's almost addictive.
Is it only a coincidence that so many of the most beautiful shining souls of the world found each other to enjoy life and grow together? How is this even possible? What makes the community that is The Gardens of Babylon so very special?
To begin with, you cannot only lose yourself in the most admirable music but also in a Spiritual Village or Massage Zone. The perfect places to calm down and take a moment to wander inside the deep corners of your beautiful being to refill your batteries when dancing the days and nights away.. When you wander a bit further through The Gardens of Babylon, you may find The Market of Curiosities where you can spend time carelessly and lose yourself in the most beautiful clothes, accessories, and other creations that the community has to offer to add a special dash of glamour to your beautiful being and feel absolutely comfortable in your own appearance.
The Gardens of Babylon is a space that was created for you in order to lose yourself inside and find yourself in life. From the most amazing international artists to the most inspiring personalities calling each other family, from dancing to relaxing the mind, from reading to healing… There's still so much more about The Gardens of Babylon and their worldwide events combining musical, spiritual and even visual dream effects to explore. You may talk to thousands of different people belonging to this life-changing worldwide community and you'll hear diverse stories, one more beautiful than the other.
But one thing is for sure, you'll only find out if The Gardens of Babylon is nothing but a fairy tale or indeed a dream come true if you find and explore those magical gardens yourself… Because the truth was, is and will always be inside you.