Welcome to Amsterdam
The countdown has begun. With a heavy heart, we were forced to cancel so many of our events in the Netherlands. But now, we are overjoyed to bring the magic of The Gardens of Babylon back to the dancefloors! Usually, this family reunion attracts kindred spirits from near and far. We can't wait to welcome our local and international community members back to the city of our headquarters: Amsterdam.
Some of you might know your way around town pretty well. Others might need a little help finding the best restaurants in Amsterdam, the nicest hotels, and other fun things to do. Here is an extensive list of tips and recommendations from our community. Welcome to Amsterdam!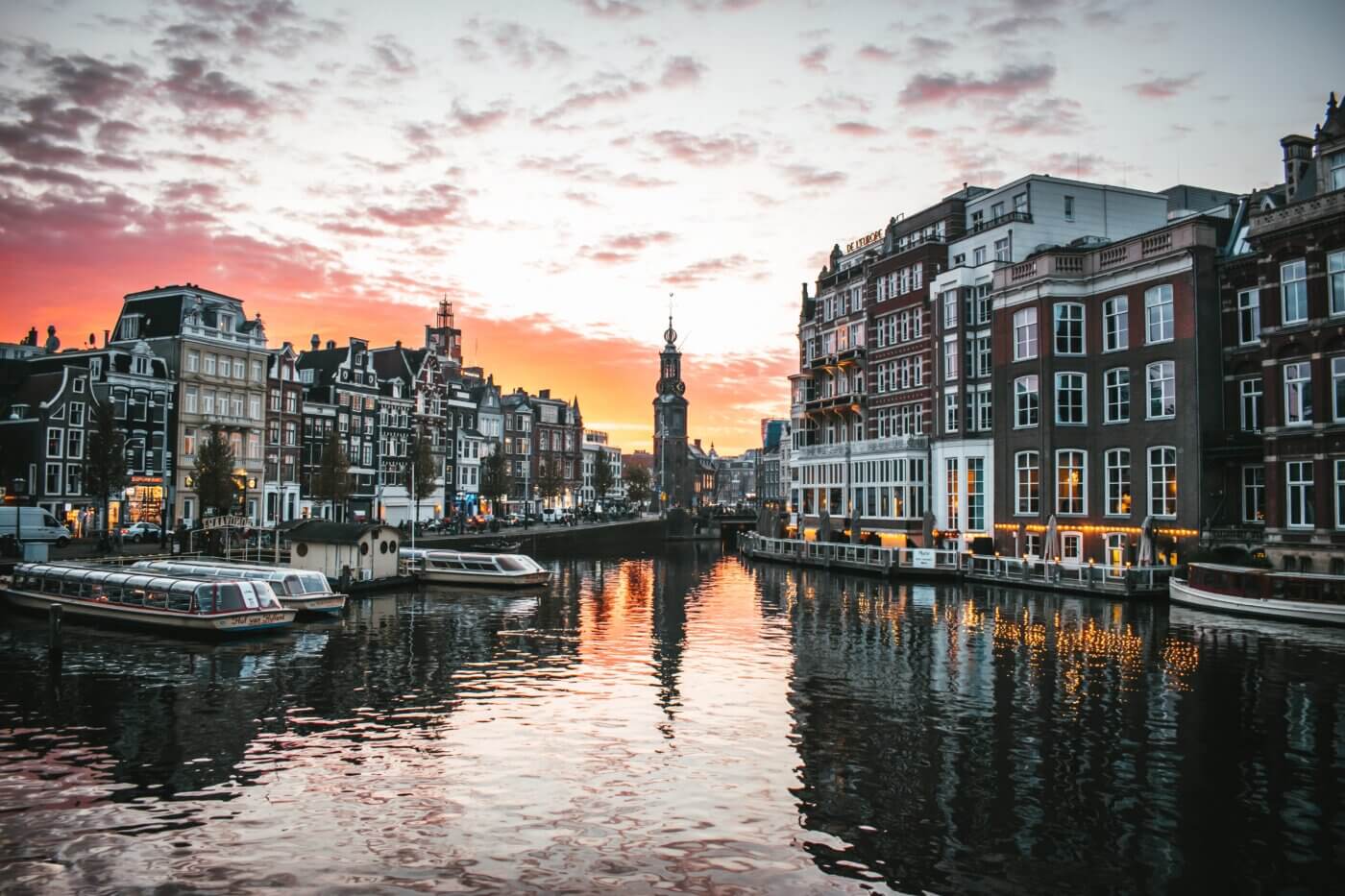 Photo by Max van den Oetelaar
About Amsterdam
Amsterdam is the capital city of The Netherlands and home to 873,000 "Amsterdammers". The city center is quite compact, so you can explore most of it on foot. This gives you the opportunity to really take in the picturesque views of the historical architecture, with the narrow facades of 16th-century buildings lining the canals.
The city center is very safe, just be aware of your belongings in crowded areas. Just like in any other capital city, pickpockets are very active here, often targeting tourists. Visiting Amsterdam in October through April means you'll typically encounter cold weather. Take a warm jacket with you, and be prepared for rain.
Something Amsterdam is known for is its multicultural population. The diverse range of different cuisines and niche shops found around the city reflects this. Before we go into further detail, we will share some practical information first.
Practical information
To get the most out of your party weekend and to keep things running smoothly, here is all the practical info you need.
Amsterdam COVID-19 restrictions
According to predictions, we still haven't seen the last of the Coronavirus. However, most restrictions have been lifted for now. You are still recommended to wear a mask at the airport, on public transportation, and in most indoor venues, but this is no longer mandatory.
Digital COVID certificate/QR Code
Make sure you have your documents in order to be able to travel into the Netherlands. All government information about this can be found in English here.
Currently, you don't need a QR code or a negative test result to gain access to events and gatherings in the Netherlands. Who knows how long it will last, but for now, we can gladly leave testenvoortoegang and the Corona Check App behind us.

Transportation
You can travel to Amsterdam by airplane, arriving at Schiphol Airport nearby. From here, you can take a train to Amsterdam Central Station, which takes an average of 14-17 minutes. Avoid the hassle of extra checks and luggage restrictions by traveling to Amsterdam by train, which is also better for the environment.
Public Transportation
Amsterdam Central Station is a public transportation hub. From here you can take the bus, metro, taxi, or metro to get around the city. Our regular public transportation network runs daily from 6AM until approximately 12.30AM. After this, you can catch a night bus between 12.30AM and approx. 7AM. Take into account that they run less frequently and charge a higher fee. For all further details about public transportation, refer to the GVB Tourist Guide.
Ride shares and short-term rental cars
Furthermore, you can use Uber and Bolt to get around too. Just keep the possibility of major price surges and longer waiting times in mind at busy times.
If you are able to drive yourself, a "share car" is a great option. Find these short-term rental cars parked all over the city. With an App, you can reserve and unlock a car to drive to your next destination within Amsterdam.
Most of these car-sharing Apps charge by the minute, making this a very affordable option. You won't have to worry about high parking costs, as you can just park the car within the designated region. If you want to use this service, make sure to sign up and register with these companies in a timely manner. The process of verifying your drivers licence can take time.
Some services currently active in Amsterdam:
Sixt
Share Now
Green Wheels
Rent a bike
Last but not least, you can easily get from A to B the Amsterdam way: by bike! The OV fiets is available to everyone with a personal OV-chipcard, which allows you to rent a bike for €3,95 for up to 24 hours at a time.
Signing up for a personal OV-chipcard takes a while, so this might not be a good option for people from outside the Netherlands. However, there are many other bicycle rental places, check out this list. Also ask about this in your hotel, some lend bikes for free with your booking.
Accommodation in Amsterdam
On to the best Amsterdam hotel recommendations. You can use well-known websites such as Booking, Trivago, and Airbnb to find your accommodation. Hotel Tonight is also a great App for discounted last-minute bookings.
We have put some effort into finding a selection of hotels in different price ranges, that are not too far from the city center. Before you make a booking, consider processing it through the Paytogreen.com platform, in order to contribute to climate-positive projects.
CityHub
At the futuristic CityHub you can book your very own compact capsule pod. From the outside, these pods look super small. However, due to the clever design, they are spacious enough inside to fit a double bed and space for your belongings. This modern approach to a hostel is much more comfortable and private, while also an opportunity to save money.
Price range: €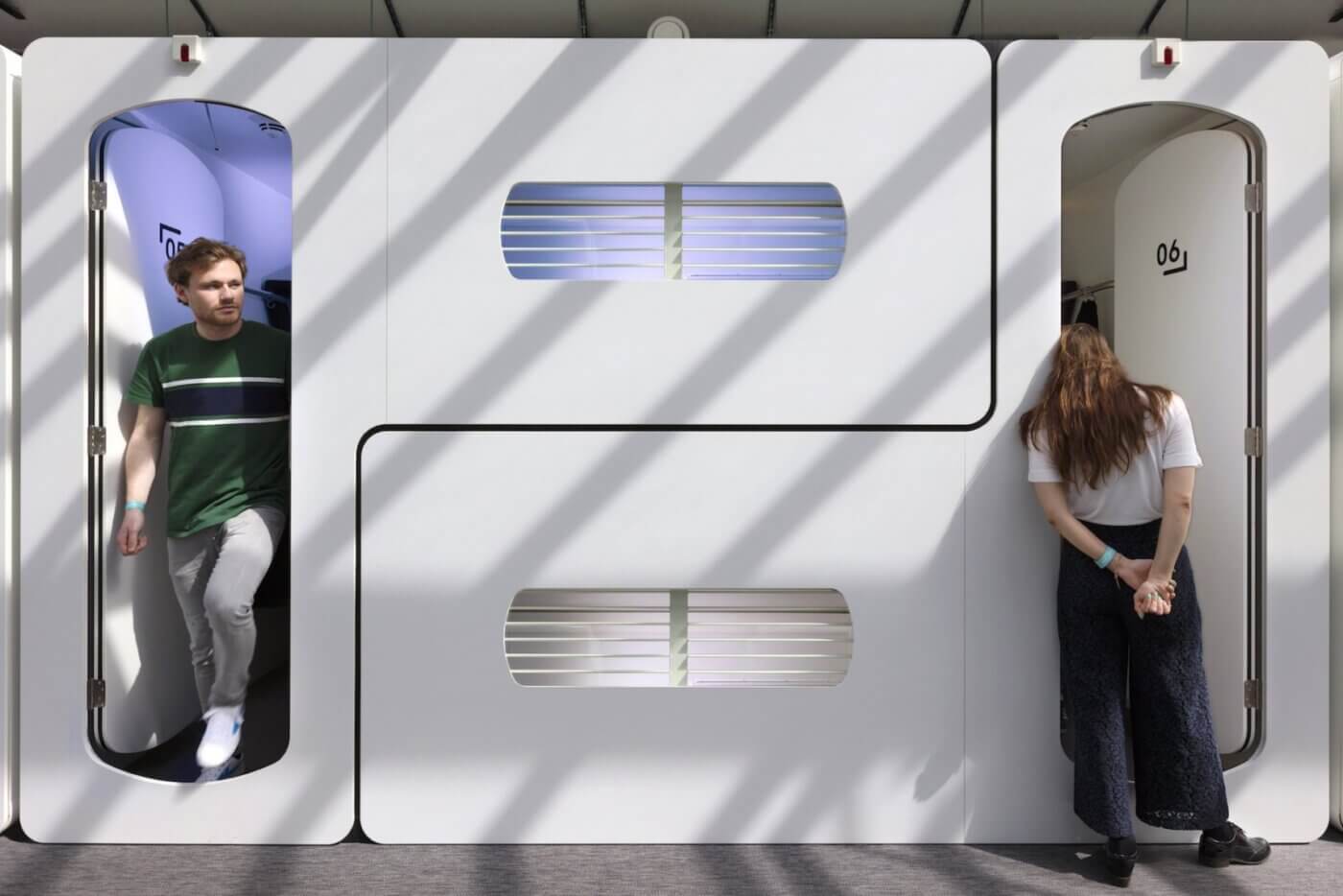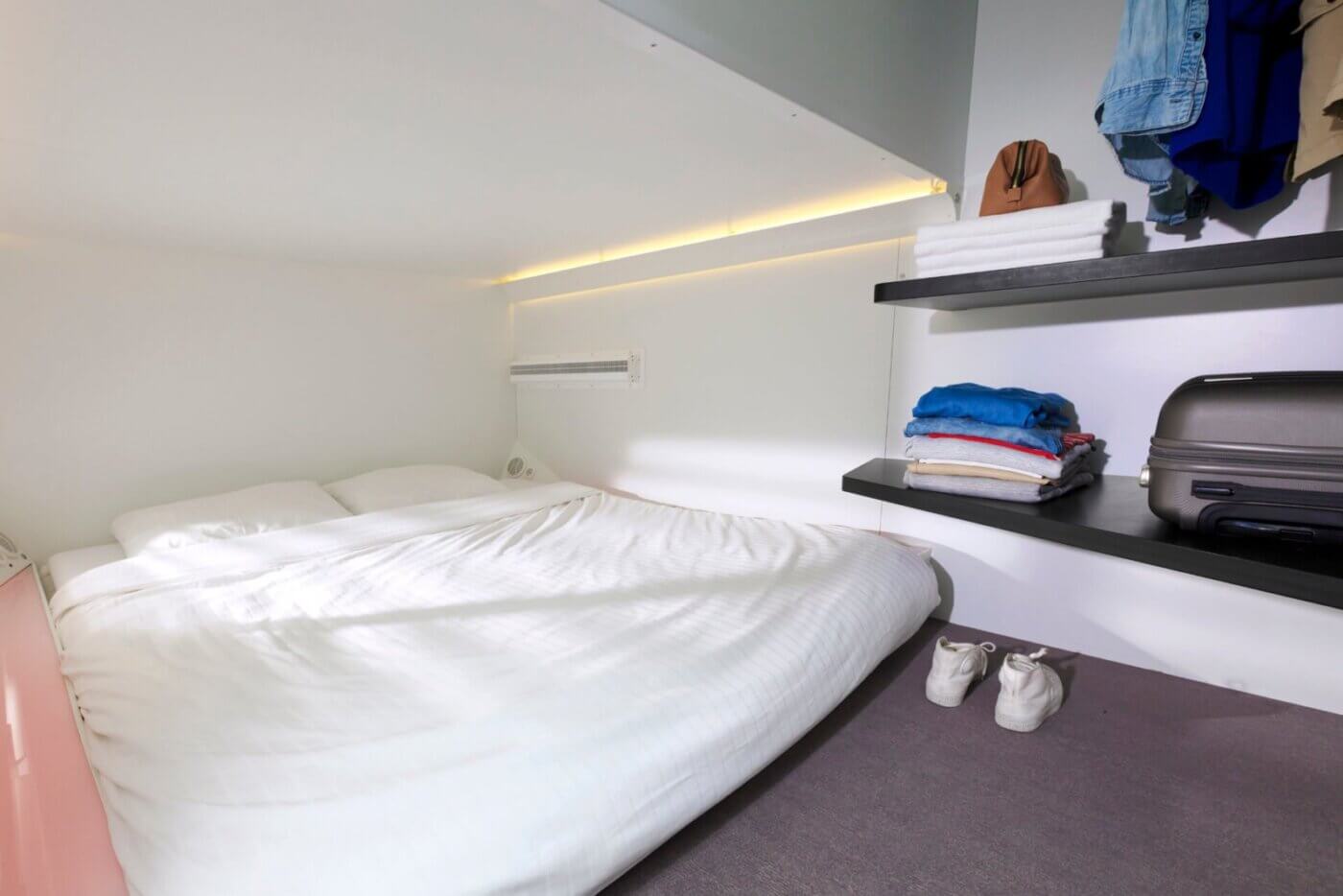 De Bedstee Hotel
Another capsule-style hotel, except the common areas look a bit more classic at De Bedstee Hotel. Again, could be a great solution if you are out and about all day and just plan to use your accommodation for sleeping.
Price range: €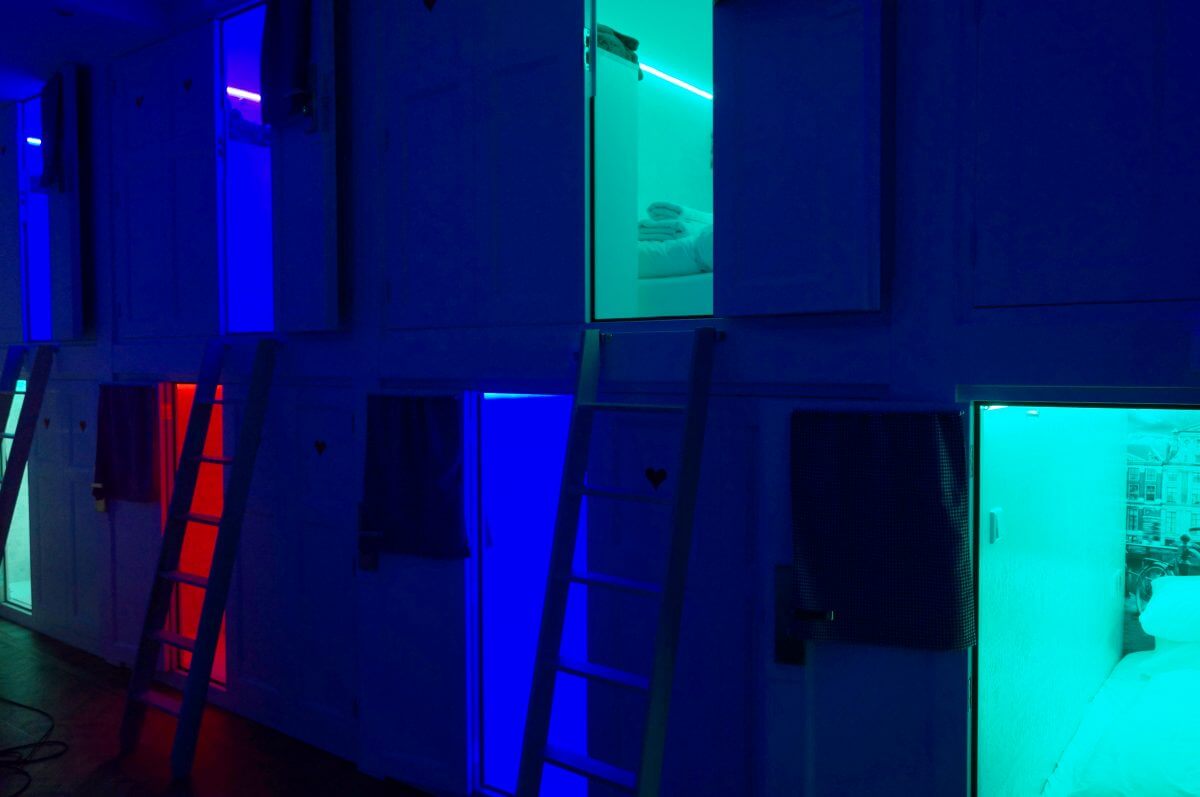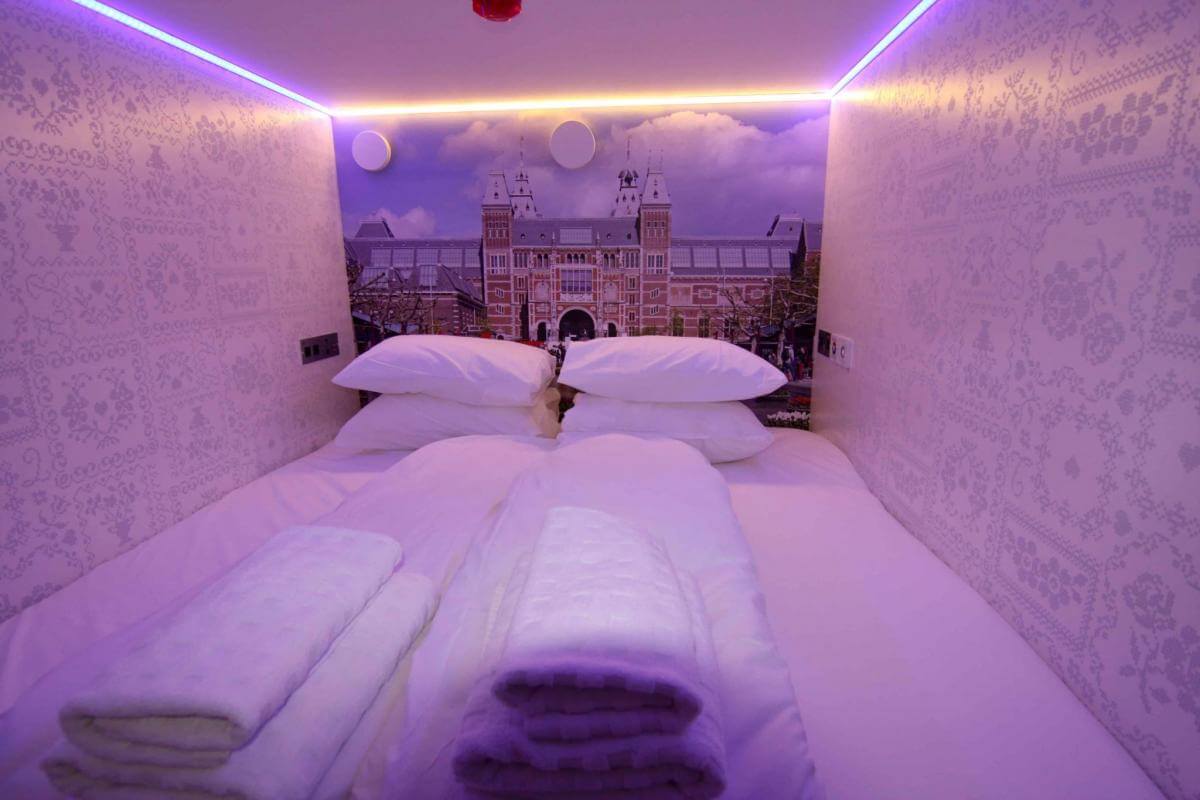 Urban Lodge Hotel
If you are looking for a cozy hotel that offers great value for money, don't look further. Urban Lodge Hotel offers rooms in different comfort types, with a lot of amenities. They even have rooms with three single beds, which is great for friends traveling together for an event.
Price range: €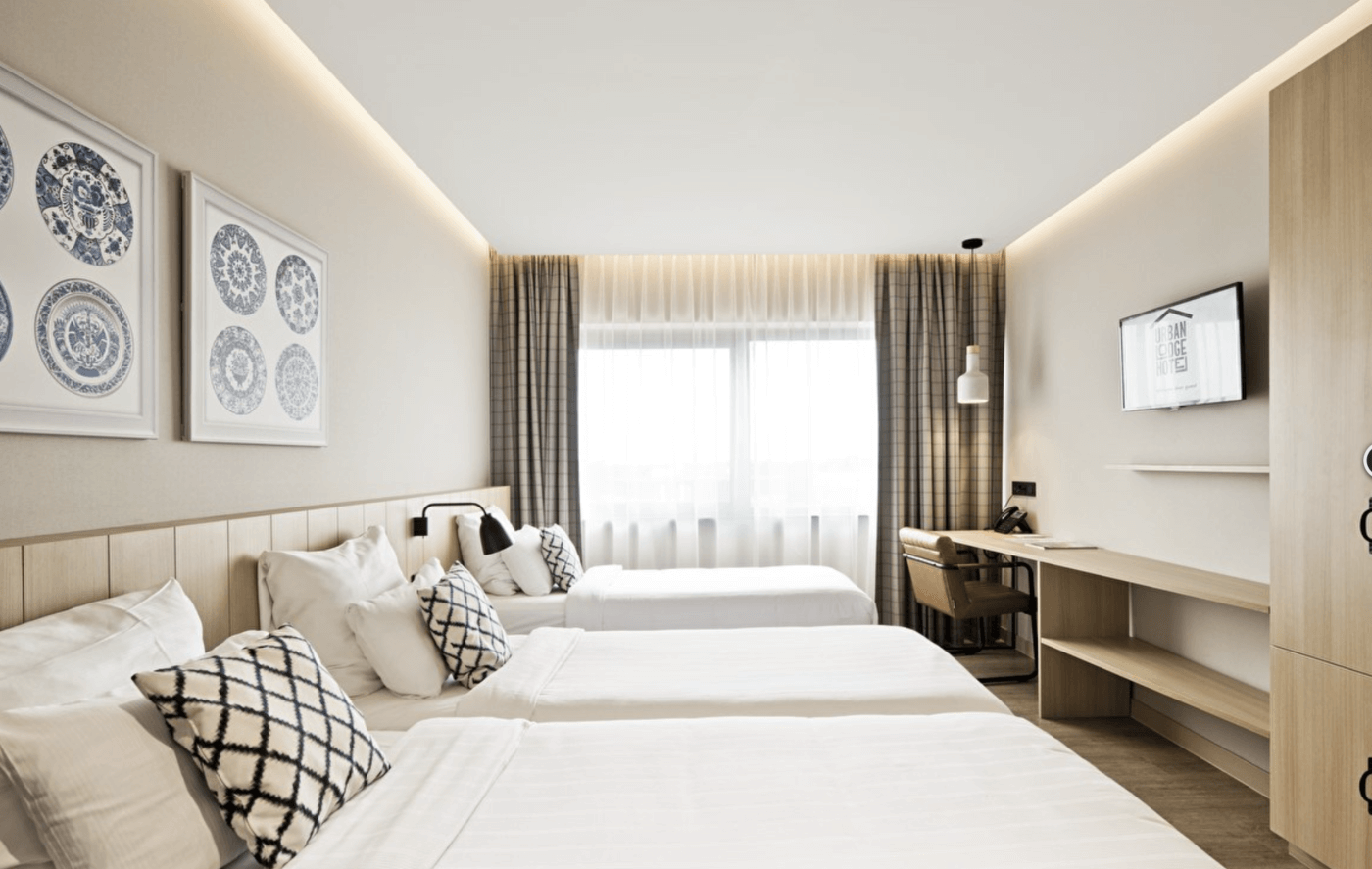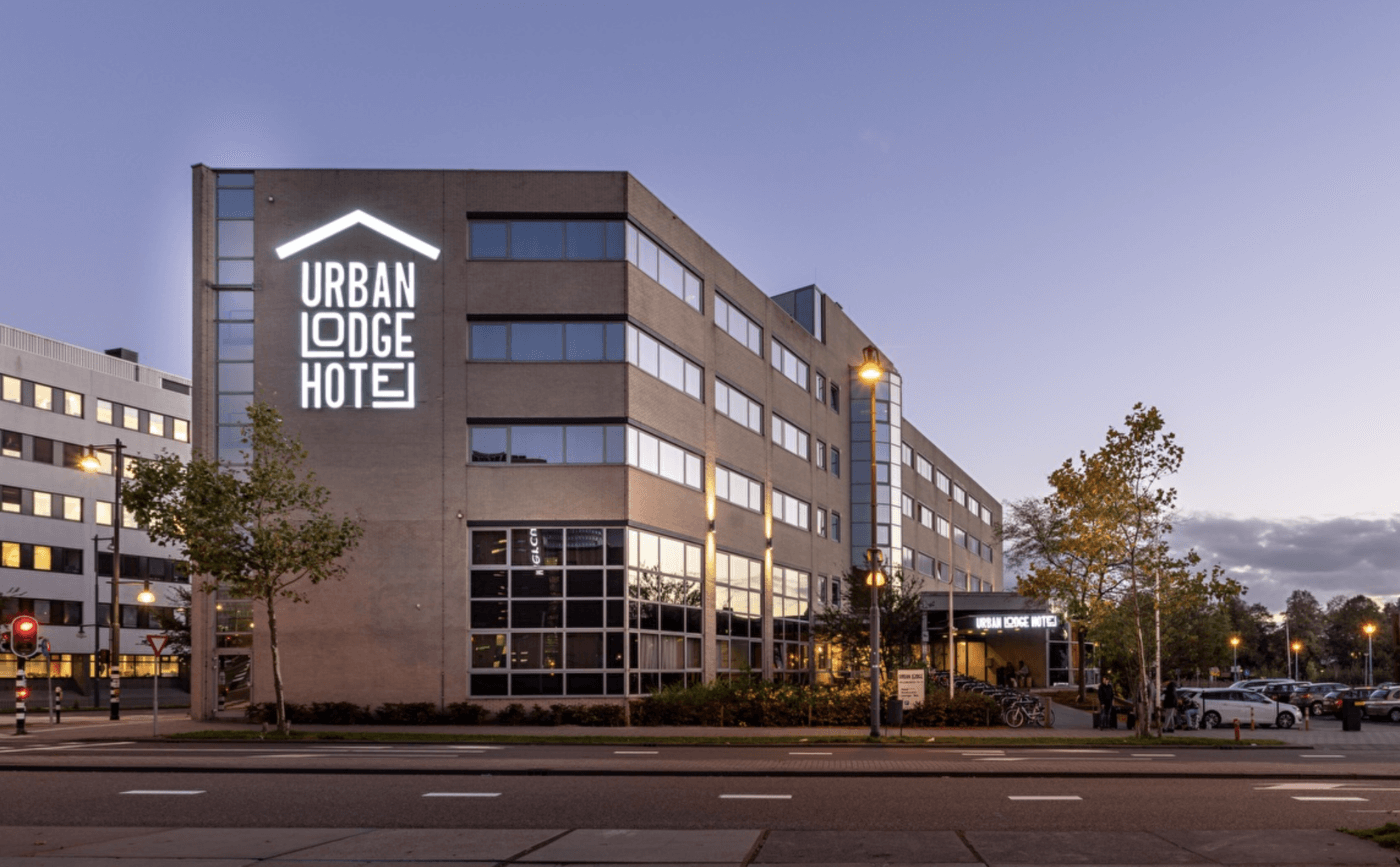 Other honorable mentions for budget-friendly hotels:
Hotel2Stay
Moxy Amsterdam Houthavens
Holiday Inn Express
Ibis Hotels
XO Hotels
The Student Hotel
Conscious Hotels
Volkshotel
This is probably the funkiest hotel in Amsterdam. The Volkshotel has a very artsy and urban-industrial feel, with creatively designed rooms and loads of cool facilities. Book a shared room for 4 people, an XS room if you don't need a lot of space, or a romantic and super fun theme room if you want something special. The hotel has a restaurant with a view on the top floor, various hangout areas, a club in the basement, and a very nice hot tub and sauna area on the rooftop.
Price range: €€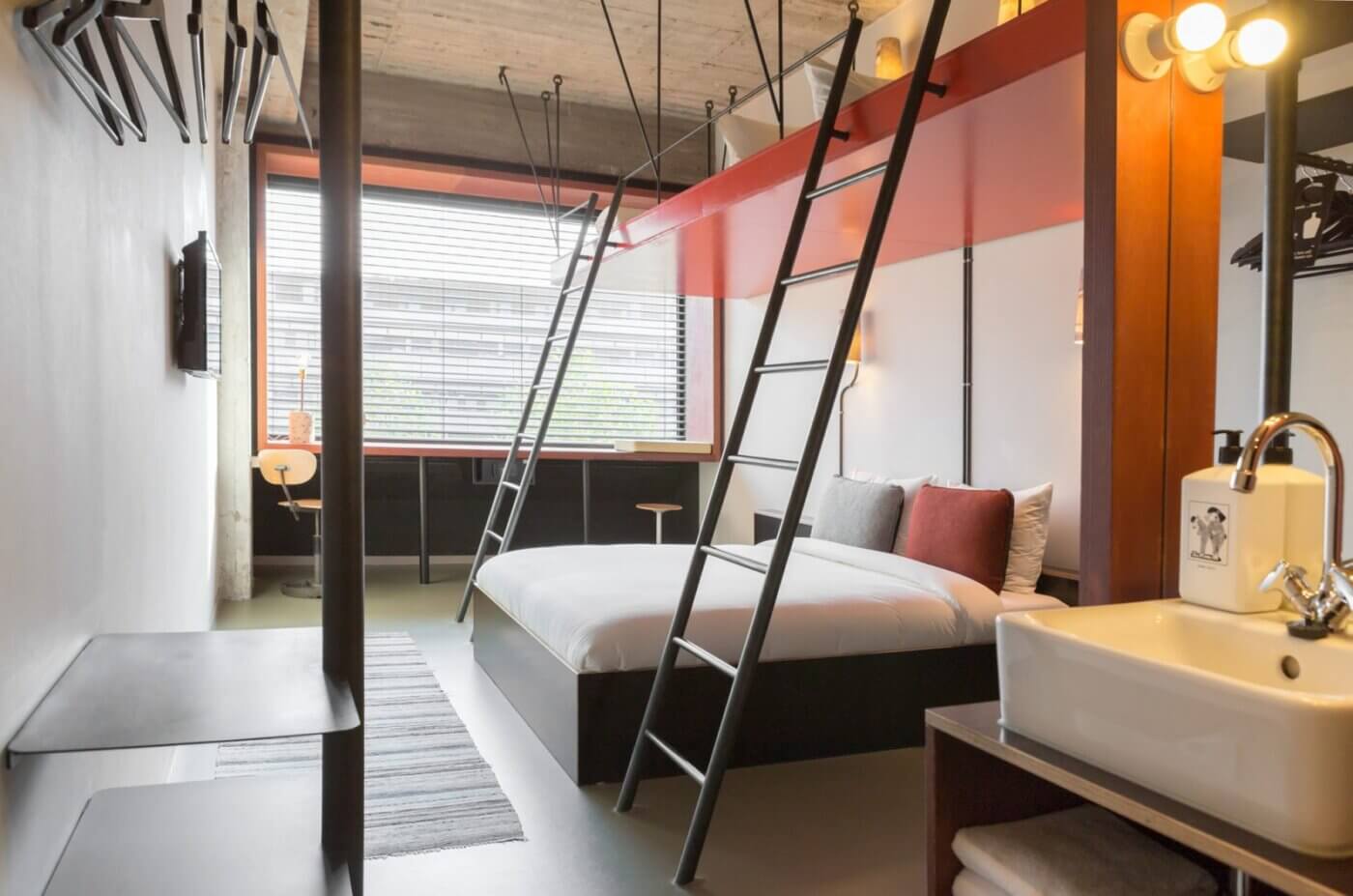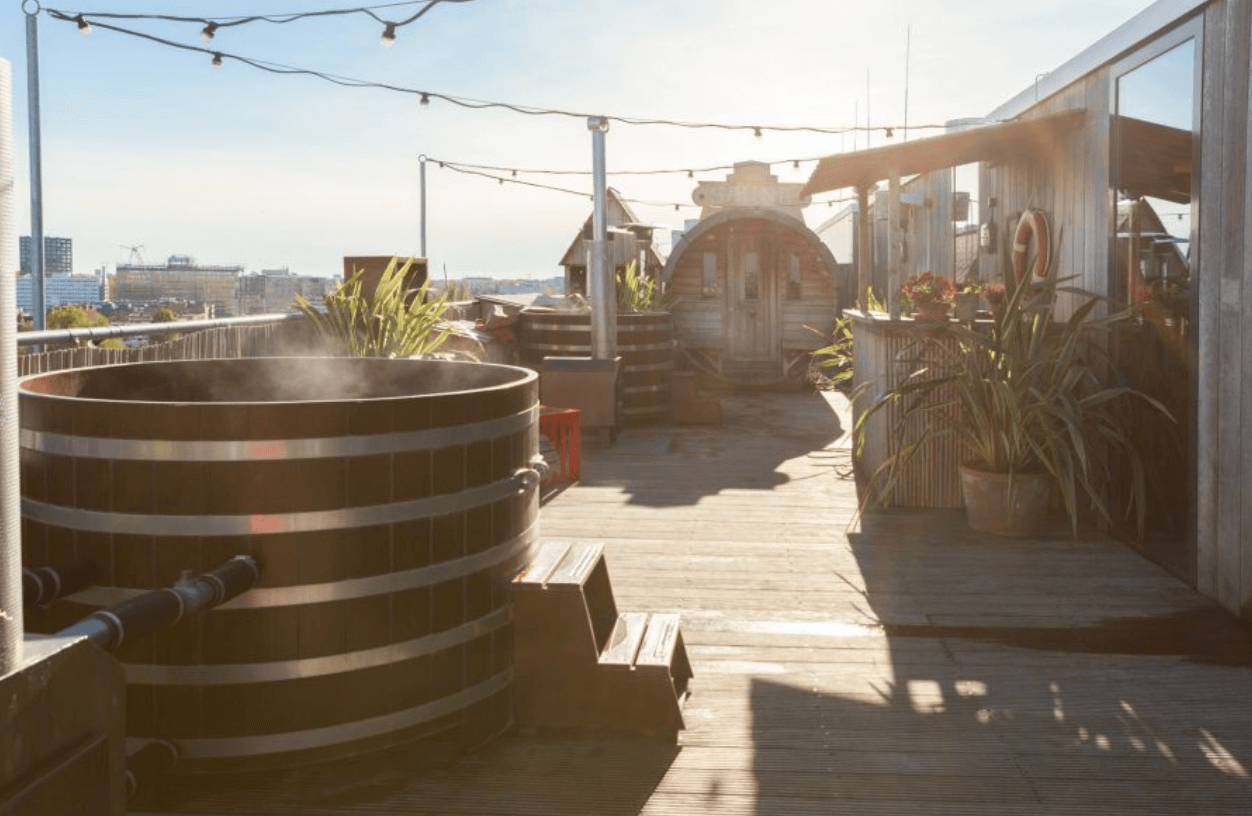 Hotel Not Hotel
It's hard to describe what Hotel Not Hotel is. It obviously is a hotel, kind of, but different. The whole space was designed by a team of creative designers who think out of the box. Your room can be hidden behind a bookcase in the library, inside the vintage tram that is parked in the lobby, or in the Volkswagen bus at the top of the stairs. Furthermore, there are a bunch of cozy common areas, a cocktail bar, and a Thai restaurant that's named after Kevin Bacon for some reason.
Price range: €€
Nhow Amsterdam Rai
The bright pink hallways, the colorfully decorated lounge areas, the impressive views from the bar and restaurant area, and the super comfortable rooms. Nhow Amsterdam Rai just has it all. We doubt you would need any extra cardio after all the dancing at our party, but if you want, there is even a gym too. If you are looking for some late-night booze and bites, there is even a 24hours self-service mini mart in the lobby.
Price range: €€
Sir Adam
Looking out over the IJ river behind Central Station, standing at almost 100 meters tall, is the A'Dam Tower. This impressive building houses multiple offices and restaurants including the rotating "Moon restaurant". Furthermore, an observation deck with sensational swing rides, a club in the basement, and a gorgeous hotel named Sir Adam. This hotel has a stylish urban ambiance, with references to music and popular artists in each room. Not to forget, the views over the IJ river are stunning.
Price range: €€€
Hotel Estherea
Not everybody is fond of modern interior design. Some of us love the garish, rich prints and colors often found in luxurious vintage interiors. At Hotel Estherea, you simply can't stop looking around. Baroque wallpapers, shiny chandeliers, and classical artworks adorn the rooms and public spaces. It is truly a feast for the eyes!
Price range: €€€
Sir Albert
Hotel from the same chain as Sir Adam. While sharing the same allure and comfort, Sir Albert has more of a neo-classical interior style with lots of dark brown suede. Located in the Pijp area, there are loads of nice shops and lunch spots around. For breakfast though, you are already all set. Sir Albert even offers bubbles at the breakfast buffet.
Price range: €€€
Hotel Jakarta
Another stunning hotel with a unique style; Hotel Jakarta. The name says it all, as it's inspired by the Indonesian capital. The chestnut wooden paneling throughout the building forms a beautiful contrast to the vibrant green botanical garden in the center of the hotel. Have a drink in the cocktail bar or a swim in the heated indoor pool. This is the perfect hotel to pamper yourself. Moreover, the restaurant serves delicious Indonesian food, as expected.
Price range: €€€€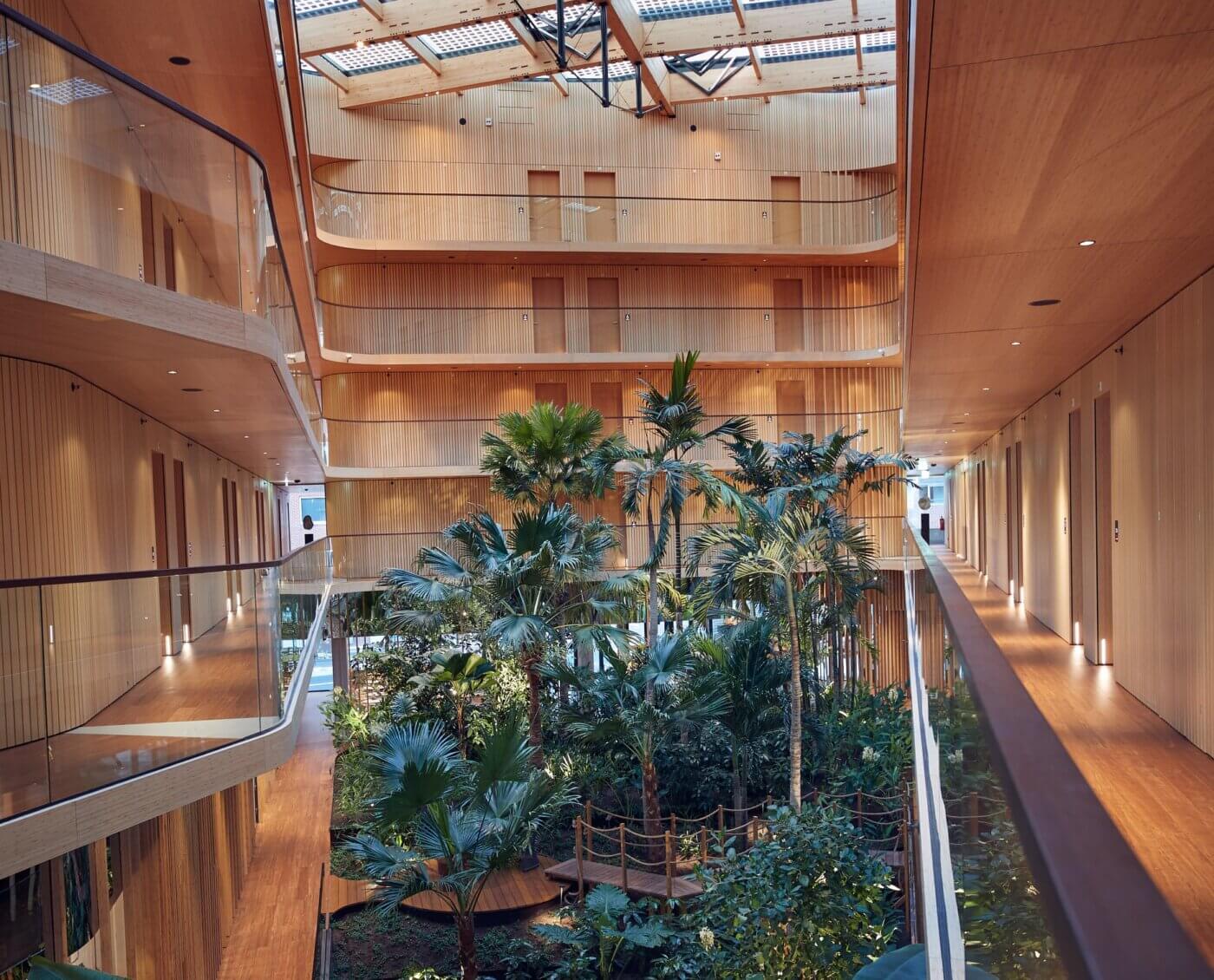 Other honorable mentions for mid-range and high-range hotels:
INK Hotel
Mr. Jordaan Hotel
Hotel TwentySeven
Roommate Aitana
Hotel Pulitzer Amsterdam
Amsterdam food recommendations
We shouldn't beat around the bush here, this city has great food. If there is any type of food you must eat in Amsterdam, it's Surinamese! There are countless great Suriname Warungs around town. If you see one, check it out and dig into some yummy roti or tempeh rolls. Perfect to take away or order for delivery. But there are a lot more options of course.
Food delivery
For your convenience, there are multiple Apps through which you can order food:
Uber Eats
Deliveroo
Thuisbezorgd
There are also Apps through which you can order groceries to be delivered within minutes:
Gorillas
Getir
Lunch hotspots
You will need to fuel up on some breakfast/lunch before you hit the dance floors at our day raves. Fortunately, there are a lot of cute and cozy brunch spots in town.
Benji's
With 3 locations in different areas of Amsterdam, Benji's has become a popular lunch place famed for its Balinese-inspired dishes. Each location is decorated to look like an urban green jungle, with plants placed in every corner and hanging from the ceilings. On the menu, you can find frozen acaï and mango bowls, healthy salad bowls, and exotic wraps and buns. Great vegetarian options. Don't forget to add a Bloody Mary or a Mimosa!
The Avocado Show
Avocado lovers are in heaven at The Avocado Show. Every single thing on the menu involves avocados! Whether it may be a delicious guacamole dip, deep-fried avocado wedges, or a poke bowl with the bowl actually made out of avocado slices. Avocado pancakes, say whut? Even avocado ice cream! Who knew how versatile avocados could be? You will after your brunch stop here. Currently, there are 3 different locations in Amsterdam.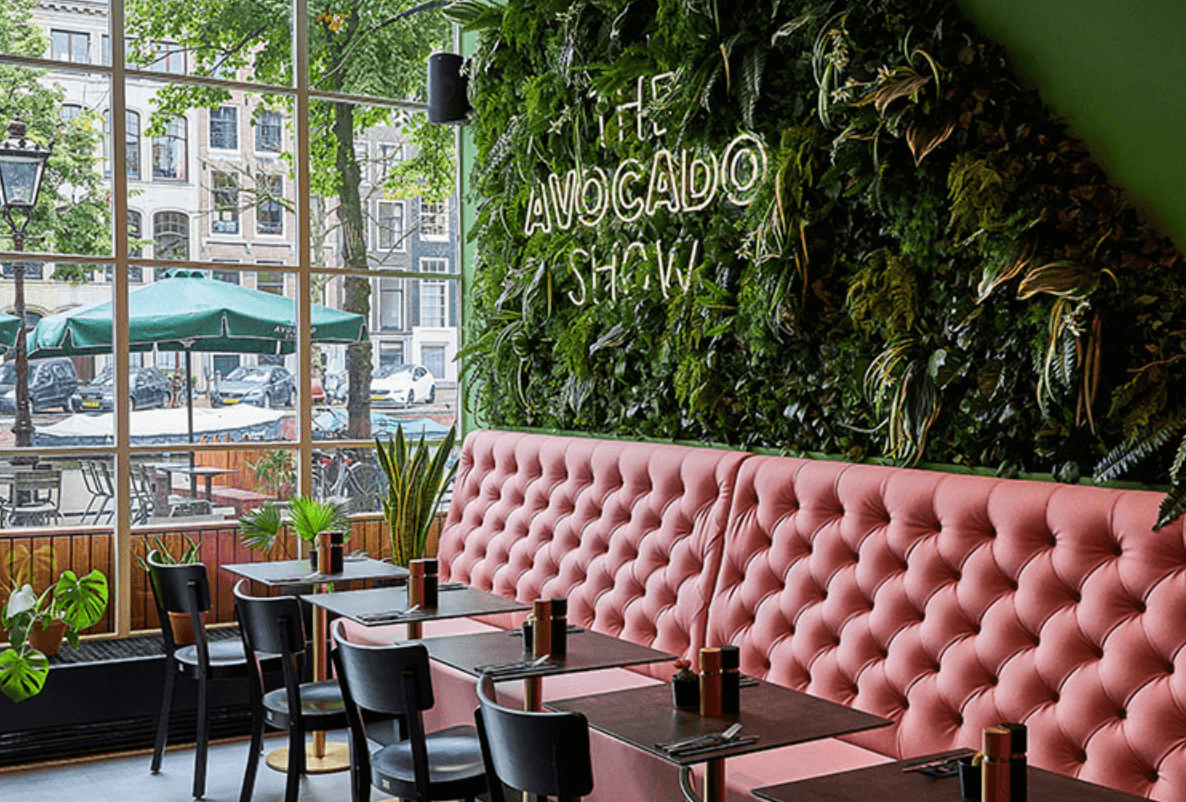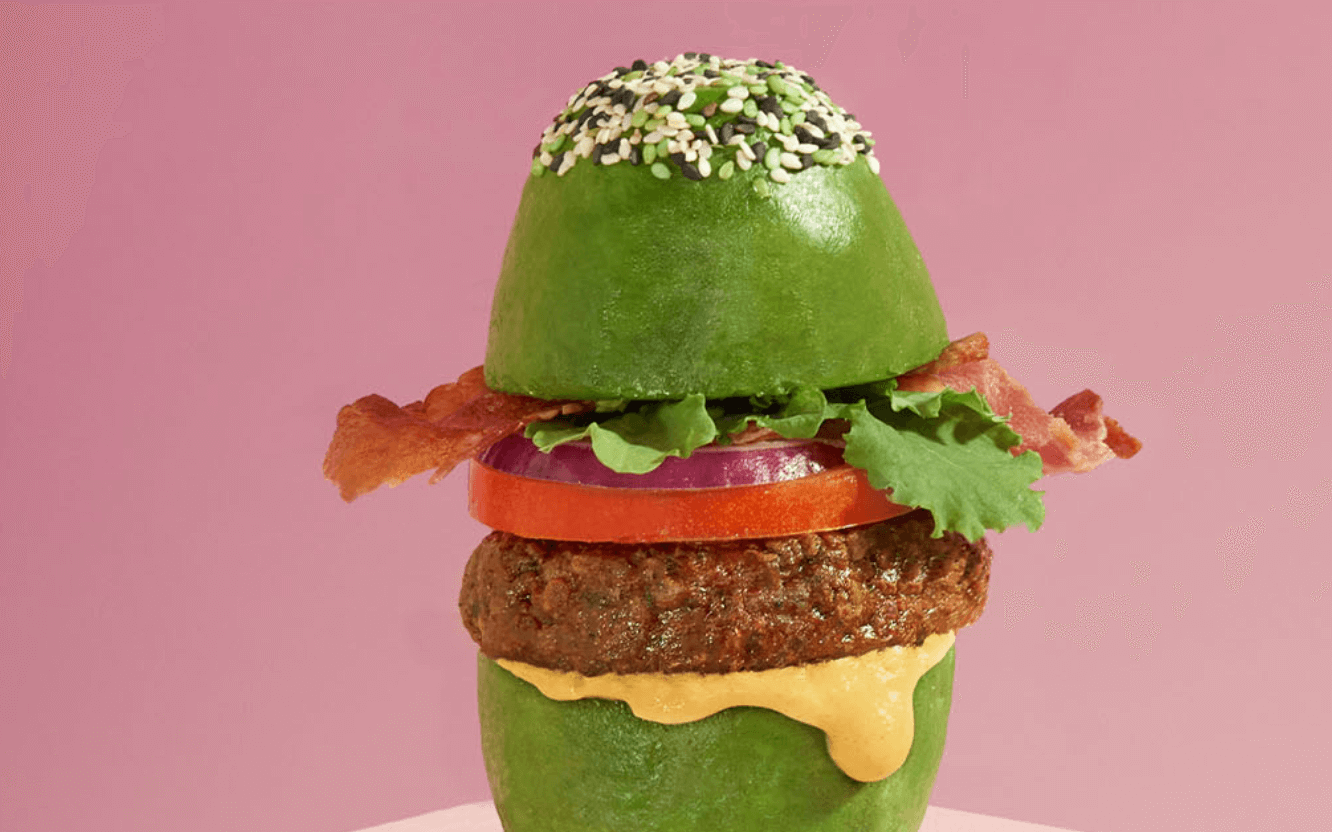 Corner Bakery
A pastel colored rainbow of colors awaits you at both Corner Bakery locations in Amsterdam. This place is definitely great for those with a sweet tooth, as fluffy red velvet pancakes are the specialty here. Even more unusual; pink hamburger buns. Moreover, the ultimate calorie bombs are the super delicious freak shakes. It's a good thing they add a lot of fresh fruits to all the dishes here…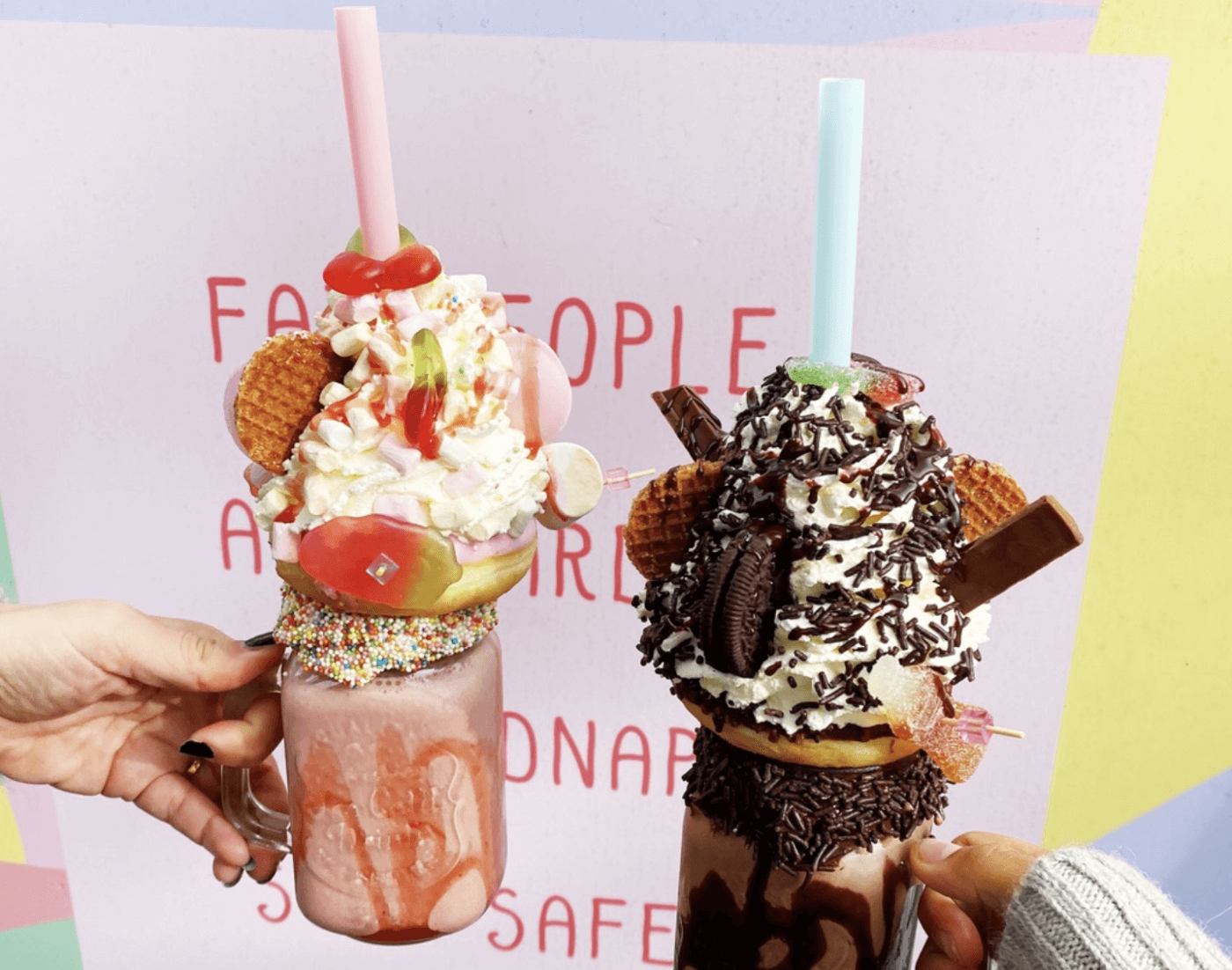 Bulls and Dogs
Another place where you can get mouthwatering sweet freak shakes. Plus hotdogs, hence the name Bulls and Dogs. There are two locations, one in the Pijp area and one in the Foodhallen, which is an indoor food court with various delicious food vendors.
Soil of Amsterdam
A unique all-vegan concept that focuses on fresh produce and fermented foods. Chef Gustavo Bottino actually built his career on tasty meat dishes but developed this meat-free concept after growing more concerned about the environment. And inventing the tastiest protein-rich dishes without meat. Soil of Amsterdam is open from lunch time until late in the evening for dinner.
Other honorable mentions for cool lunch spots:
Bakers & Roasters
De Drie Graefjes
Mr. Stacks pancakes
Moak pancakes
Coffee and Coconuts
Bagels and Beans
Little Collins
Dinner hotspots
There is something for everyone when it comes to restaurants in Amsterdam. Thus, this list of dinner hotspots has become quite an eclectic mix of foodie havens, instagrammable eateries, fancy establishments, and quick tuck-ins.
Branie
From the outside, Branie looks just like another typical Amsterdam café. However, as you set foot into the bar and continue on to the restaurant in the back, the tropical wallpaper soon sets the tone. As do the delightful cocktails and the impressively unique shared dining menu.
The Asian fusion dishes include delectable meat, fish, and vegan options. Try the creatively named "Peggy Gou Cauliflower" for example, or the "KFC Oyster Mushrooms". The food is of a very high standard here, which is why it's a favorite among some of the Gardens of Babylon team members.
Price range: €€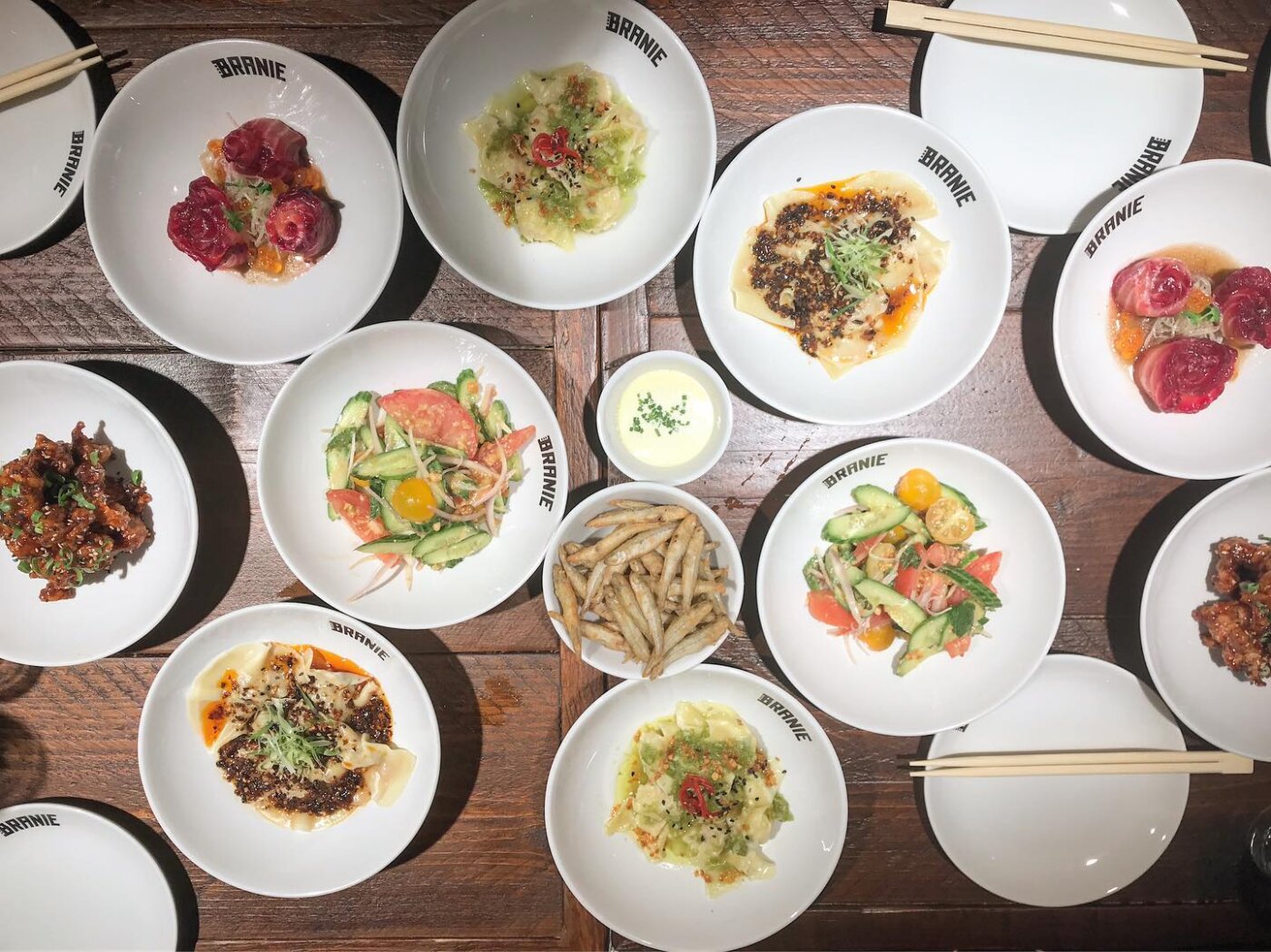 Mama Kelly
The most instagrammable restaurant in town, hands down! You just can't escape the pink velvet Hollywood regency interior of Mama Kelly. Their motto: Life is better in pink.
This gorgeous restaurant has multiple floors that all share the same outrageously pink tint, with golden accents. Whip your camera out to take some pics at the round cocktail bar, the pink wall phones, or the photobooth. Mama Kelly is open for high tea, lunch, and dinner. Their specialties are chicken and lobster.
price range: €€€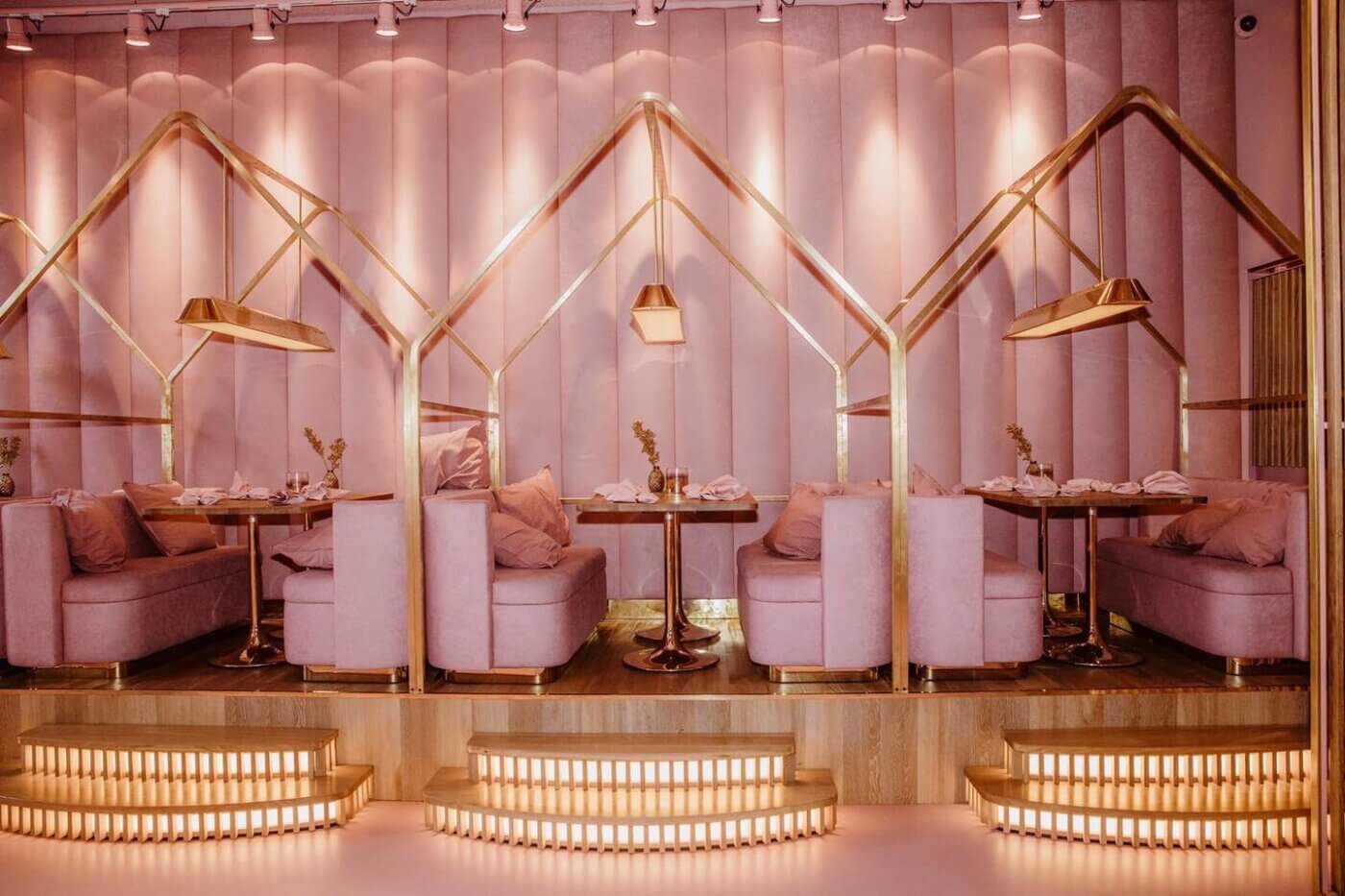 Mr. and Mrs. Watson
This is not just a vegan restaurant. Mr. and Mrs. Watson is THE vegan restaurant of Amsterdam, where you can even order vegan cheese fondue. This is evident because of all of the countless awards they won over the years. Book your spot ahead of time.
Price range: €
Supperclub
Looking for something extra special during your weekend in Amsterdam? Don't mind splurging a little for one night? Then Supperclub is definitely for you. Here, you comfortably take your shoes off and lie down with your dinner party. Dinner is served in bed!
Using projectors, the pristine white hall suddenly changes into a giant aquarium or a scene from outer space. Furthermore, the middle of the room is a stage for interesting and sometimes quite unconventional entertainment during their dinner shows. Aerial gymnasts for example, burlesque dancers, or bondage artists. After dinner, the place turns into a club. Plus, there is also a cocktail bar hidden in the building.
Price range: €€€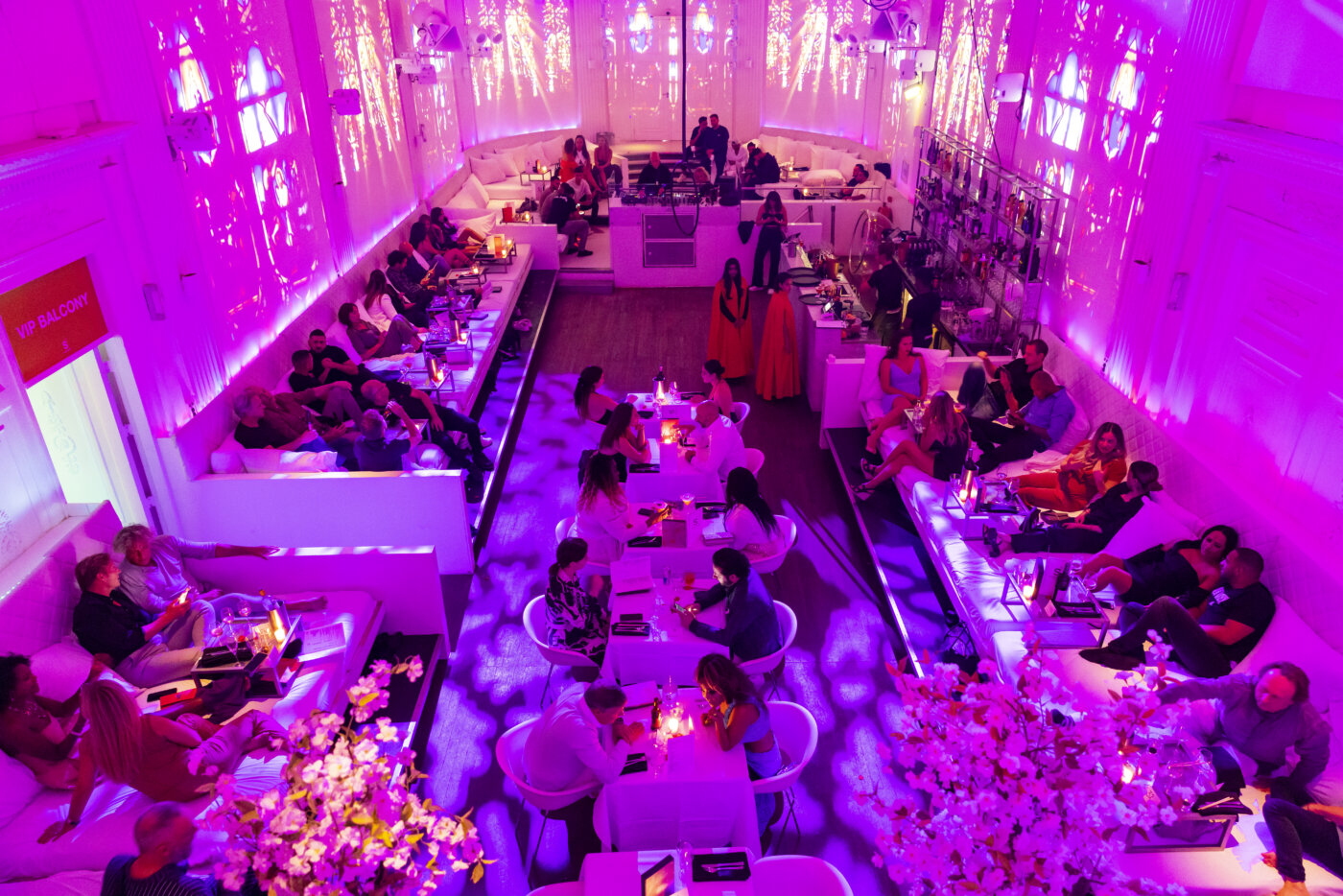 Mayur
For more than 40 years, Mayur has been a favorite in Amsterdam. Offering a great variety of the best North-Indian dishes, you can see the chefs at work through the open kitchen window. Besides their exquisite food and wines, the restaurant is also famed for its elegant and romantic ambiance.
Price range: €€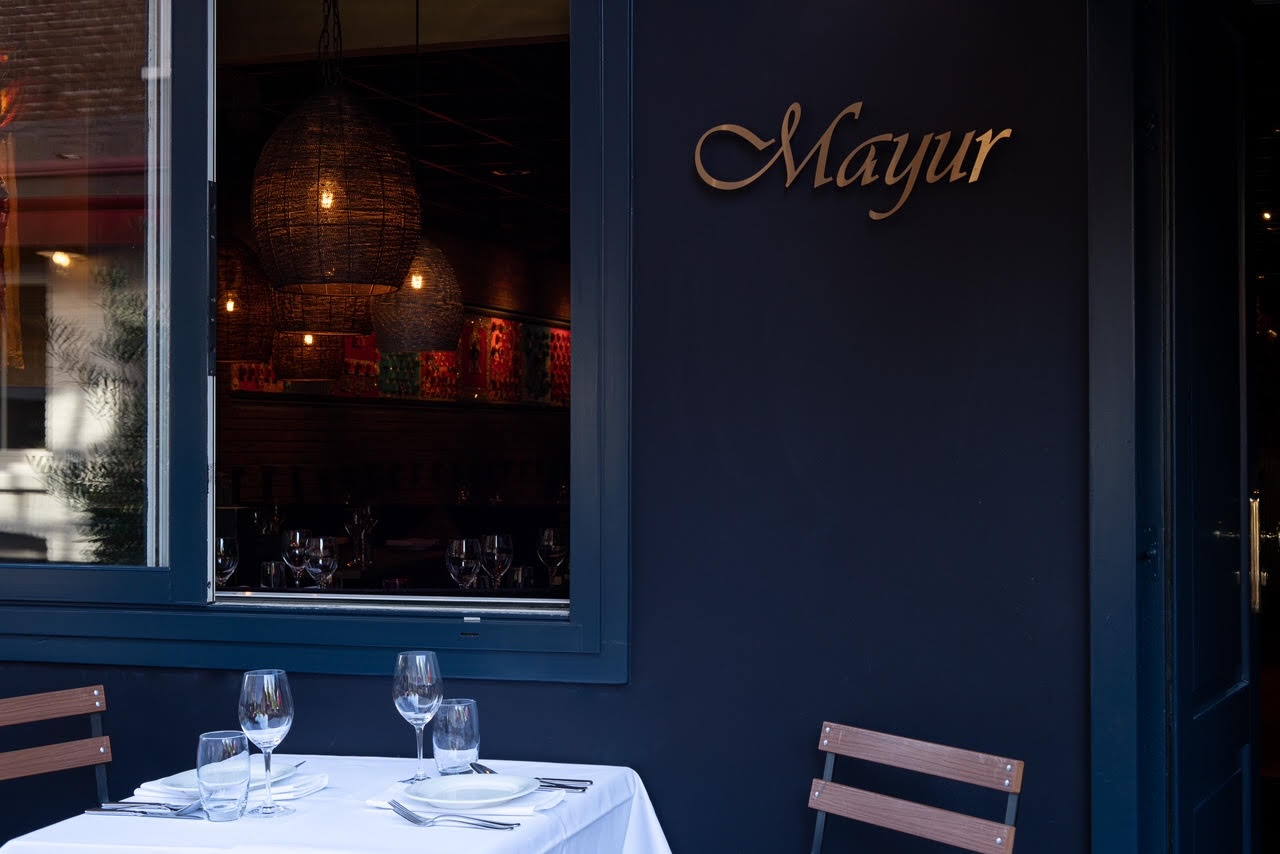 Meatless District
In this district, vegan delights are served all day long. Lunch, dinner, wines, and cocktails are all 100% plant-based at modern eatery Meatless District. Caring a lot about community, the multicultural team behind the concept strives to support the growth of the vegan scene, and local producers. Most of the fresh ingredients are sourced from local suppliers. Popular dishes on the menu are paella, smoked "salmon" and a range of tasty burgers.
Price range: €€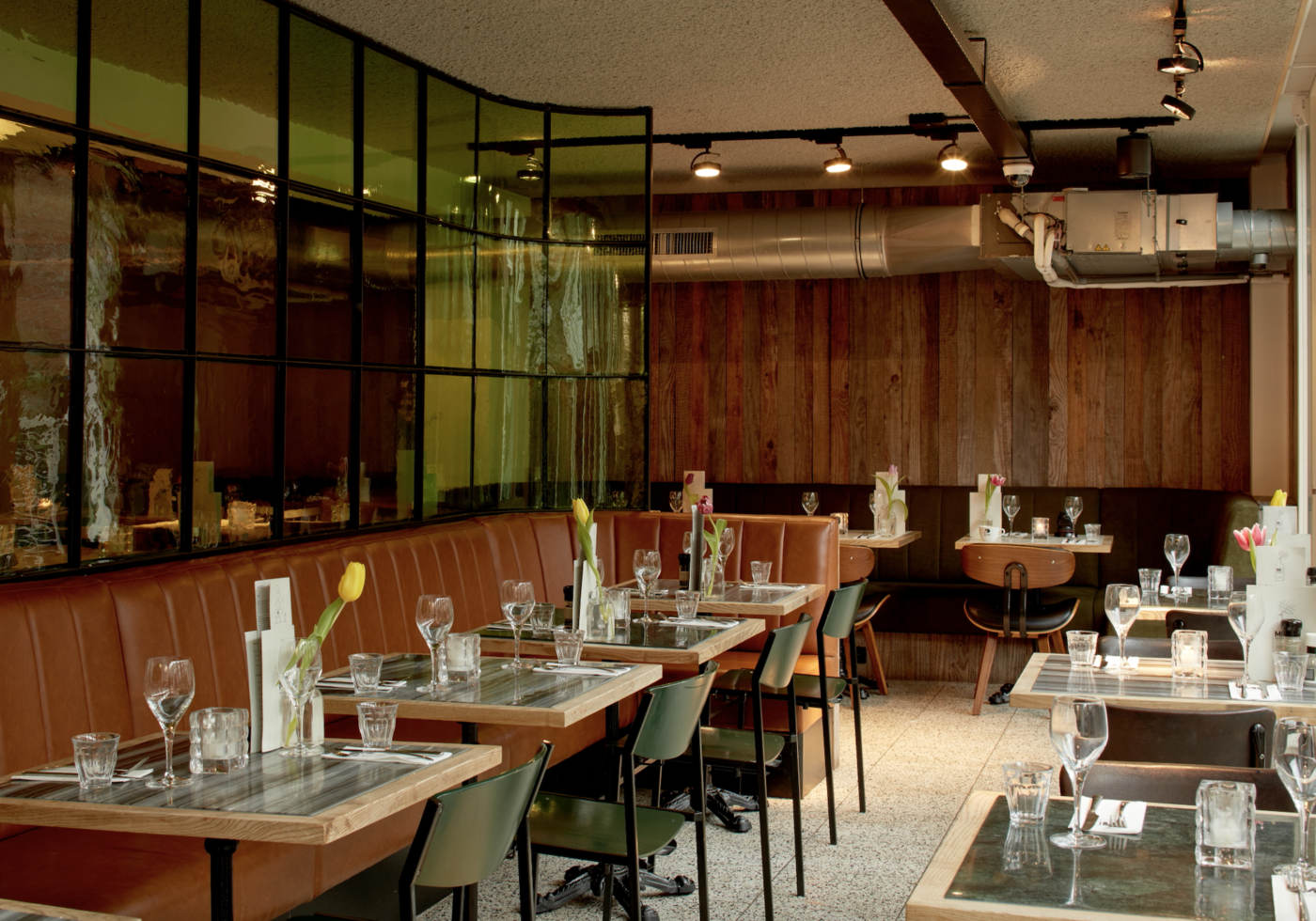 Cannibale Royale
As the name suggests, Cannibale Royale Brasserie extraordinaire specializes in meat dishes. However, this rustic laidback place also has great options for vegetarians/vegans. Sink your teeth into some sticky ribs or a juicy burger, while you start to notice all the peculiar artwork around you. With 5 different locations, you are probably always able to reserve a spot somewhere. Locations Du Nord and Rozengracht are great for big groups, while the others are perhaps a bit cozier.
Price range: €
Pasta E Basta
Have a unique Italian experience at Pasta e Basta. Here, you can enjoy delicious pastas and other Italian specialties served by singing waiters. From opera to pop and country, the professionally singing servers have quite the repertoire. You will go home with your belly full while humming the classic tunes you heard all evening.
Price range: €€
Coba
If you are into traditional-style tacos, cozy Mexican hideout Coba – Taqueria is where you should go. The authentic interior and dimmed lights with candles everywhere really make for an amiable atmosphere. You can even learn how to make these delicious tacos yourself during their cooking classes.
Price range: €€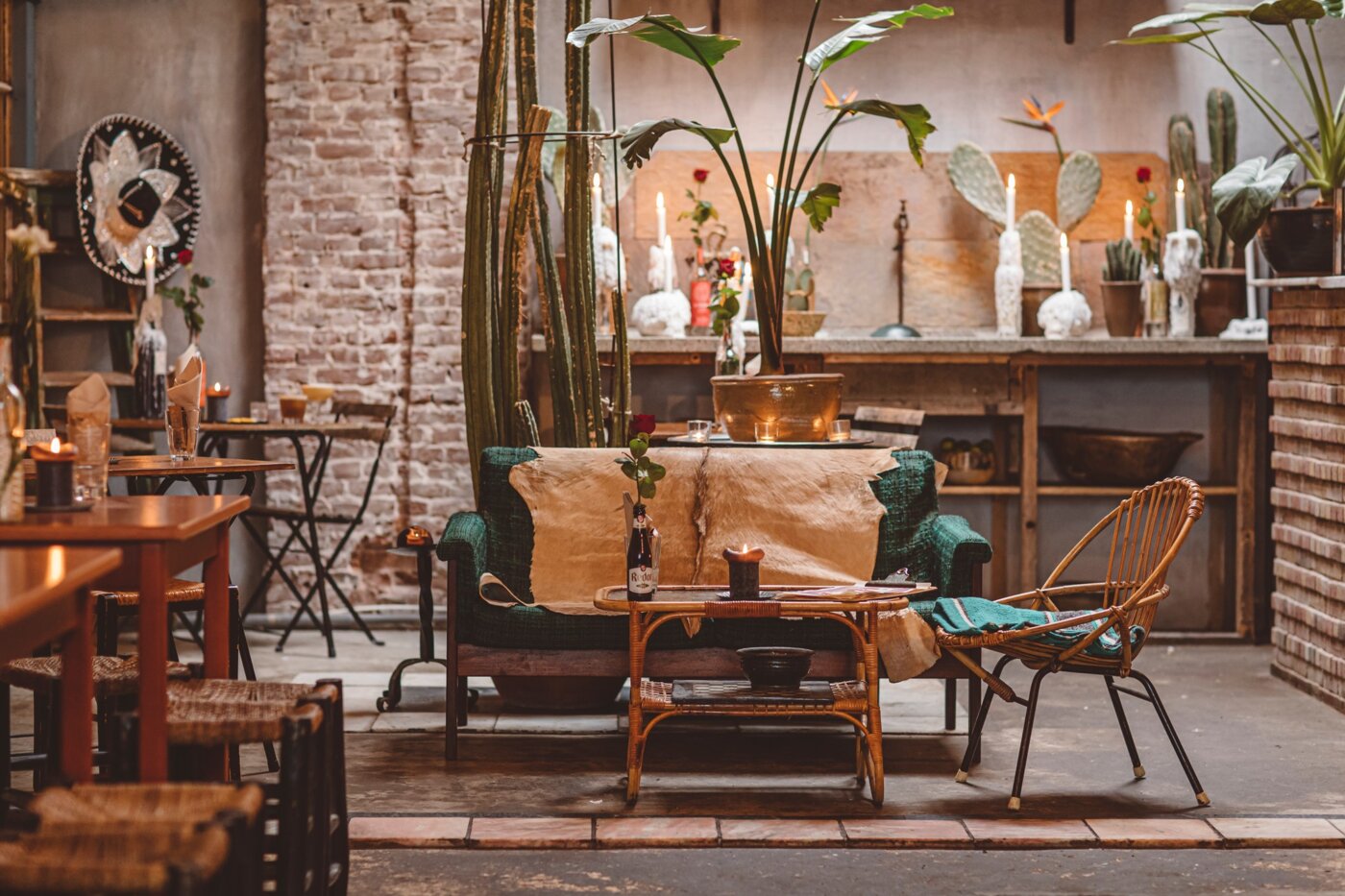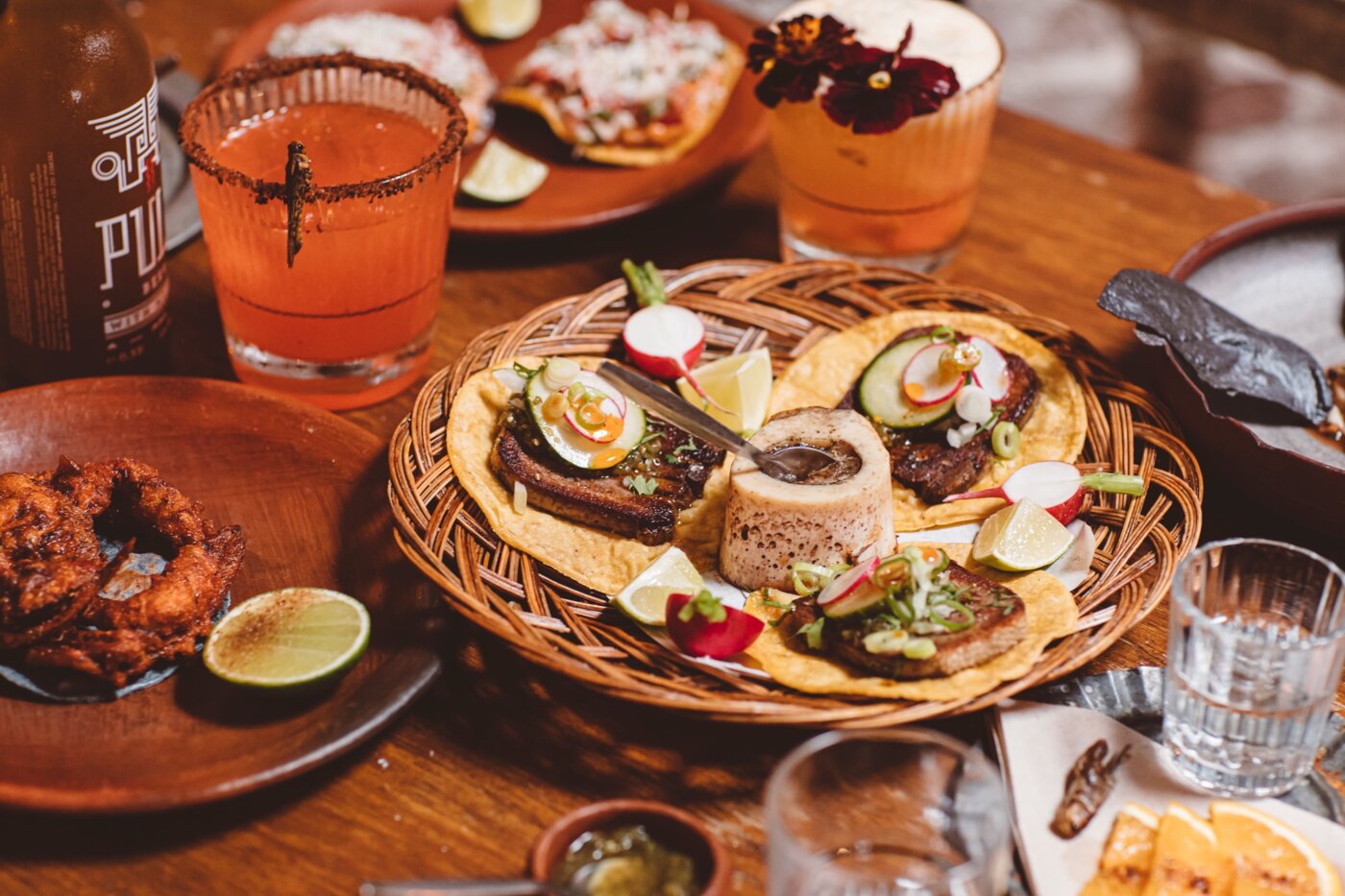 Other honorable mentions for dinner hotspots:
Hula Hula – Super instagrammable Hawaii-themed restaurant with an exotic menu.
Chin Chin Club – Another very instagrammable Asian fusion restaurant with a dinner show, karaoke & games room, that changes into a club in the evening.
Amoi – Indonesian fusion in a cozy two-level restaurant with tropical interior.
Vegan Junk Food Bar – Exactly what the name promises.
Meneer Nieges – Cozy restaurant with a varied menu and quirky interior with swing sofas and monkeys lurking around.
Happy Happy Joy Joy – Colorful restaurant that serves the best of Asian street food.
Deer Mama – Vegan burger bar with the most delicious boozy milkshakes.
Rotisserie – Urban gourmet burger place where the best hip-hop and classic R&B is always played in the background.
Rainarai – Nomadic Algerian cuisine with a lovely vibe.
Salmuera – Candle-lit dinner with meat and fish specialties from Latin America.
Panache – Stylish eatery with dimmed lights and a menu made up of seasonal ingredients.
Lolo – Fun Italian place with loud music and kitschy interior with leopard booths, chandeliers, and red velvet corridors.
Cocktail bars
All over Amsterdam, you can find typical Dutch cafés and hip lounges for drinks. Any of them will have a laidback and fun atmosphere to kick back and enjoy some drinks with your friends. So, for this list, we have selected some of the more particular, hidden away establishments.
Bar Oldenhof
With the curtains closed, you would almost walk right past the dimly lit Bar Oldenhof if it wasn't for the subtle sign at the door. Inside, the roaring 20s welcome you into a dark chestnut brown and beige velvet interior, with smooth jazzy tunes in the background. This sounds amazing already doesn't it? Wait until you check out their extensive cocktail menu, with seasonal specialties crafted by skilled mixologists. This is the real deal.
World Class Room
Speakeasy-style cocktail bar World Class Room is hidden above restaurant Pigs and Punch. Just come in through the restaurant and go up the stairs, where you go through the unmarked door. A beautifully designed classic cocktail room awaits you here. Maybe call ahead to make sure there is a spot.
The Butcher
Seemingly just a regular old burger bar, rumor has it that there is an intercom button right beside the refrigerator in the back of The Butcher on the Albert Cuyp Straat. If you are able to give the password when asked for it, the door will swoosh open to a passageway to the dark and gloomy, but stylish cocktail bar.
Tales and Spirits
What else can we say other than that Tales and Spirits is the best cocktail bar in town? We could prepare you for the possible wait at the door probably. They don't work with reservations so you just have to turn up and get lucky. It's definitely worth it though!
Shopping areas
Still looking for a party outfit to wear to our event? Check out this blog full of shopping tips. There are actually a lot of places where you can find clothing in the style of Babylon.
The busiest shopping area is in the city center near Dam square. All the well-known chain stores can be found on the Nieuwendijk, Kalverstraat, and Leidsestraat. For vintage shops and independent boutiques, the cozy and picturesque 9 streets are more your vibe. For luxurious shops and all the designer brands, head out to the P.C. Hooftstraat and the Cornelis Schuytstraat.
Nowadays, there are also some interesting designers and niche brands that have opened up in the Red Light District. An initiative named the Red Light Fashion project lead by the city government to bring more variety to the area.
Besides the few fashion stores, everything else in the Red Light District still makes it very obvious why Amsterdam is called Sin City in some contexts. There are countless brothels, live sex shows, and sex shops in the area, surrounded by a bunch of coffee shops. It might be fun to see for once if it's your first time in Amsterdam. The area is really safe and full of tourists.
For even more quality shopping, you can venture on a 15-minute drive out of Amsterdam to find The Style Outlets. Here, you will come across 50+ brand stores, with prices discounted up to 70%.
Coffeeshops
To clear things up, what Amsterdammers refer to as a coffee shop, is not a place to drink coffee. Not in the first place, at least. At coffee shops, you can buy and smoke cannabis. Officially, weed is not exactly legal in the Netherlands. The correct term would be "decriminalized", which means that it's simply tolerated.
However, you should still be aware of where you smoke cannabis. These new boundaries might feel so liberating that you almost light up your joint on a stroll through the center. Smoking weed in public is actually prohibited. You could get fined, although the police will likely let you off with a warning.
The best place to enjoy your prime strain of weed is in a coffee shop. And there are certainly enough of them.
Some examples:
De Dampkring – Coffee shop with beautiful Middle-Eastern interior known from some scenes in the movie "Oceans 12".
The Bulldog – Chain of coffee shops and hotels spread out over Amsterdam.
Museums
While you are in Amsterdam, how about some cultural activities too? We have about as many museums as coffee shops. Almost.
Of course, the Vincent van Gogh Museum should be first on this list as it offers a complete collection of the famous Dutch artist. You also might want to tick the Anne Frank House off your bucket list.
If you are up for it, you could probably spend a whole day in Het Rijksmuseum, where you can marvel at the "Night Watch" by Rembrandt, among others.
Nxt Museum is a relatively new, futuristic museum that makes use of new media art. The giant projections and multi-sensory installations are definitely something spectacular.
Moco Museum is home to popular modern art pieces from the likes of Banksy and Yayoi Kusama.
Some other honorable mentions for museums:
Stedelijk Museum
National Maritime Museum
Nemo Science Museum
FOAM Photography Museum
Tropenmuseum
EYE Film Museum
Other fun things to do in Amsterdam
There are so many interesting things to see in Amsterdam, and even more fun things to do.
Canal boat ride
Something you MUST do once in Amsterdam is go on a canal boat ride. We don't recommend the large canal cruise boats. They are way too big and packed, so you won't really see anything.
To really take in the gorgeous city views from the canals, rent a smaller boat for max. 15 people. Especially at dusk when the lights around the canal bridges go on, this is a stunning sight to be seen.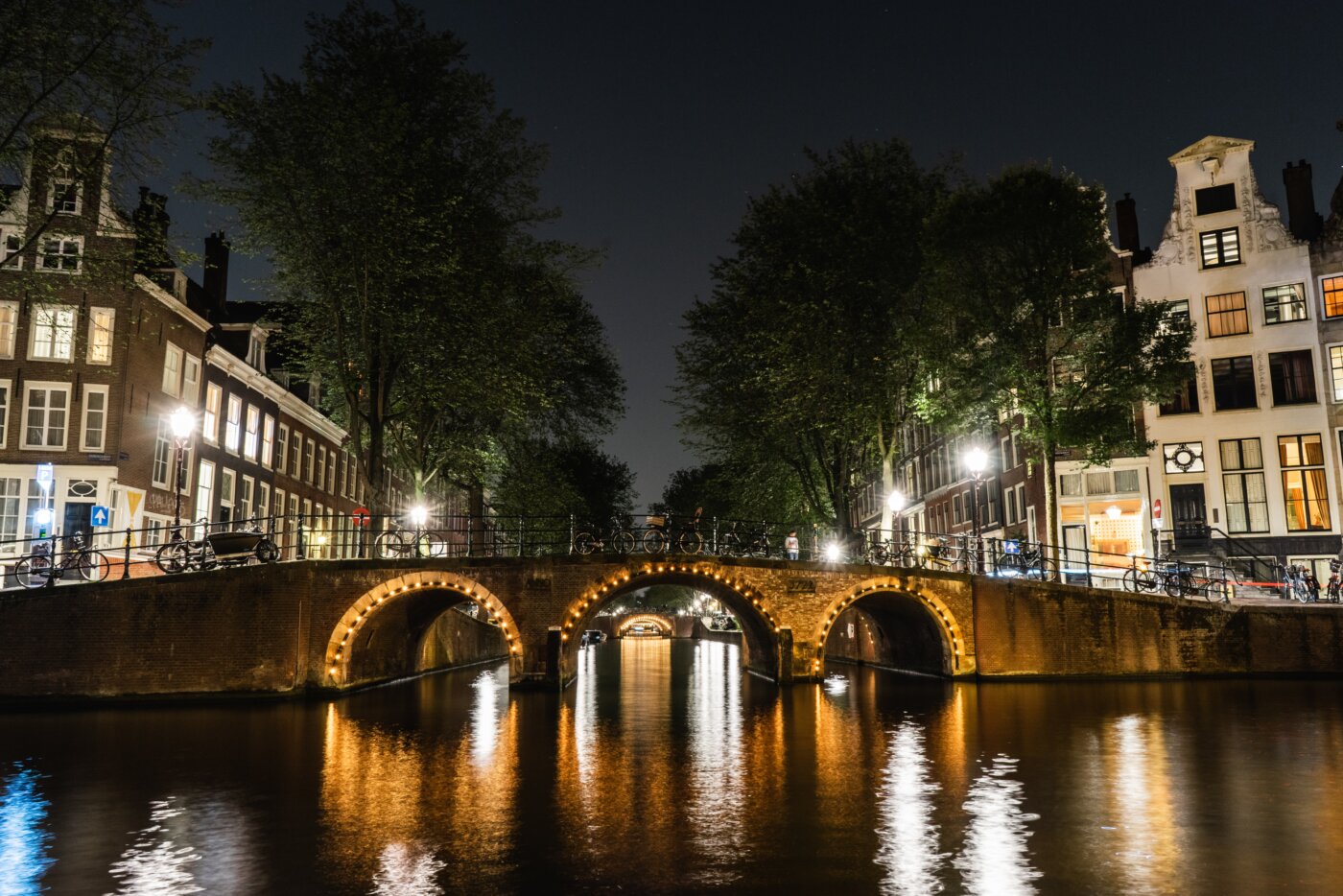 Photo by Ehad Neuhaus
Escape rooms
One of the most suspenseful, but fun experiences you can have with a group of friends is to do an escape room. Some of them have amazing themes, making you feel like you are trapped in a movie. Solve riddles and problems, and work together to get through physical obstacles. Wear comfortable clothes, as you might have to climb, crawl, dismantle a bomb or jump through laser beams…
The best escape room in Amsterdam is definitely Sherlocked, housed in the beautiful Beurs van Berlage building.
Questomatica also has super inventive rooms with a video game theme, and a dollhouse theme.
A variety of quality rooms are also available at MyEscapeClub.
Spa day
After such a busy weekend full of dancing and not much sleep, you might want to pamper yourself. Just outside of Amsterdam in the woods, Sport Hotel Spa Zuiver is located. A large complex with countless saunas, steam rooms, swimming pools, and treatment areas. Twice a week they have designated swimwear days, during the rest of the week everybody is but-naked.
Some other nice spas:
Away Spa at W Hotel
Atlantis Private Spa Amstelveen
Sauna Deco Amsterdam
Akasha Spa at Conservatorium Hotel
Fort Resort Beemster
Laser game & bowling & more…
With a big group, it's nice to do things that are more active.
Here are a few centers that are focused on group fun:
Aloha – Dinner and cocktails, bowling, laser game, glow midget golf, karaoke.
Knijn – Bowling center
Race Planet – Bowling, Laser game, Go-kart, roller skating, karaoke
VR Arcade – Virtual reality gaming
A'dam Game Park – Virtual reality gaming
Up – Virtual reality experience
Paintball Spaarnwoude – paintball in nature
Ton Ton Club – Arcade game hall for adults
Honorable mention for a fun activity:
Rocycle Club Escape – Spinning class in a club with disco lights and DJ's.
That's it for now angels!
If you know about anything that should be added to this list, please let us know.
Send your tips and recommendations to Joanna@thegardensofbabylon.com

---