Welcome to Los Angeles
The city of angels has welcomed us on multiple occasions, and each time has been no less than captivating. Soon, the Gardens of Babylon will return for another magical gathering on December 18th, at Le Jardin/La Mesa Lounge. The colorful and bustling city of dreams is the epicenter of showbusiness, with countless film and television studios, theaters, and Hollywood celebrity hang-outs. But of course, there is more to La-la-land when you look beyond that obvious layer of shiny veneer.
Visiting Los Angeles for the first time, we totally understand you want to cross certain things off your bucket list. Go see the Hollywood sign, stroll down Venice Beach, and visit Universal Studios for example. To make your stay even more interesting, we have asked LA locals within our community about the best places to eat, go out, shop for Babylon-style outfits, and other fun things to do. Here we go!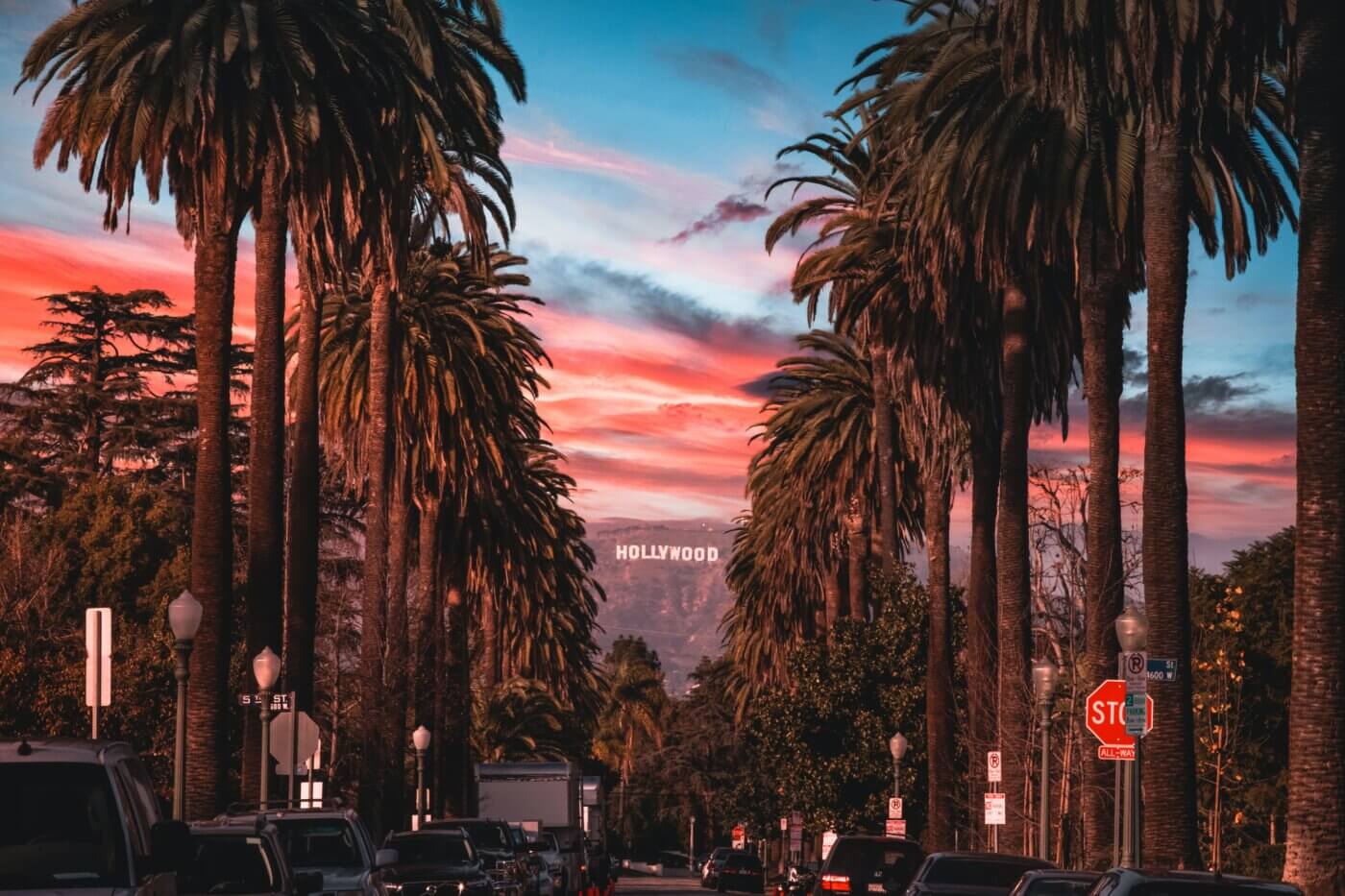 About Los Angeles
Located in Southern California by the Pacific Ocean, Los Angeles is the second-largest city in the US after New York City. The pleasantly warm climate and cultural diversity make it a very attractive vacation destination, but also the ideal city to live if you dream of making it in the entertainment industry.
Surrounded by mountains, LA is both hilly and flat. The city counts many different neighborhoods and areas, of which some used to be other smaller cities that eventually joined Los Angeles. Every district has its own vibe, as you will discover while roaming beach areas such as Venice and Santa Monica, glamorous West Hollywood and Beverly Hills, hipster Silver Lake, and eclectic (but in some areas a bit sketchy) Downtown LA and K-Town for example.
Some practical information first
Before we launch into the recommendations for the best restaurants, bars, and shopping areas from our local community, let's go over some practical information first. The first thing you should do, is join the LA Family Whatsapp group. Here you can connect with our community, find out about gatherings before and after the event, and share ideas and recommendations.
Covid-19 restrictions
To travel into the US, check the requirements that apply to you here. Furthermore, as a non-American citizen, you will need a visa. Check if you can apply for an ESTA (visa waiver) and make sure you fill in the Health Declaration form.
If you're not eligible for an ESTA, you will need to check here for other types of visas.
Once in LA, you will have to show proof of vaccination + ID to enter indoor dining areas, venues, and other establishments. Some places will also ask you to wear a mask while entering. This also goes for our event, but once inside masks can be removed and no social distancing is required.
Transportation
Unfortunately, LA is right there on the list of cities with the worst traffic congestion in the world. Also, as the city is an amalgamation of smaller cities and towns, everything you want to visit is probably spread out across the county. Getting from A to be B on the other side of the city can mean you are spending 45-60 minutes in an Uber. Our best advice is to very carefully plan your activities, grouping them together based on location.
Besides renting your own car, Uber and Lyft are the way to go for longer distances. LA has a subway system, but opinions seem to vary when we ask how safe it is. For short distances, we highly recommend taking a short-term rental scooter such as Bird, or Lime.
Accommodation
As mentioned before, be sure to join our LA Whatsapp group, as there might be community members who are able to put your up for a few nights, or looking to share accommodation. Checking offerings in advance on Airbnb, Trivago, and Booking.com will show many options for each type of budget.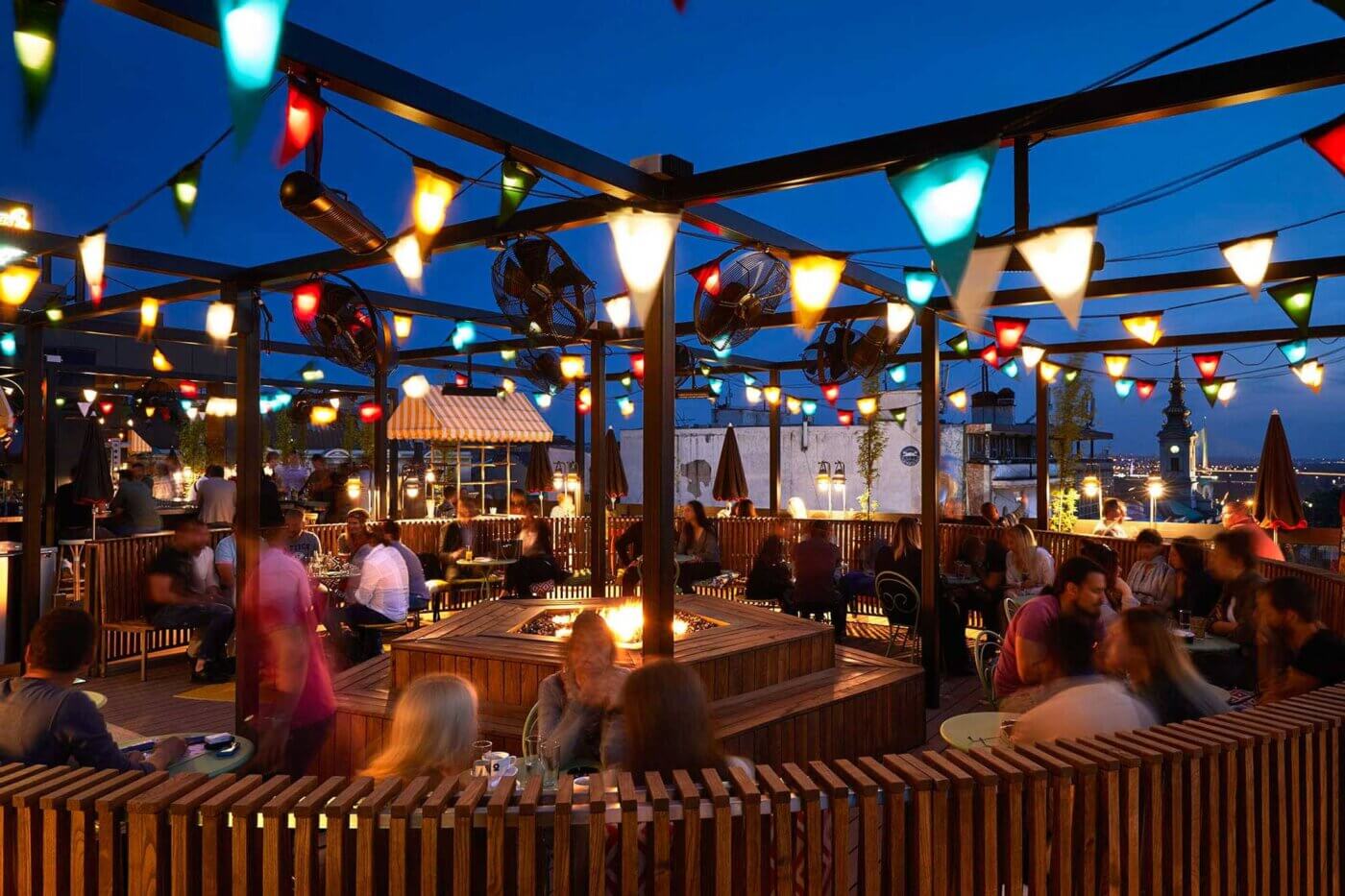 Some of our favorite hotels for a modest budget include:
Food in Los Angeles
Just like any cosmopolitan city, LA eateries offer a very diverse range of world cuisines. Located close to Mexico, it's no wonder that Mexican food is by far the most popular grub in town. Furthermore, you will find that most restaurants try to cater to the healthy Hollywood lifestyle. Often you will find keto dishes, lots of vegan specialties, and healthier replacement options such as cauliflower pizza dough for example.
Tocaya
Delicious modern Mexican food with a twist. Tocaya has several locations throughout LA, all with a cozy and laidback atmosphere. They have all your Mexican favorites on the menu; quesadillas, burritos, bowls, and soups. Build your dish from scratch by choosing your preferred type of protein, rice, salsa, tortilla, and cheese. There are a lot of low-carb and vegan options available. At some locations, you can enjoy your lunch in the sun on the patio.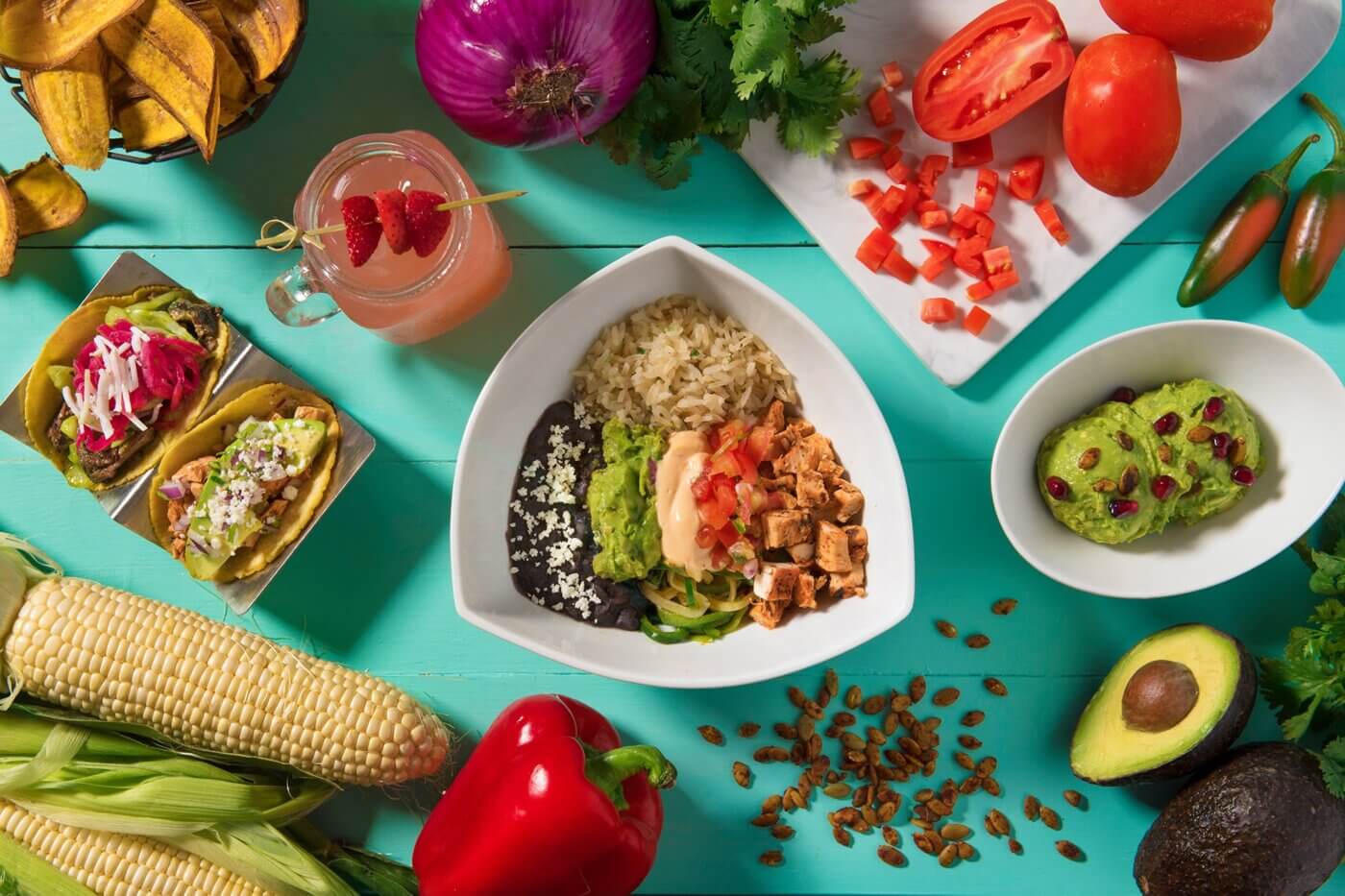 The Butcher's Daughter
Her father might be a butcher, but at The Butcher's Daughter you will only find delicious dishes that are plant-based. At this "vegetable slaughterhouse", vegetables and fruits are treated like a butcher would handle them; chopped and filleted into healthy, fresh meals. Stop by for lunch, brunch, or dinner. All the flavor and texture will make you forget that there is no actual meat involved.
Grand Central Market
There is something for everybody at Grand Central Market. It's a cozy hub of countless delicious food vendors, all illuminated by bright neon signs. Sit at your favorite vendor's bar, or pick up your food to eat it at the common dining areas. The wide range of vendors includes Ana Maria's Tacos, EggSlut, Bento Ya Japanese Cuisine, Berlin Currywurst, Chiles Secos, China Cafe, Horse Thief BBQ, and many more.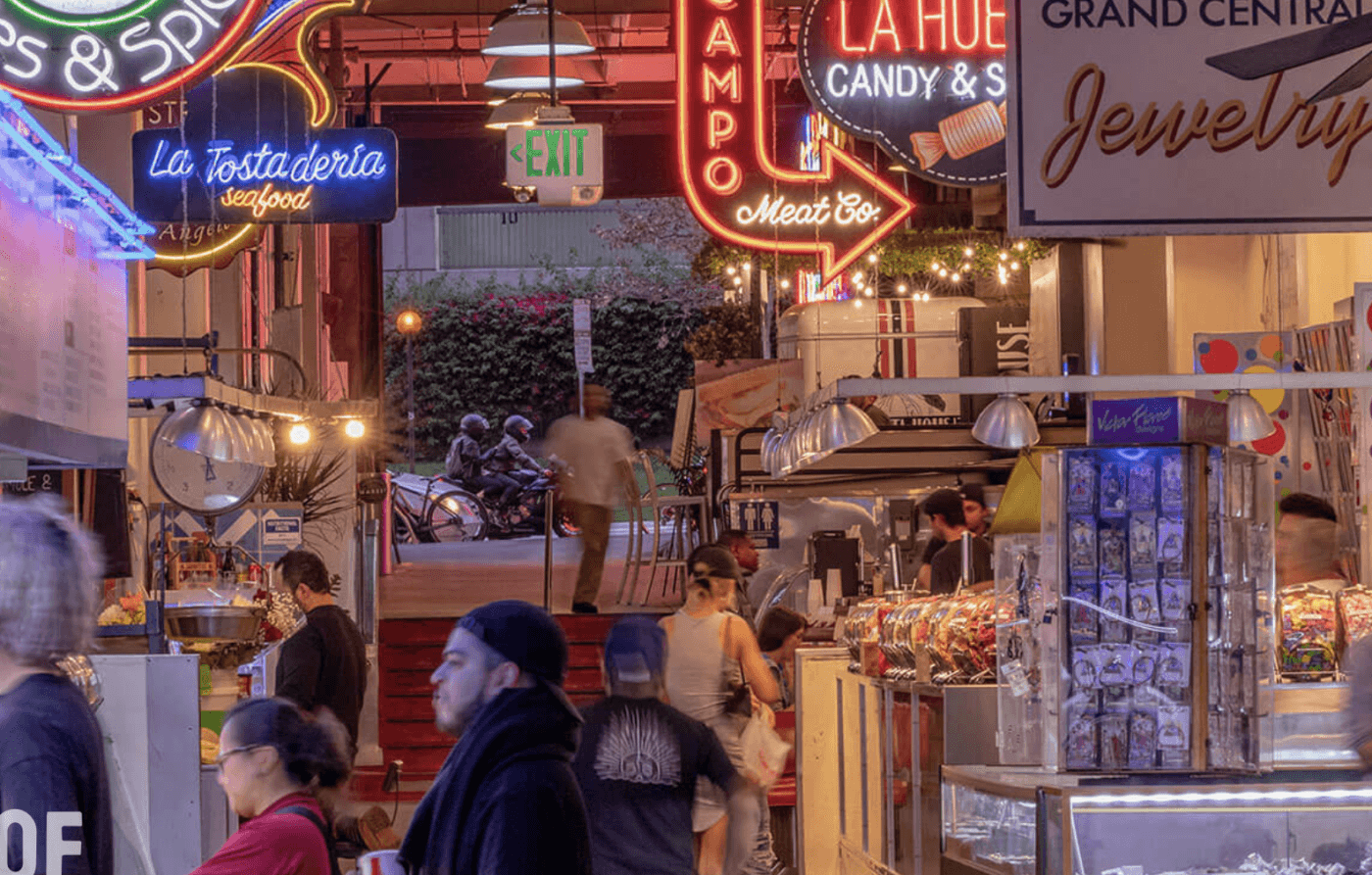 Mama Shelter's Rooftop
It's a funky hotel to stay at, but the lovely rooftop terrace at Mama Shelter also makes it worthwhile to visit just for food or drinks. You have a 360-degree view of the city, with even a clear view of the Hollywood sign during the day. Order some wine, beers, or cocktails or tuck into some good appetizers and burgers while enjoying the upbeat playlist. In the winter, the terrace is heated, so you are welcome all year round.
Superba
With various locations throughout the city, Superba is the ideal place for a healthy and hearty lunch or dinner. Besides this, it's also a cozy place to sip some coffee, adding some signature sweets or pastries from their fresh home bakery.
Yamashiro
We can't decide what the best thing about Yamashiro is; the delicious Japanese food, or the breathtaking views? This high-end restaurant offers sushi and other traditional dishes, which are served inside, on the terrace, or in the romantic courtyard garden. On weekends there will also be live jazz music playing in the bar, while the melodies carry throughout the venue. After dinner, take a stroll through the Japanese pool garden and share a kiss under the moonlight.
Gjelina
An eclectic menu of dishes made with local ingredients is served at Gjelina. The owners have long-standing relationships with Southern Californian farmers, fishermen, and co-ops. Famed for their seafood, pizzas, and meat/vegan options, you will leave Gjelina with a happy belly for sure. Every corner of the restaurant is comfy and intimate, while the outdoor patio offers a sultry atmosphere.
Gracias Madre
Born out of love for mother nature, Gracias Madre is not your average Mexican restaurant. Staying true to traditional seasoning and herbs, all the delectable dishes are plant-based. Besides this, the agave menu boasts more than 100 different mezcals, tequilas, and other distilled agave spirits. Join for lunch, dinner, or weekend brunch, and don't forget to check in on taco tuesday or when it's happy hour.
Jones Hollywood
The most famous American-Italian food is served at Jones Hollywood. Plus, note that the flexible hours allow you to dine until very late! On your way back from an event and feeling peckish? Order your pizza up until 2am, and much away in the retro-styled leather dining booths.
Beauty & Essex
Previously discovered when added to our guide to New York, the fabulous Beauty & Essex also has a Los Angeles location. It's everything we already loved about the place. Welcomed at a vintage pawnshop with guitars on the walls, the corridor leads to a super elegant and dimly-lit upscale bar and restaurant. Try to snatch up a table on the outdoor patio, with cozy string lights draped across the sky. It will be a night to remember.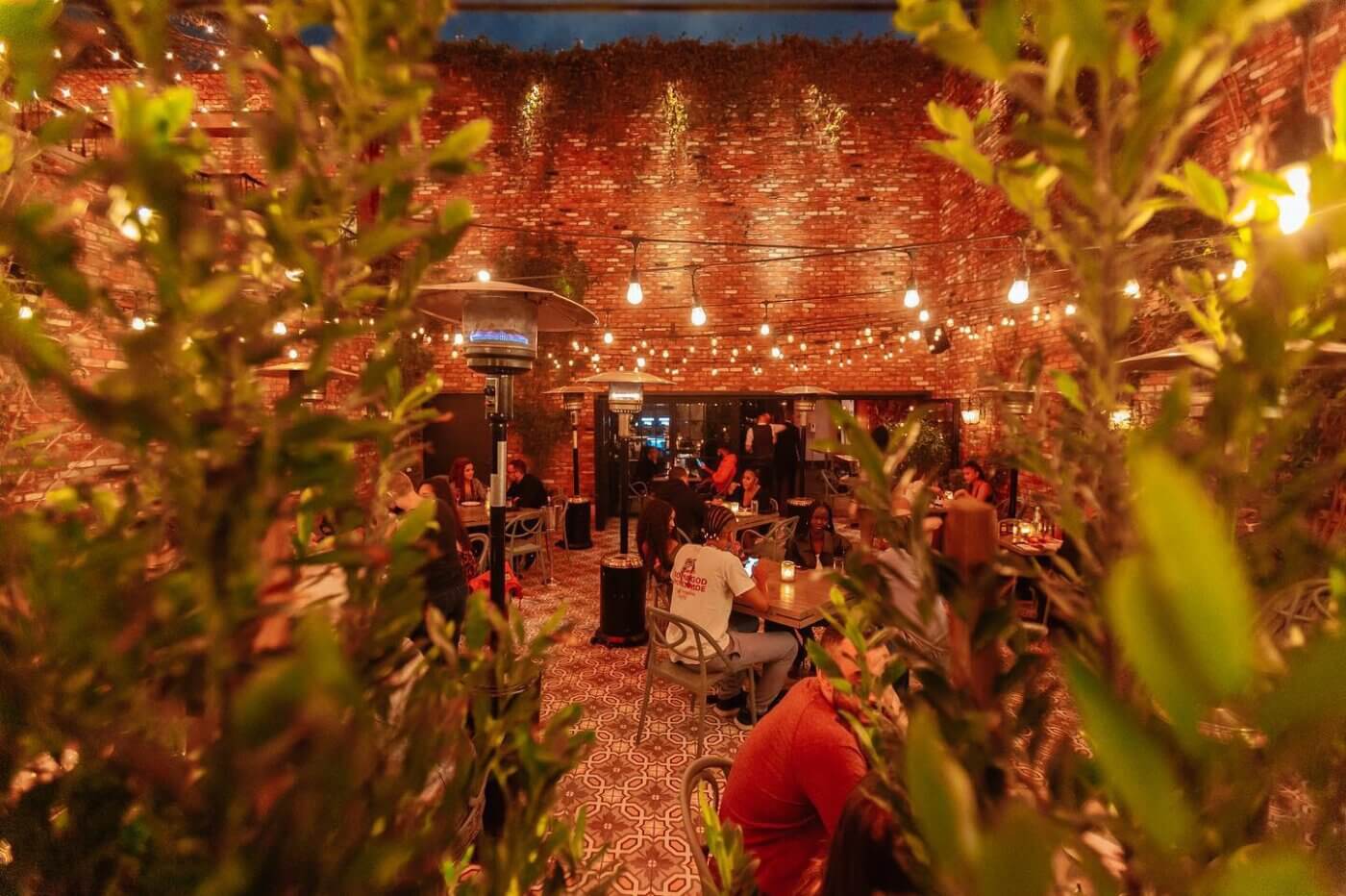 Cocktail Bars in Los Angeles
There is no shortage of peculiar (speakeasy) bars in LA, zift through some of our favorites below.
No Vacancy
Topping this list of cocktail bars, No Vacancy offers a unique experience. It looks like a small boutique hotel, its grandeur slightly faded yet upheld by the eerie atmosphere. Once you are inside, look for hotel room number 1902. The femme fatale sprawled across the bed will tell you how to reach the bar. Prepare to be amazed, as the warmly-lit bar even leads to a spacious outdoor patio where the energy is bustling. On some evenings there is even live music or other interesting acts.
Pour Vous
The name says it all, Pour Vous is a chic Parisian-style cocktail bar for you. Bring a date, and be sure to dress up fancy because they are strict on their elegant dress code. Come early if you want to have a semi-secluded spot near the fireplace perhaps, or come late if you want to catch some of the impromptu burlesque acts.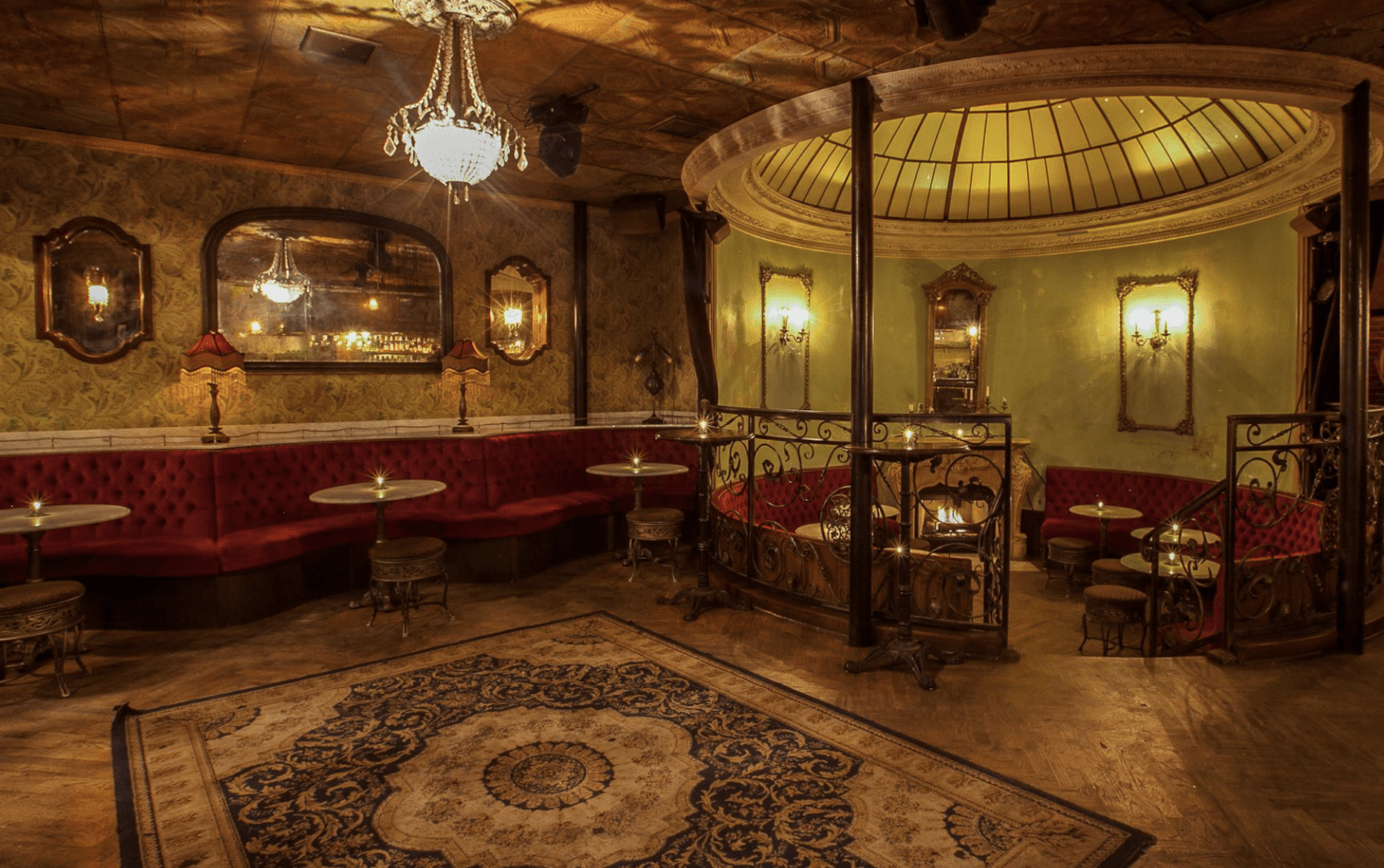 The Blind Barber
First opening in NYC, the Blind Barber concept has branched out to Chigaco, Philadelphia, and LA. Arriving on location, it seems to be nothing more than a regular barbershop, and you can certainly get a stylish new cut here. Walk all the way through to the backroom however, and you will find the secret cocktail bar that is not even mentioned on their website.
Adults Only
Enter if you dare! From the outside, Adults Only looks like an adult video store from the 90s. Even the bouncer does a great job posing as a video store owner, moving the VHS tapes around as you walk in. Once you walk to the back and move the black curtain aside, you will find yourself in a spacious upscale dive bar with a billiard room. The music can be loud here, especially if there are dj's playing. Probably not a place for a date or deep conversations but a great spot to take a group of friends.
Black Rabbit Rose
It might take a minute to find this one, be persistent. Once you spot the sign of a Rabbit while standing on the corner of Hollywood Boulevard and Hudson Avenue, find the unmarked awning and walk right in. Black Rabbit Rose has a beautiful cocktail lounge, dining area, and a theatre where you can enjoy spectacular magic/variety shows on Thursdays through Saturdays. The place is soaked in old Hollywood glamour, with red velvet curtains and booths, old wood, and dimly lit vintage chandeliers.
Other honorable mentions for cocktail bars:
Shopping in Los Angeles
Still in need of a nice party outfit for our event? We offer all the inspiration you need while explaining the style of Babylon in this blog, plus some places to shop online. However, Los Angeles has loads of shops that offer flashy party wear too. We have tracked down some of the local favorites for you.
Dollskill
The absolute center for alternative clothing and party outfits in any style, scene or subculture. A huge collection of (cyber) goth wear, neon rave outfits, platform festival boots, knitted bohemian pieces, and loads of shoes and accessories. You simply must go to Dollskill! The shop is an online favorite, and this is their only physical store in the world.

Melrose Avenue
Imagine a shopping street lined with countless stores selling unique flashy party/festival outfits; Melrose Avenue is it! Start from the beginning and walk down this street which features a mix of vintage stores, funky retailers and one-of-a-kind custom designer boutiques. Some great ones are: American Superior Vintage, Cosmos Glamsquad, Natalia Gaviria, Rock Etiquette ,Wasteland and Fox That.
Melrose Trading Post
Love to roam and hunt for treasures at flea markets? Check the calendar to see if there will be one held at Melrose Trading Post while you are in town. It's the perfect place to find unique vintage clothing, home goods, antiques, and jewelry.
Muzer Hollywood
Once you are finished with all the eclectic stores on Melrose, there are still a few interesting places on Hollywood Boulevard that you should visit. Muzer is one of those stores, stocking a more hippie style of clothing and accessories for men and women. Think tie-dye items, harem pants, belly dancer belts, and lots of statement jewelry.
Stage of Hollywood
Walking a little bit further down Hollywood Boulevard, you will find Stage of Hollywood. They mostly sell exotic dancewear for women, such as holographic and glittery bodysuits, stockings, and hotpants. Also some nice rave outfits, bright-colored lingerie, and opulent accessories such as rhinestone captain hats and shiny nipple stickers.
Rave Wonderland, Raveland, and Rave on Fire.
Head out to Pico Boulevard and Santee Street if typical rave wear is more your thing. At Rave Wonderland you will find an overload of neon-colored lycra outfits, leather-look clothing, LED accessories, platform shoes, and face glitter. Even more of what you love at nearby stores Raveland and Rave on Fire.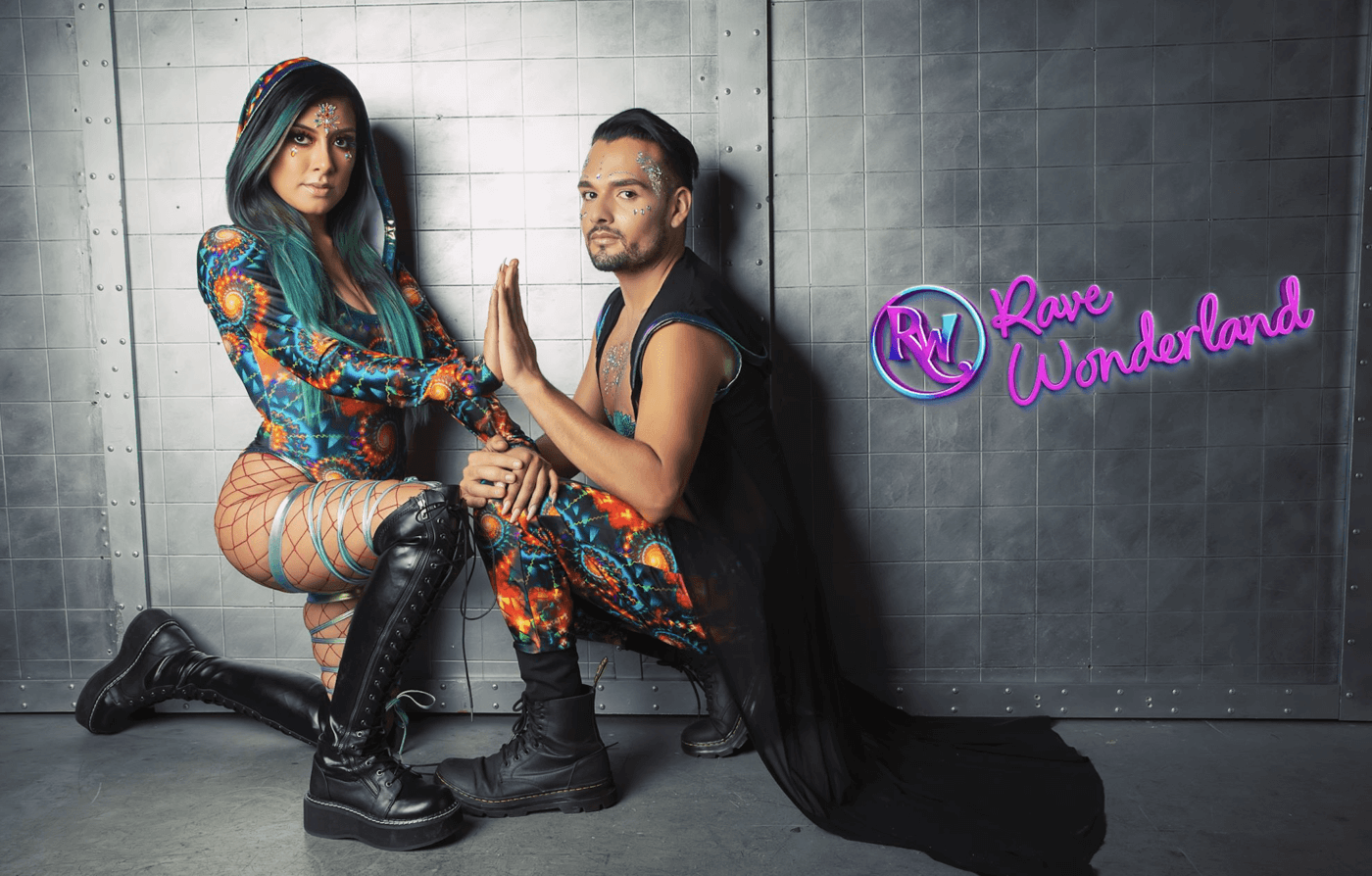 Asa Kaftans
Another nice shopping area that you don't want to miss, is Abbot Kinney Boulevard. You can find some lovely boho-chic brands besides some of the internationally known typical retailers here. Asa Kaftans is one that truly stands out, carrying a beautiful "goddess" collection of embellished kaftans, dresses, co-ord sets, turbans, slippers, and jewelry all in an elegant middle-eastern style.
Joann fabrics & crafts
For the creative souls among us who like to create or customize their own outfits, Joann is a wonderful place to get all the supplies you need. This gigantic store stocks amazing fabrics, trims, appliques, gemstones, rhinestones, ribbons, textile paint, and literally anything else you can think of.
Museums
There is absolutely no lack of arts and culture in LA. We would say there is quite an abundance for sure. Take a look at some of the most popular museums and take your pick.
The Broad
Downtown LA is home to the Broad museum, which has a fantastic collection of contemporary art. One of the most popular to be featured on social media too, thanks to the many immersive art experiences. Even better; free admission for the general areas, as only the temporary exhibitions require a separate charge.
The Griffith Observatory
The gateway to the cosmos! Have a look through the many telescopes, enjoy the planetarium and other astronomy exhibitions, and live shows at the Griffith Observatory.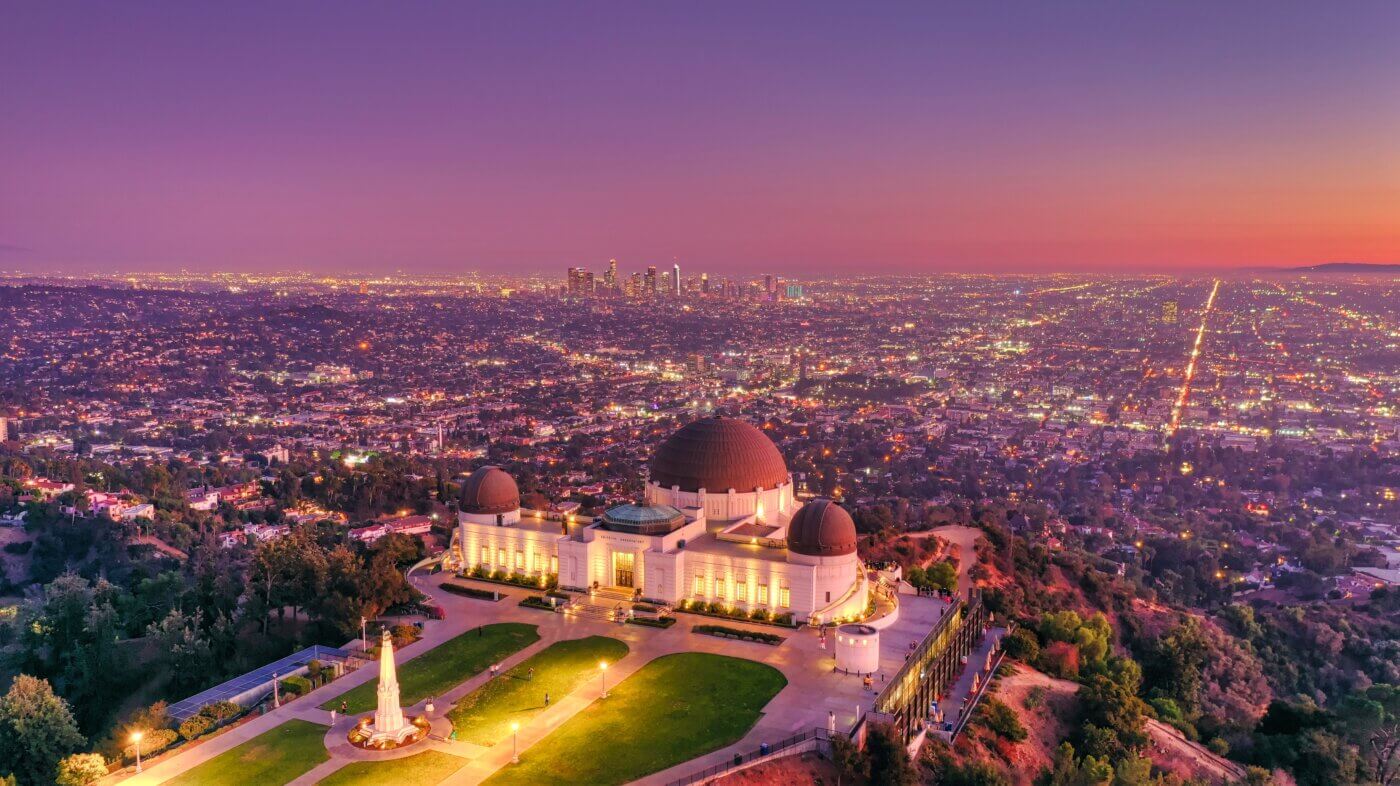 Some other honorable mentions for museums:
Los Angeles County Museum of Art
Peterson Automotive Museum and Vault
The Museum of Contemporary Art MOCA
Other fun things to do
Your belly is full and you have shopped until you literally dropped. Recharge quickly, because there is more to see and do in this city. Here are some recommendations for fun things to do in Los Angeles.
Hollywood Walk of Fame
A little cheesy and touristy, yes. But oh so fun! You can't visit LA without strolling down the world's most famous sidewalk. The Walk of Fame features tiles honoring the most acclaimed celebrities such as Frank Sinatra, Michael Jackson, Audrey Hepburn, and Marilyn Monroe.
The Comedy Store
If you love stand-up comedy, the best place to go is the Comedy Store in Hollywood (they also have a location in La Jolla, San Diego). It's simply the best stand-up in town with shows every day.
Venice Canals
Just a short walk from Venice Beach, you will find a walkway along a gorgeous canal in the residential area of Venice. This hidden gem of a place is super romantic, as it is peaceful and quiet while offering picturesque views.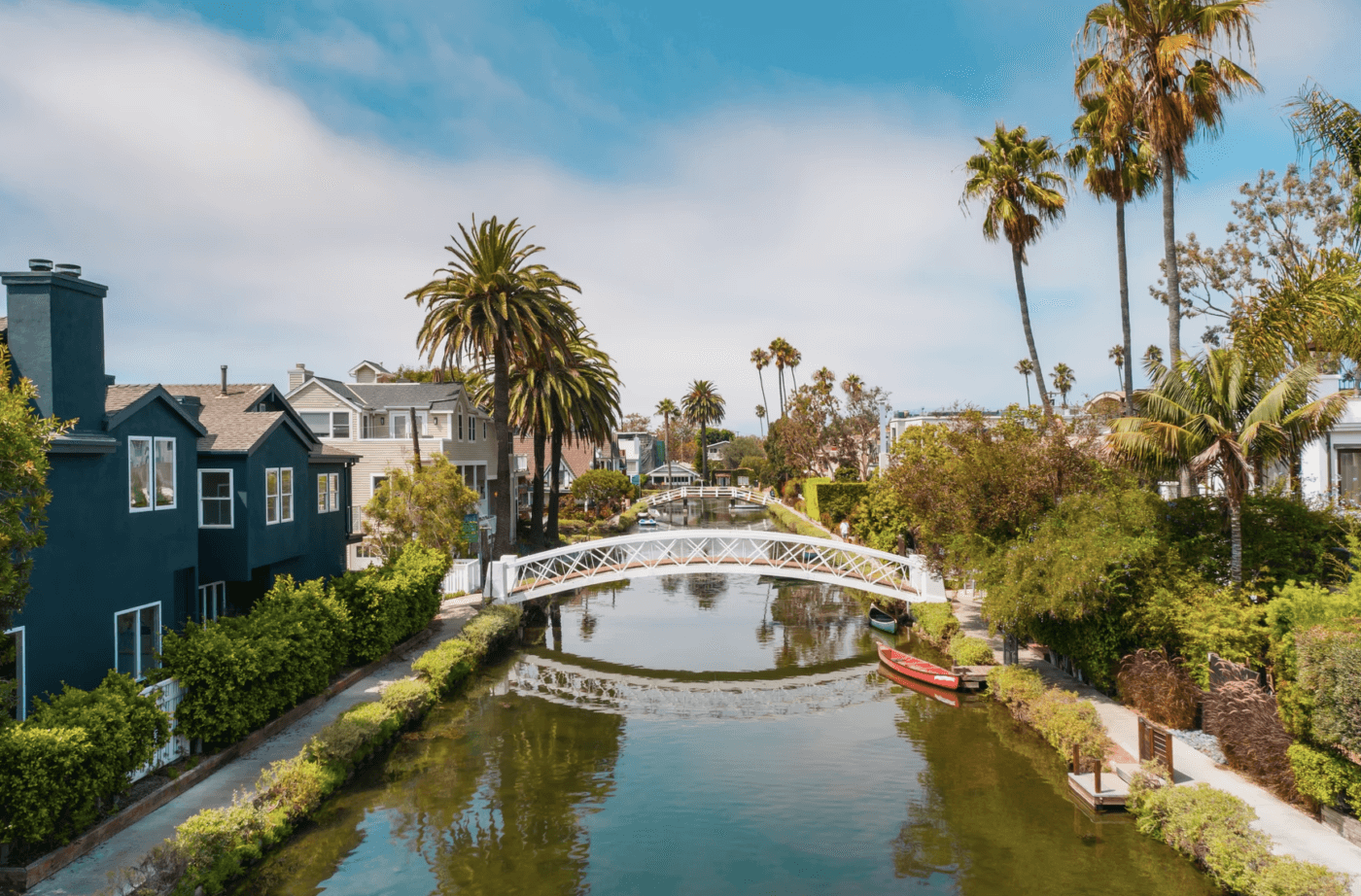 Malibu Beach
Don't get us wrong, Venice and Santa Monica Beach are great. But if you have the time, it's totally worth it to head out to Malibu. The beach is not as busy, and therefore much cleaner and quieter than the aforementioned beaches. Moreover, Malibu itself is a wonderfully elegant town with nice shopping and restaurants. Even though known as a super rich area, all the beaches are public and everyone is welcome. Especially Zuma Beach is commonly agreed to be the most beautiful beach in Malibu.
Echo Park Lake
A walk through Echo Park will take you along pathways lined with beautiful flora and fauna, while the lake gives you even more opportunity to take all the beauty in. Rent a paddleboat or Swan boat to enjoy the park views, which get even more alluring after sunset. Some of the boats are decorated with LED lights, to match the sparkling city lights and lit-up skyscrapers towering behind the trees.
Hollywood sign hike
It's a bucket list experience and a great workout in one; a hike up to the Hollywood sign. There are a few different trails to choose from, which offer different viewing points of the sign. It's strictly forbidden to actually get near enough to touch the sign, but there are loads of great photo spots to capture its grandeur.
All those movies and music videos in which you see people sitting and hanging out on top of the letters, yes that's totally orchestrated with exclusive permission granted. Another unique way to view and photograph the Hollywood sign is by driving down Windsor Boulevard just by 5th street.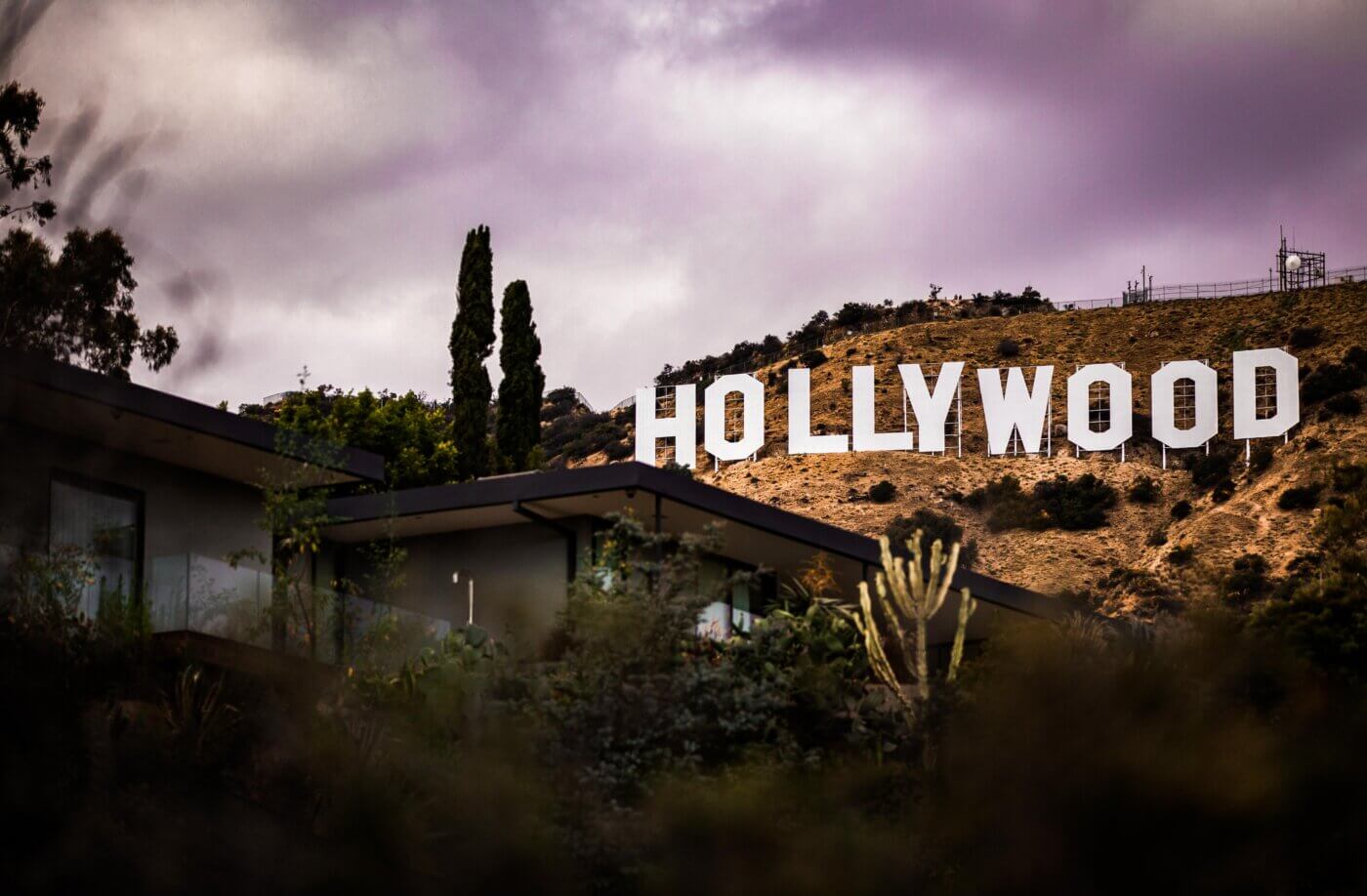 Visit a movie studio
There are quite a few to choose from such as Universal Studios, Paramount Pictures Studios, and Warner Brothers Studio. These places offer a unique behind-the-scenes experience of some of the most famous movie sets while keeping you entertained for a full afternoon.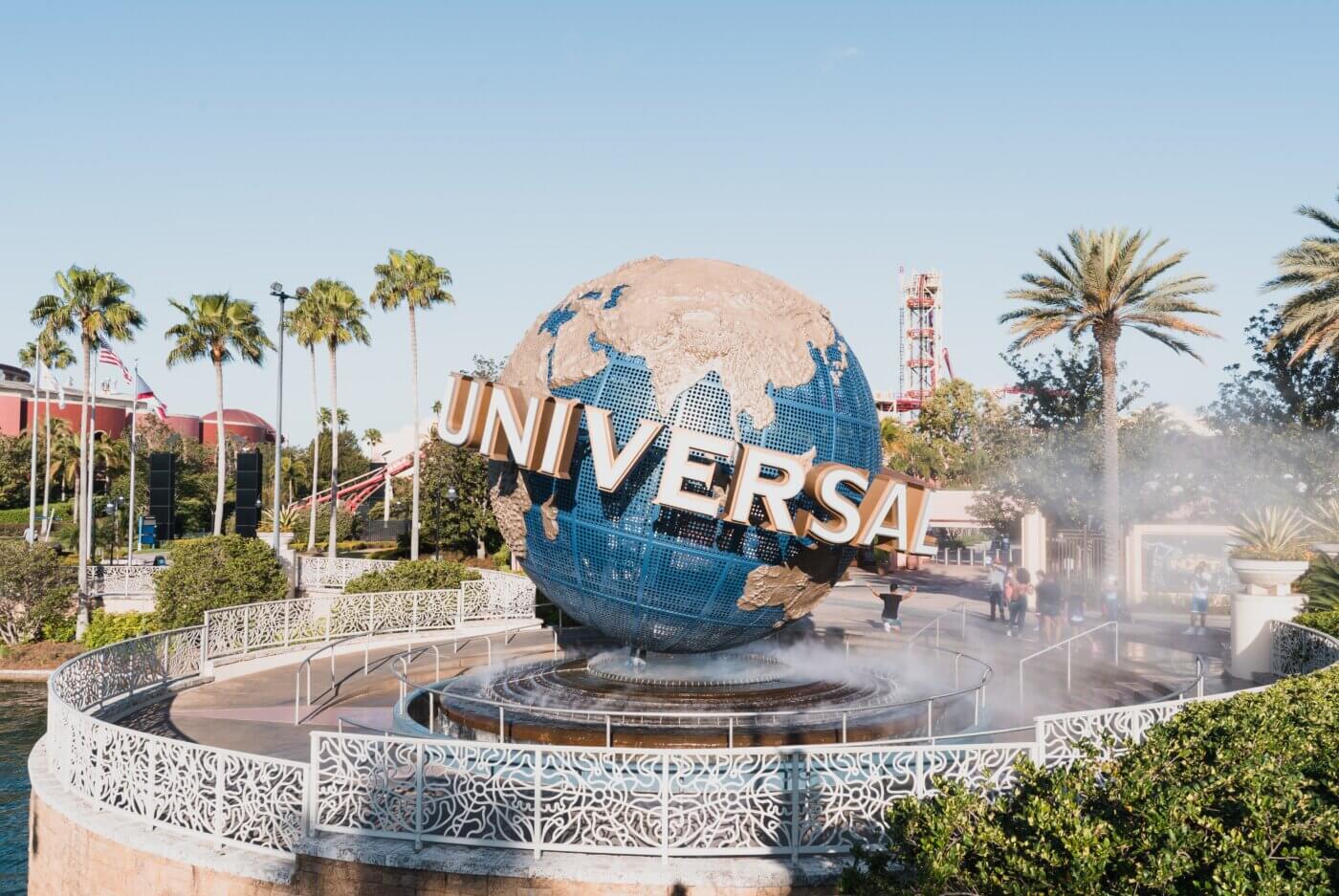 That's it for now angels!
If you know of anything else that should be on this list, please let us know.
Email your tips and recommendations to: Joanna@thegardensofbabylon.com

---