Welcome to New York
A city so famous it has countless nicknames such as the big apple, and the city that never sleeps. In most parts of the Eastern United States, people know exactly what you mean when just referring to it as "the city". And then there's Frank Sinatra's serenade that passionately doubles it to "New York, New York".
Fusing the gritty grandeur of this concrete jungle with the magic of the Gardens of Babylon is a recipe for total rapture. And to make your trip even more unforgettable, we will give you the full low down on the best places to go and fun things to do while visiting. Here are all the recommendations from our local community, welcome to New York!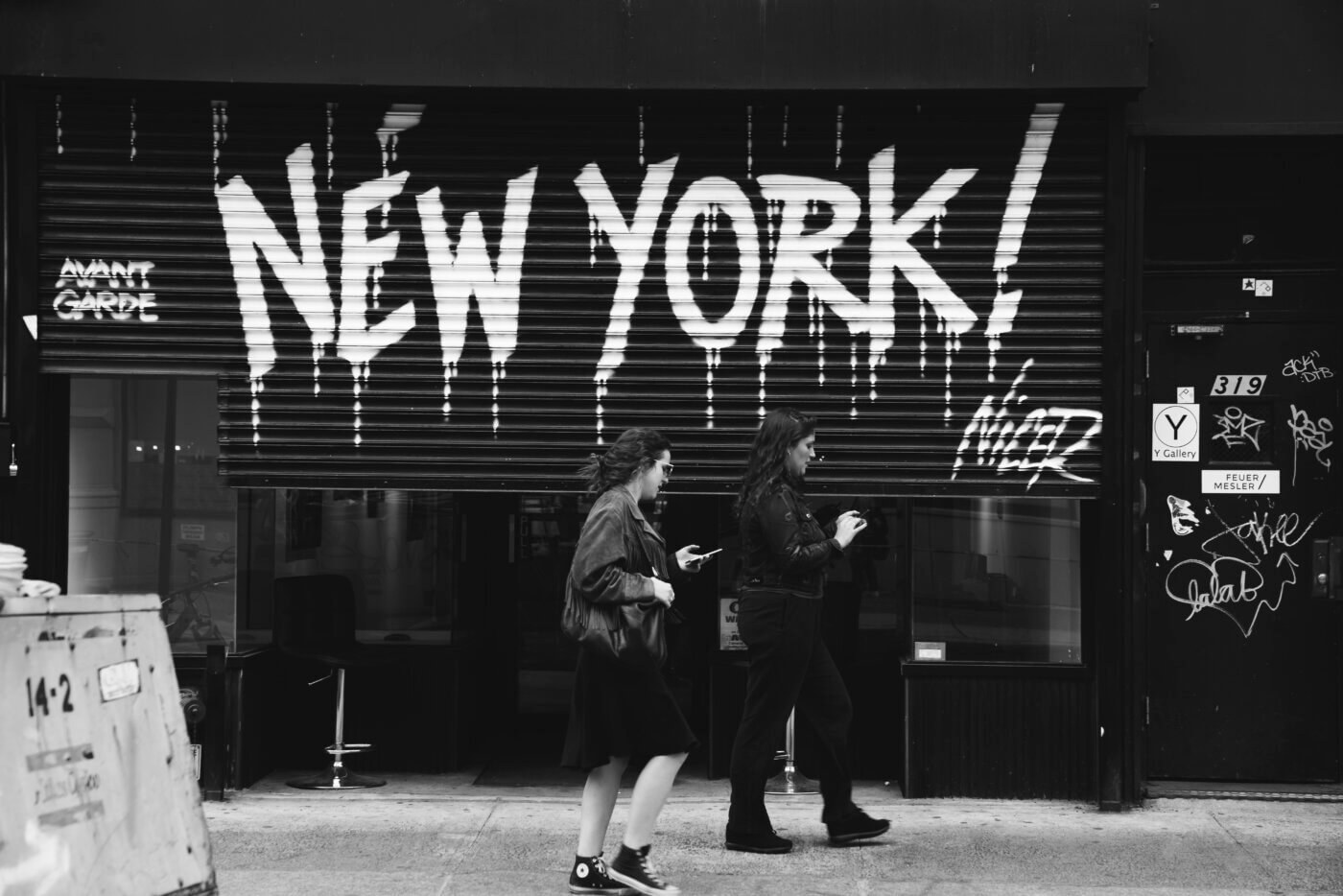 About New York
Located on one of the largest natural harbors of the world, New York City is the most populous city in the US. It is made up of five different boroughs that all have their own charm and flair; Manhattan, Harlem, Brooklyn, Queens, The Bronx, and Staten Island.
Some of these boroughs have some characteristic neighborhoods that are worth strolling around. Think of China Town, Little Italy, K-Town, Soho, Nolita, the Meatpacking District, and DUMBO for example.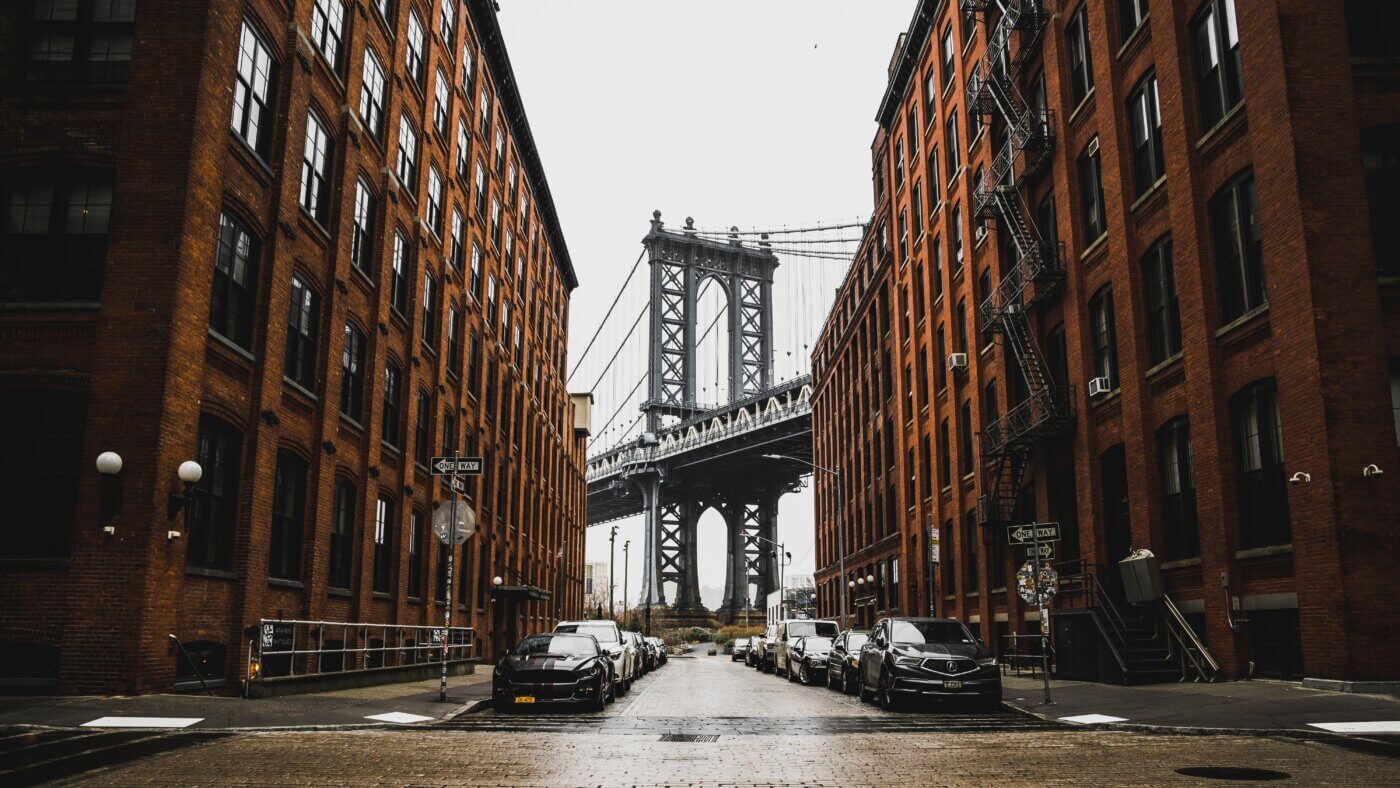 Some of the most iconic sights are of course the Statue of Liberty, the Brooklyn Bridge, Central Park, the Flatiron Building, and the Empire State Building. Sure, as a first-time New York explorer you will want to cross them off your bucket list. However, there are some very cool more recent landmarks, such as the Guggenheim, the Vessel, and the High Line.
Disappear into the crowd at Times Square once, but also take your time to roam the colorful folky neighborhoods in the less touristic areas. You will find that the city has so much to offer, and we are here to help you on your way.
Some practical information first
Before we dive into the best restaurants, shops, and other must-see hotspots of New York, let's get some other practicalities out of the way. First of all; join our Gardens of Babylon NYC WhatsApp group. Here, you can connect with other community members, share ideas and recommendations, or meet up before the event.
Covid-19 restrictions
NYC was hit particularly hard by the global pandemic. Some strict measures have been in place, and we discovered while writing this blog that many community favorite establishments have permanently closed during the pandemic. it might have seemed like the world was opening up again, but restrictions are constantly being lifted and reintroduced.
To travel into the US, check the requirements that apply to you here. Furthermore, as a non-American citizen, you will need a visa. Check if you can apply for an ESTA (visa waiver) and make sure you fill in the Health Declaration form.
If you're not eligible for an ESTA, you will need to check here for other types of visas.
Once in NYC, you must show proof of vaccination + ID to enter any indoor dining areas, among other public spaces. Some restaurants will require you to wear a mask while entering until you are seated, while you are required to keep it on in shops. Check here for more info.
Transportation
What we love about New York, is that it's a great city for walking. Explore the streets by foot without getting lost as all the streets are numbered and run in similar-sized blocks along avenues. To get from A to B at a longer distance, you can purchase a MetroCard to ride the subway and bus system. Choose a metrocard that's valid for multiple days or weeks if you think you will ride often, or just tap your creditcard at the gate for the one-off single ride.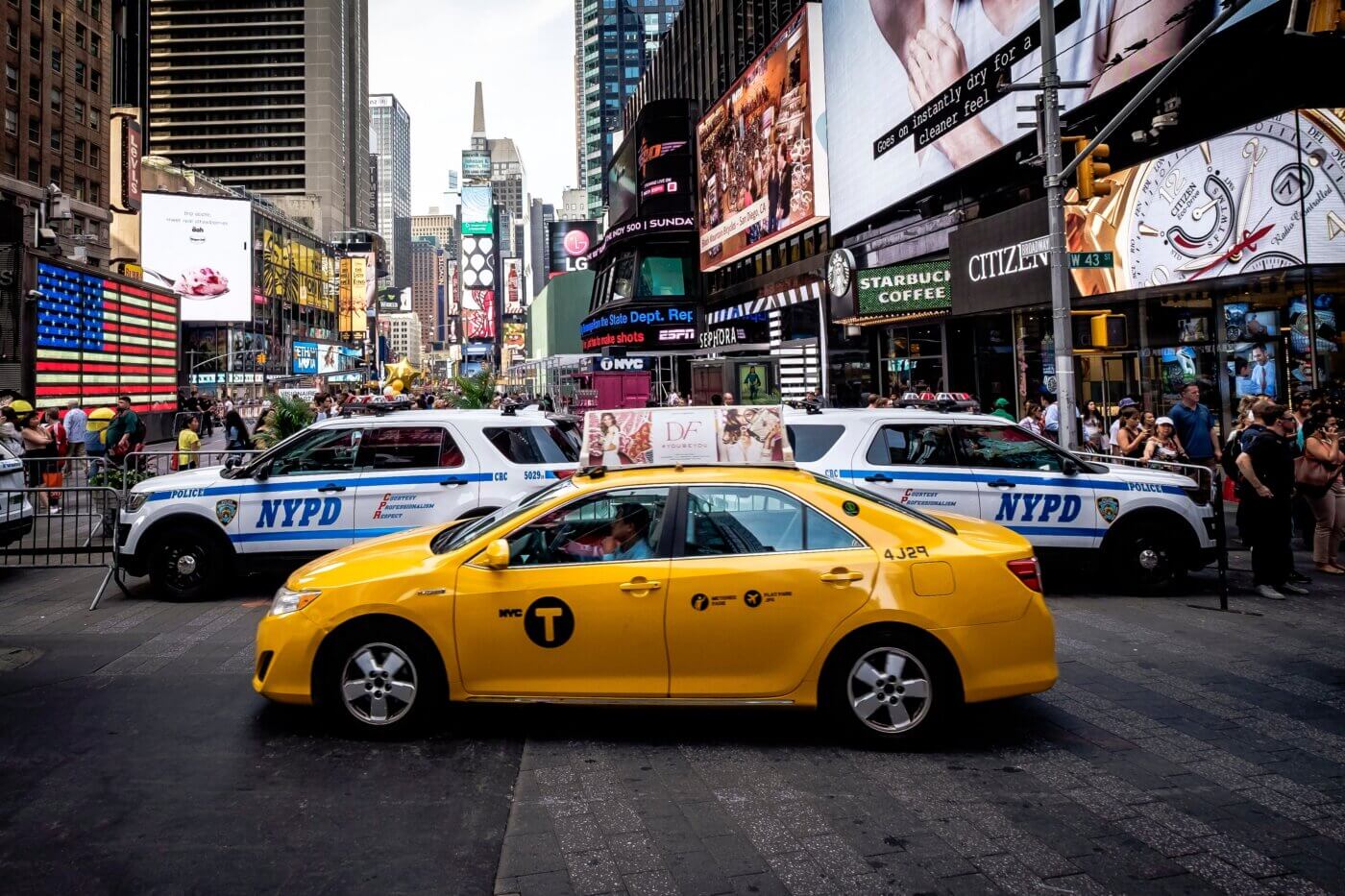 You can also hail a yellow cab from the curbside, which are less abundant than it used to be. Obviously, this is since the introduction of cheaper ride-sharing options, like Uber, Lyft, and Myle.
Accommodation
As the city is made up of multiple boroughs, it might be smart to figure out around which areas you want to spend the most of your time. There are so many nice hotels in New York City, just check Booking.com and Trivago to explore your options, while browsing offerings on Airbnb too. Remember to also mention in our Gardens of Babylon NYC WhatsApp group that you are looking for a place to stay, you might be able to team up with others and share accommodation.
Some of the most unique and/or alluring hotels recommended to us are:
Selina Chelsea
Dream Downtown
Arthouse Hotel
Ace Hotel
1 Hotel Brooklyn Bridge
Some affordable hotels/hostels:
Pod39
The Harlem Flop House
The Jane
Yotel
Citizen M
Arlo Hudson Square
Food in New York City
You will find yourself in a real melting pot of cultures in NYC, with virtually all types of cuisine represented all over the city. Here is a selection of favorites from our community members.
Qi
The amount of Thai restaurants in the city is staggering, so it's hard to choose which to add to this list. Qi Thai Comfort Food is conveniently located in Midtown and has a royal blue, vibrant interior with white chandeliers in glass vitrines. Come for dinner or for the special lunch deals, and add a delicious Thai Iced Tea while you're at it.
Chez Josephine
The late Jean-Claude Baker founded Chez Josephine in 1986, as a tribute to his muse, the legendary Josephine Baker. Reviving the joie de vivre of the 1930s in Paris, the vintage artwork, bright red seating, and French-American menu whisk you away to those magnificent times. On some evenings, the black grand piano is not just part of the decor. Ask about the live piano music evenings when you call to make your reservation.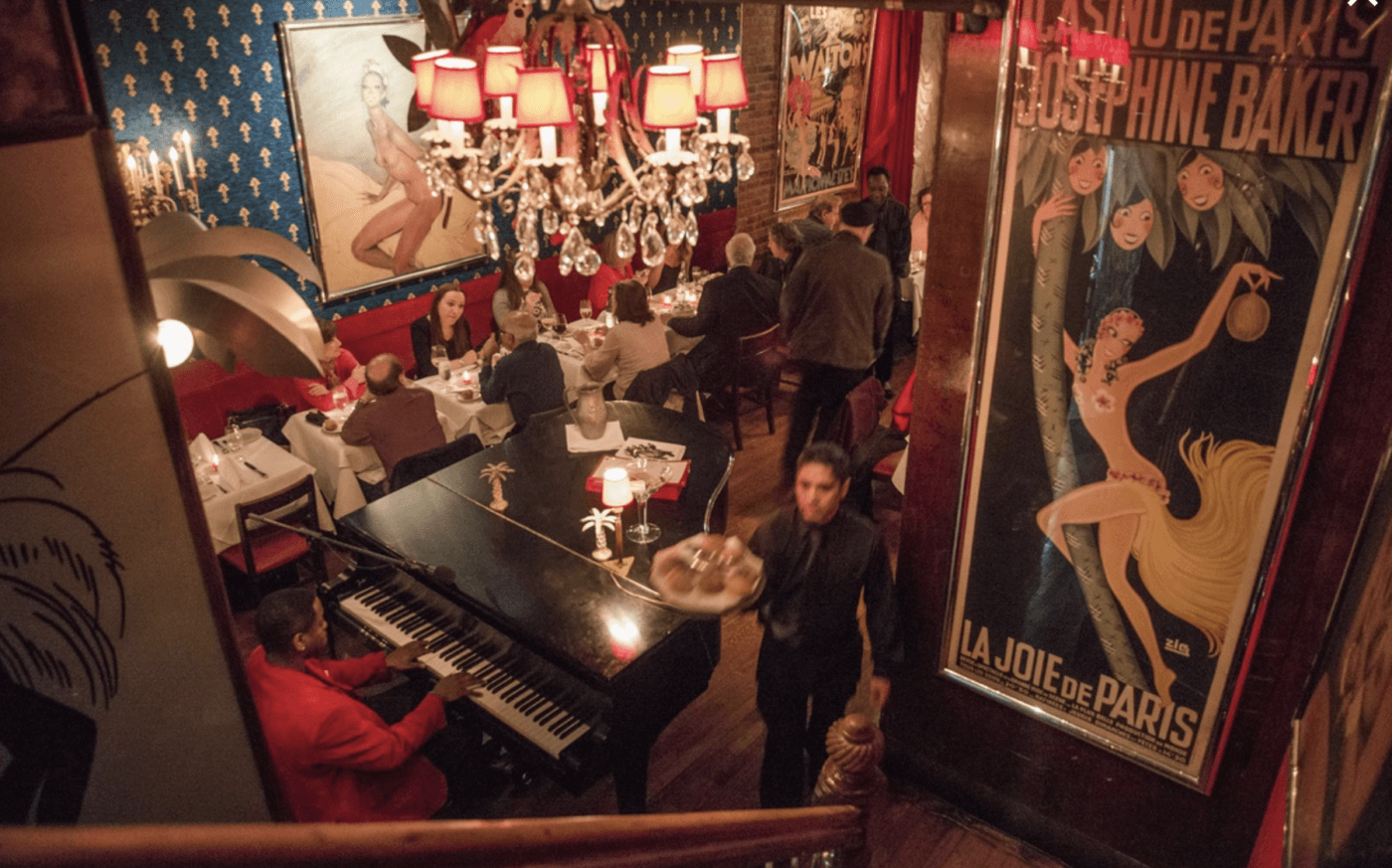 Cafe Mogador
In the mood for some Moroccan-inspired dishes? Head to Cafe Mogador, with locations in the East Village and Williamsburg. Founded in 1983, foodies have been enjoying the traditional tagines, couscous dishes, mezzes, and bastillas ever since.
Le Crocodile
Stylish sprawling eatery Le Crocodile is located in Brooklyn and has a French-fusion menu and good cocktails. The interior with an auburn and rust color palette is reminiscent of the 70s, as are the cozy brown leather booths.
Beauty & Essex
One would walk right past this establishment thinking it's just a slightly more elegant pawn shop selling guitars, gadgets, and jewelry. A pawn shop with suspiciously stylish-looking staff, that is. Come into Beauty & Essex and greet the hostess, who will lead you to the fancy and elegant restaurant and cocktail bar, with sultry dimmed chandeliers and velvet booths.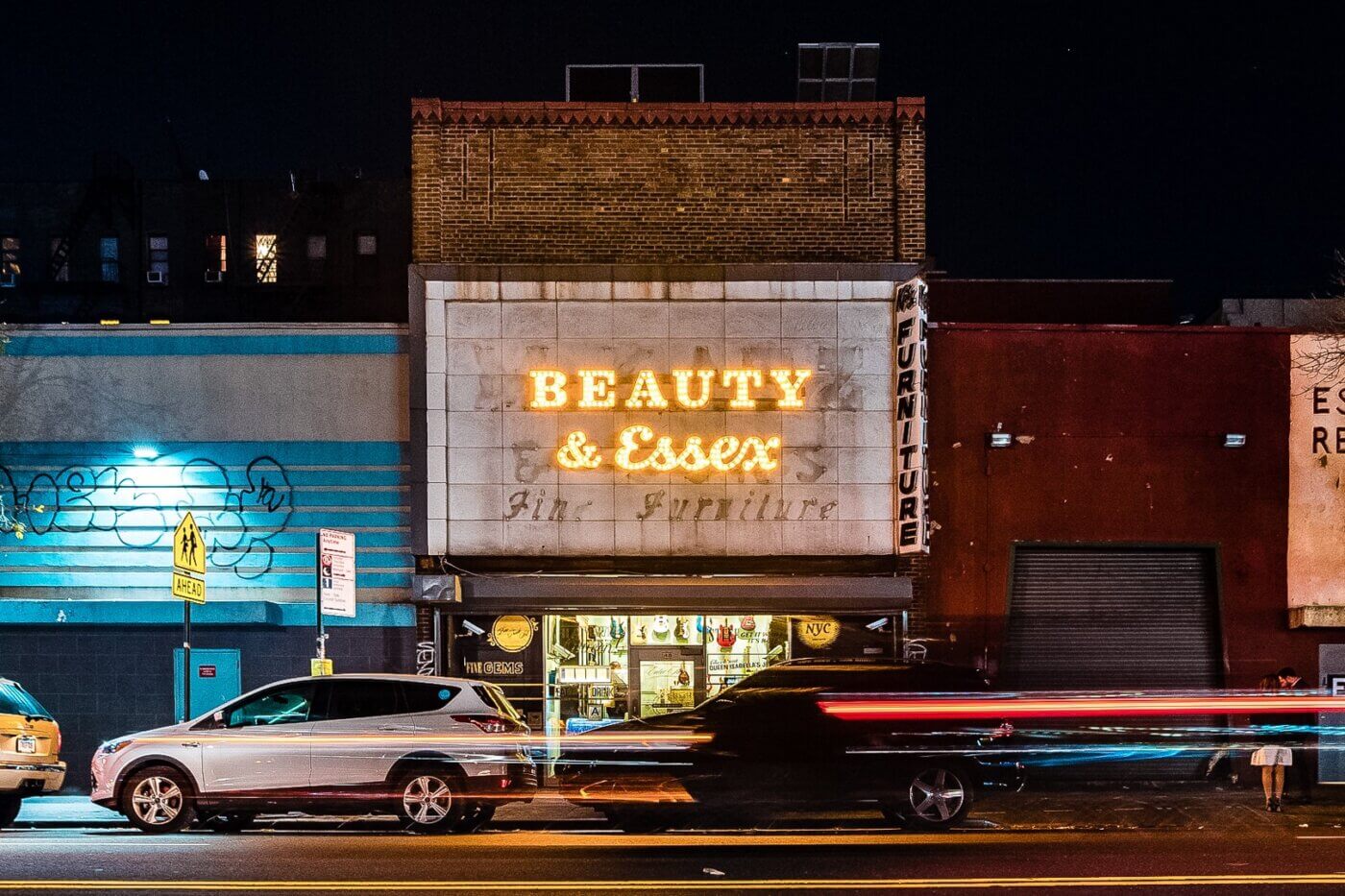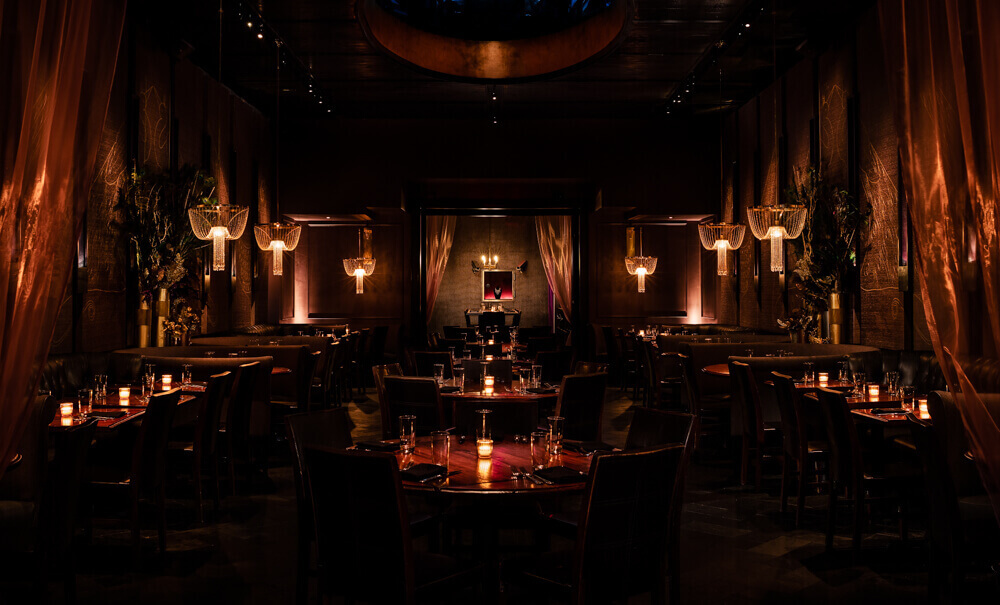 Joe's Pizza
How can we not include a pizza place on this list? Joe Pozzuoli was born and raised in Napels, Italy (the birthplace of pizza) before moving to New York where he founded Joe's Pizza. Get your classic NYC style slice at any of the many locations throughout the city.
Rubirosa
Your NYC trip isn't complete without dining at an Italian restaurant in Little Italy. The strip and surrounding streets are lined with traditional eateries and trattorias, so making a choice is tough. We chose Rubirosa for their interesting culinary twist on classic Italian cuisine, such as the loaded steamed artichoke, and the creamy vodka pizza. Yes, you read that correctly.
Di An Di
Make your way to Brooklyn for some delicious modern Vietnamese cuisine at Di An Di. Order some pho, rice dishes, and interesting cocktails at this sleek eatery with a fresh, low-key hipster interior with gradient walls and potted plants everywhere.
Samurai Mama
At this rustic Japanese restaurant Samurai Mama you will be seated at the communal dining table and served udon soups, sushi, miso, and beers. Finger-licking good, plus you might make new friends at the table.
Sea Wolf
Enjoy manhattan skyline views from this rooftop restaurant in Brooklyn that serves an impressive sea food menu. Sea Wolf has a 5pm happy hour during which you can order oysters at $1 a piece.
Other honorable mentions for unique restaurants:
Pietro Nolita
Black Seed Bagels
Nomo Kitchen
Etérea
1803 NYC
Le Coucou
Fandi Mata
Trailer Park Lounge
Bars in New York City
After a lovely dinner in a hip eatery, you must still have room for some smooth cocktails or craft beers. Besides, NYC has some cool bars with laidback interiors and some (speakeasy) cocktail bars that are the picture of modern elegance.
Please Don't Tell (PDT)
It just doesn't get more prohibition-style speakeasy than this. To enter PDT, you must get to the other side of the phone booth inside the hopelessly ordinary-looking hotdog shop called Crif Dogs. Actually, you might want to chug down a hotdog first, as they are really good here! While you sit in the hotdog shop, it's quite a peculiar sight to see all these smartly dressed-up people coming and disappearing into the back. Where do they go? Get into the phone booth and pick up the horn, which will connect you with the hostess of PDT. If there is room, the backdoor of the booth will open and you will find yourself in the cocktail bar.
Apotheke
Another unique speakeasy experience lives on at Apotheke. From the outside, it just looks like a severely beaten-down pharmacy if it were not for the bouncer in front of the door on weekends. Once you are in, find a classic 20s style cocktail bar where 'pharmacists' in white labcoats serve you delicious cocktails in beakers and flasks.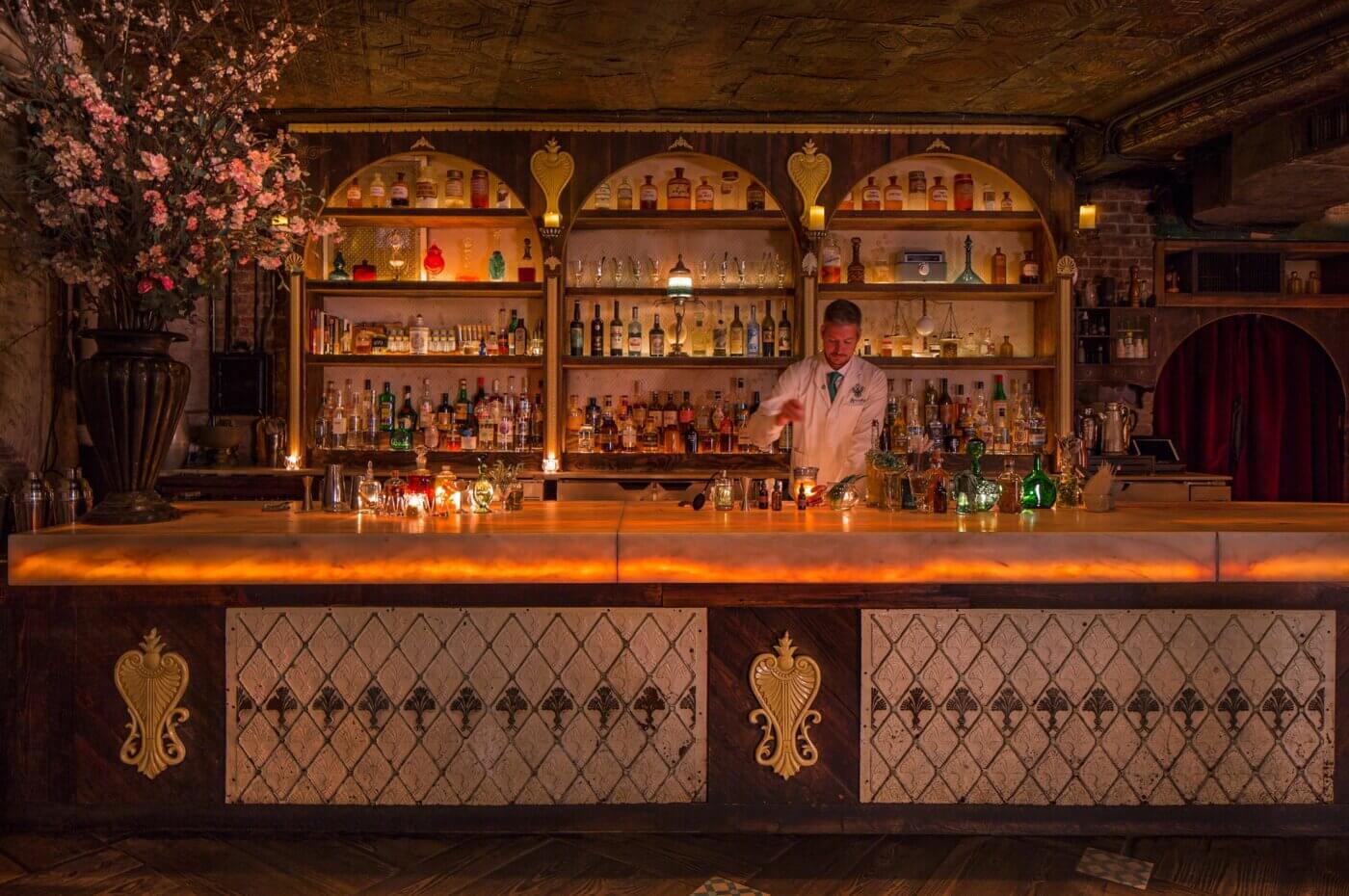 Brooklyn Farmacy & Soda Fountain
From an apotheke fronted speakeasy bar to a dessert bar located in a real former pharmacy; Brooklyn Farmacy & Soda Fountain. The refurbished wooden counters and cabinets are just too cute, as are the sweet sundaes, ice creams, floats, and sparkling drinks.
The Keep
This dark, fairly creepy bar full of quirky antiques is an interesting place to have some bites and craft cocktails. Check the events at The Keep to see when the next Gypsy Jazz Wednesdays will be planned, and other exciting events.
St. Mazie
Jazz bar and restaurant St. Mazie has dinner with live jazz music every evening. You can also just come by for drinks to enjoy the syncopated rhythms while taking in the grand interior of this former tram station.
Shopping
Still looking for your party outfit for our event in NYC? We previously shared a blog about what we define as the style of Babylon, along with a list of recommendations for online shopping. And as usual for our events, there will be a Market of Curiosities at our party in NYC where you can browse unique items from local vendors.
However, you will find an overkill of cool and funky stores in the Big Apple too. Some of the most visited general shopping areas are Soho (shopping grid from West Broadway, Sixth Avenue, and Houston st. to Canal st.), Union Sqaure/Flatiron District, Herald Square, and Times Square.
Have a look in these areas to have a taste of current mainstream trends. But, if you are looking for something really special and more 'Babylonian', check out these recommendations from our local community.
Screaming Mimi's
The selection of vintage statement pieces and stylish costumes at Screaming Mimi's is impressive. Needless to say, a hunt for unique items in this colorful store is quite an experience. Find original designer pieces from the 40s through 90s, as well as glittery jumpsuits, shiny cocktail dresses, and funky wigs.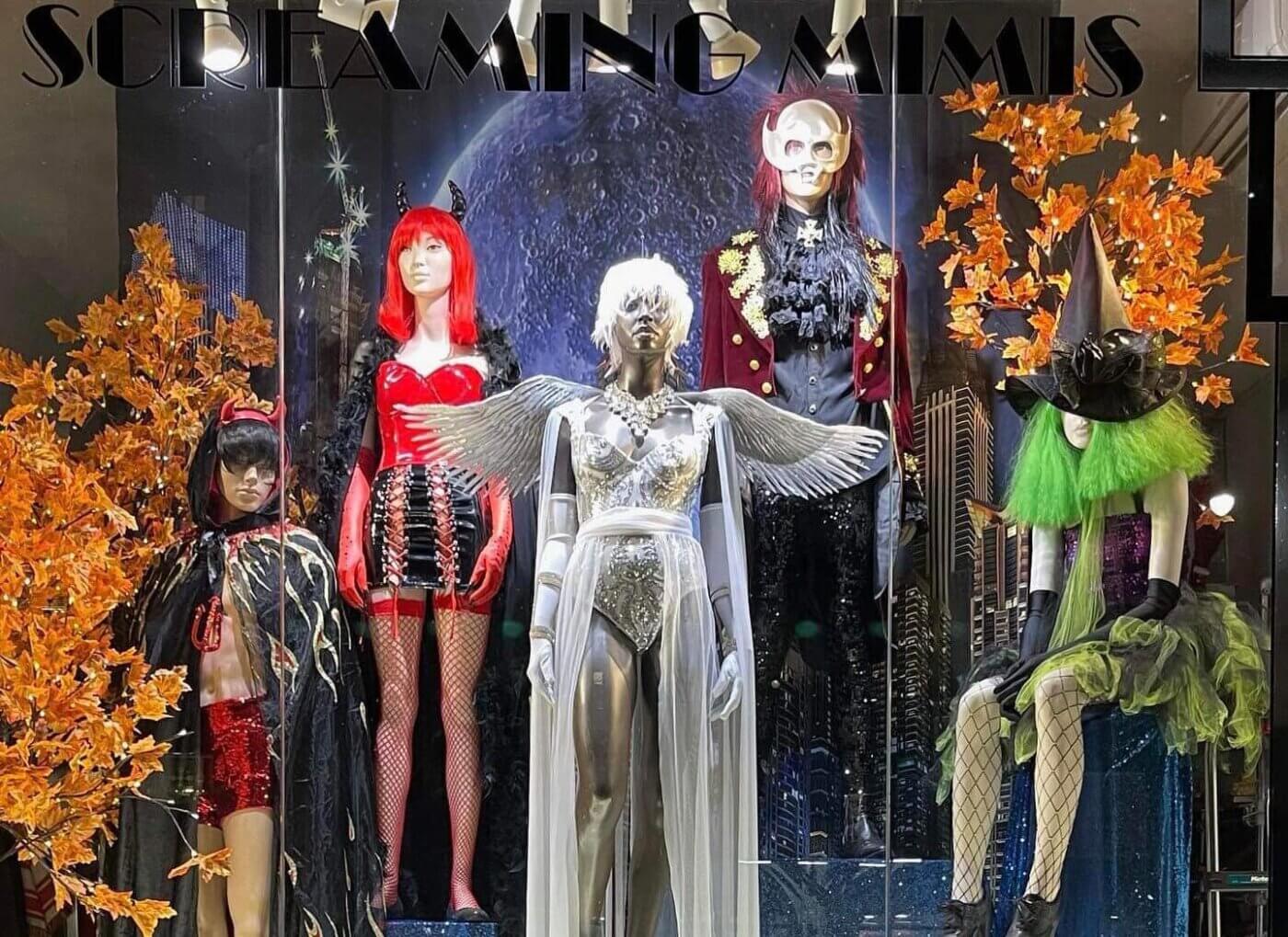 Reminiscence
A mixture of vintage and novelty items can be found at Reminiscence NYC, where a rainbow of colors attacks you while walking in. Chunky jewelry, outrageous party outfits, retro leather jackets, and understated garments from local designers are on display. The ultimate party shop with garments representing literally every subculture, at affordable prices.
Gothic Renaissance
The name says it already, Gothic Renaissance is THE hub for gothic clothing, and probably the last one in NYC. They specialize in black lacey outfits as well as renaissance, victorian, cyber punk, fantasy, and rave apparel. Besides this, they have a huge collection of corsets.
Harmonia
New York-based store Harmonia boasts a selection of truly off-the-wall stage costumes and festival outfits, only to be ordered online. Channel your inner goddess with shiny mirrored bodysuits, high-quality macrame pieces, and sparkling kimonos.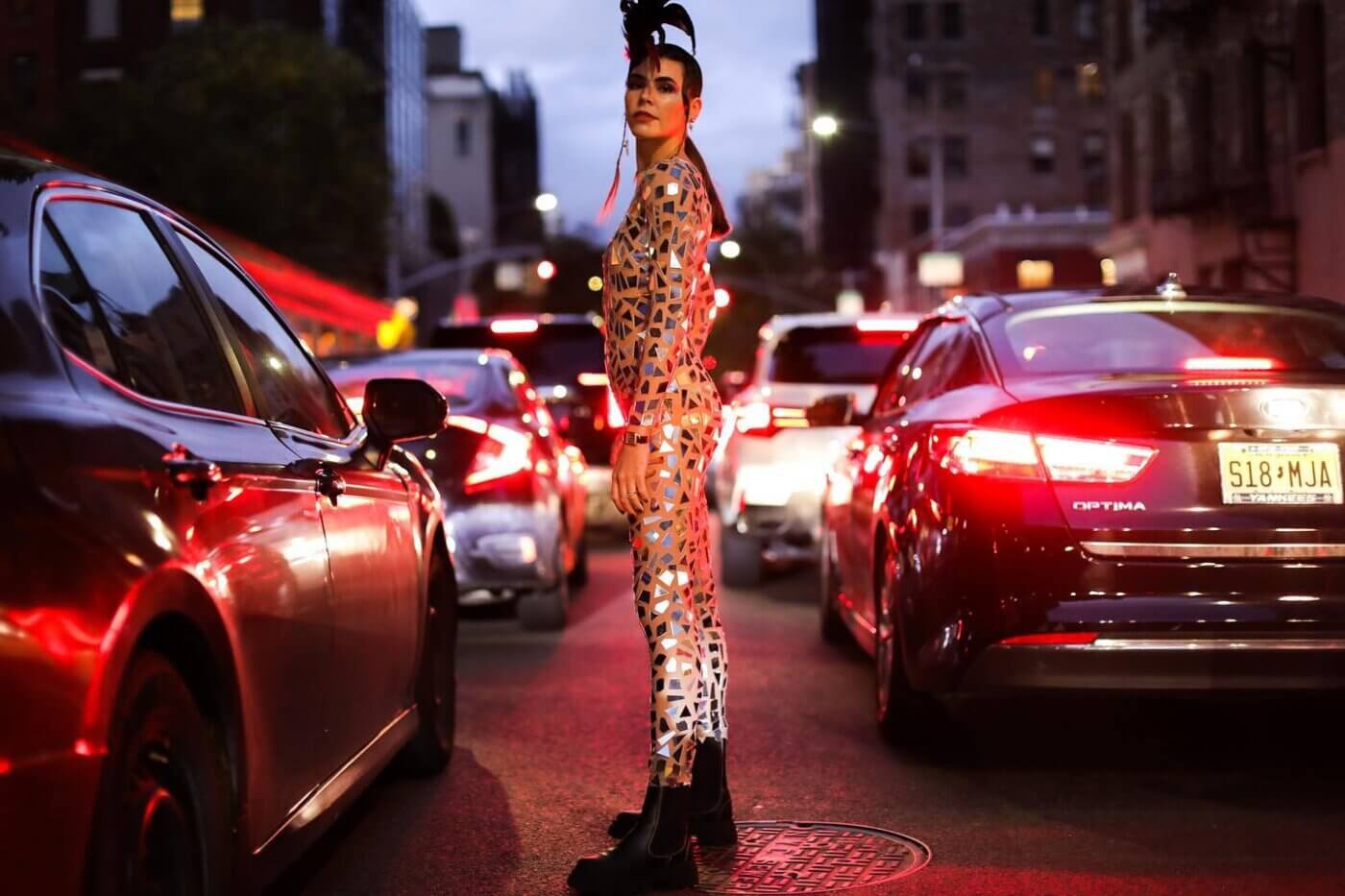 Tafari Tribe
Be amazed by the best of cultural fashion at the family-owned store Tafari Tribe, which has Jamaican roots. Find their own line of clothing that puts a spin on traditional styles from indigenous cultures around the world. Colorful prints, jewelry with feathers and shells, and other unique accessories to finish your eclectic ensembles.
Buffalo Exchange
You almost lose track of time while browsing the racks at Buffalo Exchange. This vintage store chain has locations spread out over the city, usually in larger spaces. The clothing is sorted by color, style, and garment type and the prices are nice and low. There are always more than enough sequin tops, shiny pants, and other sparkling items to add to your party outfit. Furthermore, a big collection of shoes, faux fur coats, hats and anything else you can think of.
Little Gem NYC
Buy and sell second-hand gems through the New York-based online festival wear marketplace Little Gem NYC. Fringed bodysuits to sparkling captain hats, you never know what you may find!
Other honorable mentions for vintage and local (party clothing) shops:
10 ft Single by Stella Dallas
Monk Thrift
Beacon's Closet
Ritual Vintage
Lingo
Trash & Vaudeville
Museums
Expand your horizons and refresh your psyche by visiting a New York museum. The city has loads to offer, depending on your area of interest. The most famous museums for modern art are of course Guggenheim and MoMa, while Metropolitan Museum of Art and American Museum of Natural History are among the biggest.
Other honorable mentions for museums:
Intrepid Sea, Air & Space Museum
Whitney Museum of American Art
Hayden Planetarium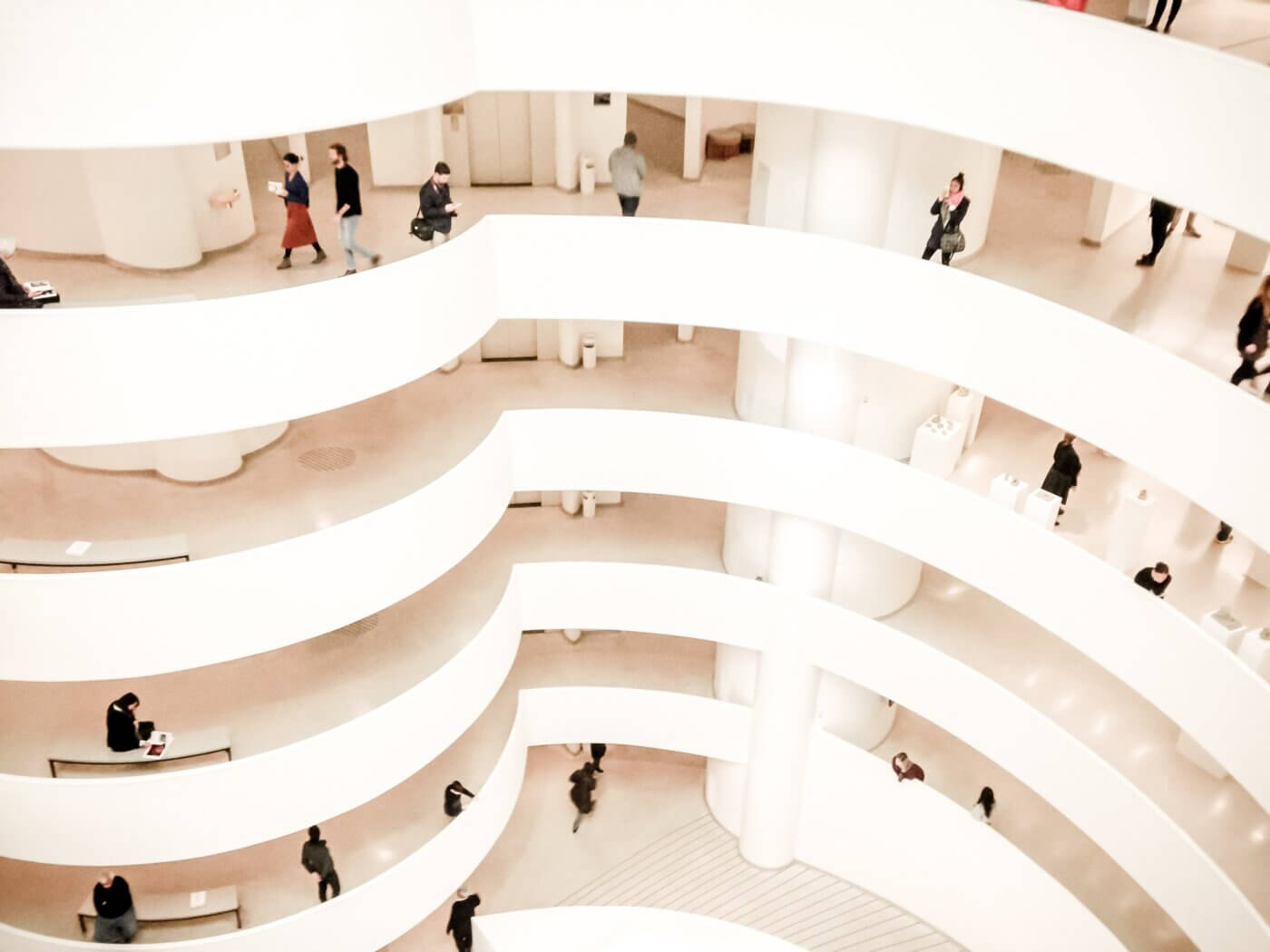 Other fun things to do
If you get bored in this city, something is wrong with you. There is so much to do and see even after visiting all of the wonderful museums, shopping areas, and hotspots. Here are some other fun things to do in New York City.
Walk the High Line
Fancy a stroll with interesting views? Then go for a walk across the High Line. This urban city park sits atop of an elevated railroad, developed in phases since the abandonment of the track in the 1980s. Now, the railroad is adorned with greenery and often described as a "living system" that combines ecology, urban design, and landscape architecture. Stretched across 2.33 km, the elevated linear park runs from the Meatpacking District straight through Chelsea and up until 34th street.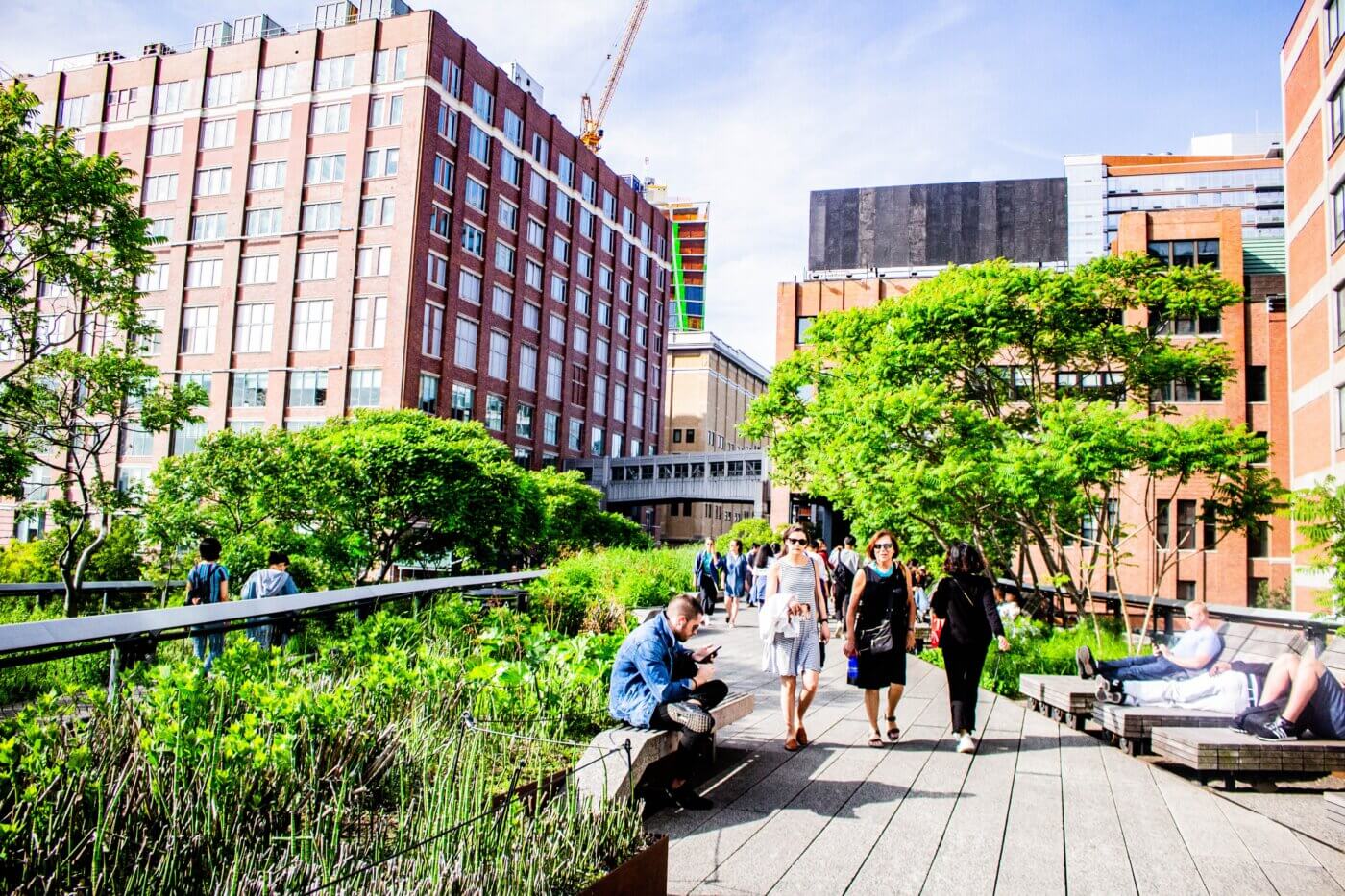 Catch a Broadway musical
A whimsical Broadway musical is a must for your NYC vacation, the hard part is deciding which one to go for. There are classics that have been running for decades such as Chicago and The Phantom of the Opera, and contemporary spectacles such as The Lion King and The Book of Mormon.
Get up on stage at open mic night
New York is home to quite a few venues where anyone can sign up for open mic night, a chance to showcase their (lack) of skills to a patient audience. Put your talent to the test and gauge the crowd's reaction to your original slam poetry, stand-up comedy, or a guitar lead rendition of your self-composed song. Anything goes! And even if you have no interest in gracing the stage, these often cozy and dim-lit cafes and theaters are super fun to hang out at while being surprised by the diversity of amateur talent out there. Check the program at Inspired Word, Prohibition, The Village Underground, and Bowery Poetry Club.
Feel like a rock star during Live band karaoke
What could be more fun than karaoke? The same thing, but with a live band to back you up! Some karaoke venues have special nights with a full band present that will play the song of your choice. You can strut your pipes for the audience as if you are a true pop star! Check out the program at Arlene's Grocery and Crash Course Karaoke.
Ice skating at Rockefeller center
New York's most iconic ice skating rink can be found on the lower plaza of Rockefeller Center, located on Fifth Avenue between 49th and 50th street. If the city wasn't giving you enough holiday vibes with all the themed shop windows and streets with Christmas lights, the Rink at Rockefeller Center is the pinnacle of Winter Holiday experiences. The open air rink is built each year in November, with a gorgeous 30 m tall Christmas tree overlooking the illuminated ice. The rink is open daily from 9am until midnight.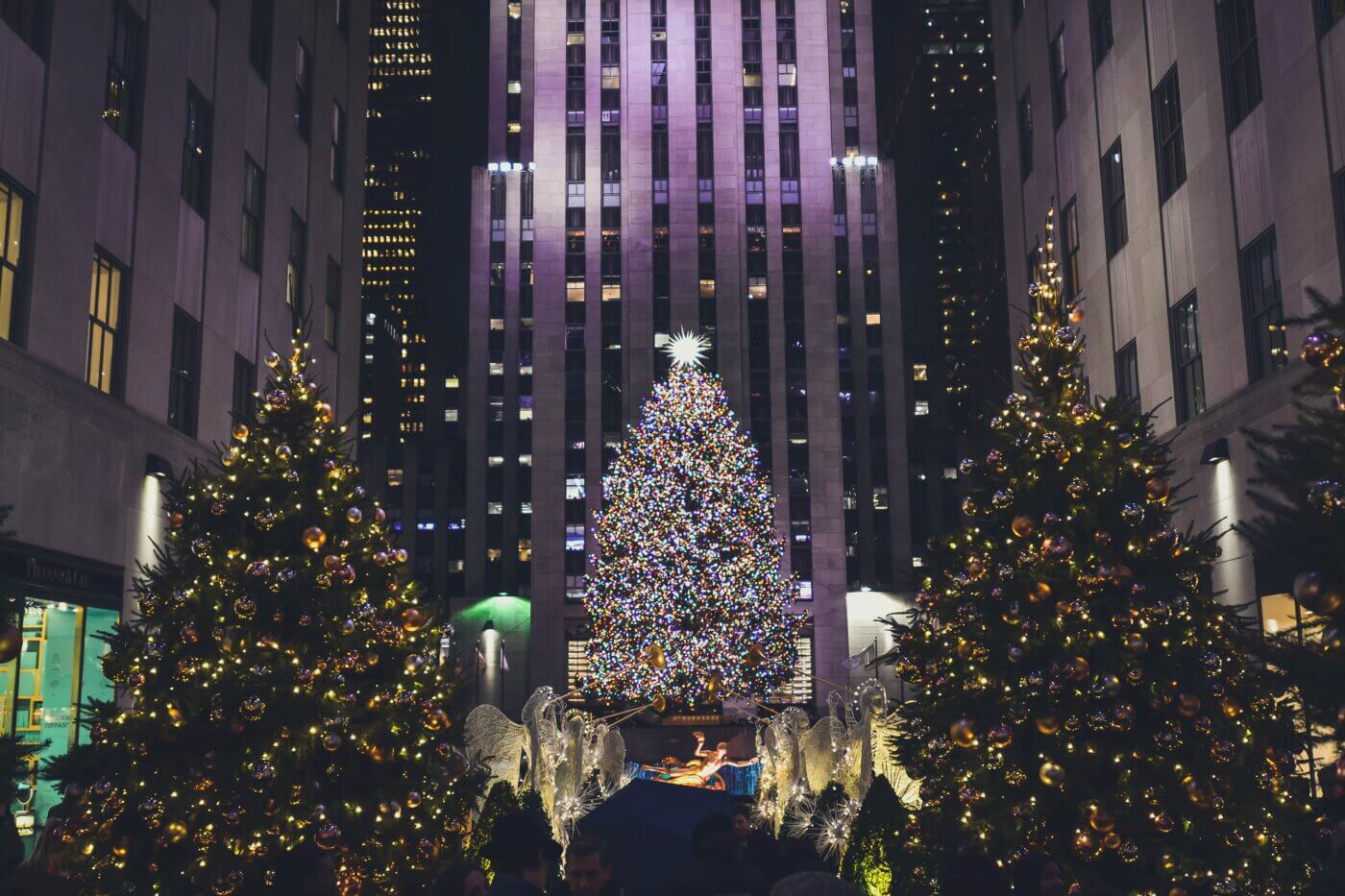 360-degree views from the Rockefeller Center Observation Deck
Yes, it's one of the most touristy sights in the city. And yes, we really think you should just be that typical tourist sometimes and book your ticket for the Rockefeller Center's Observation Deck. The 360-degree city views are just stunning, with an unobstructed view behind glass panels on the terrace, or from behind the panoramic windows inside. Open from 10am to 10pm, the last elevator goes up at 9.10.
86th floor views from the Empire State Building Observatory
Another alternative to Rockefeller Center to marvel at amazing views from an observation deck would be the immensely famous Empire State Building. The main outdoor deck can be recognized from countless iconic movies and tv-shows and is a popular location for marriage proposals and other special moments. 360-degree views of the whole city can be enjoyed here too, although at some parts through iron fencing.
Check out a drag queen (dinner) show
If you are a fan of drag performances, there is ample choice in New York City! Whether you are looking for a smaller, underground venue, or Vegas-style dinner show, anything goes. Some of the popular drag dinners are at Lips NYC and Lucky Cheng's, while other bars/venues with raving reviews include Bushwig, Be Cute, and the drag nights at the Laurie Beechman theater.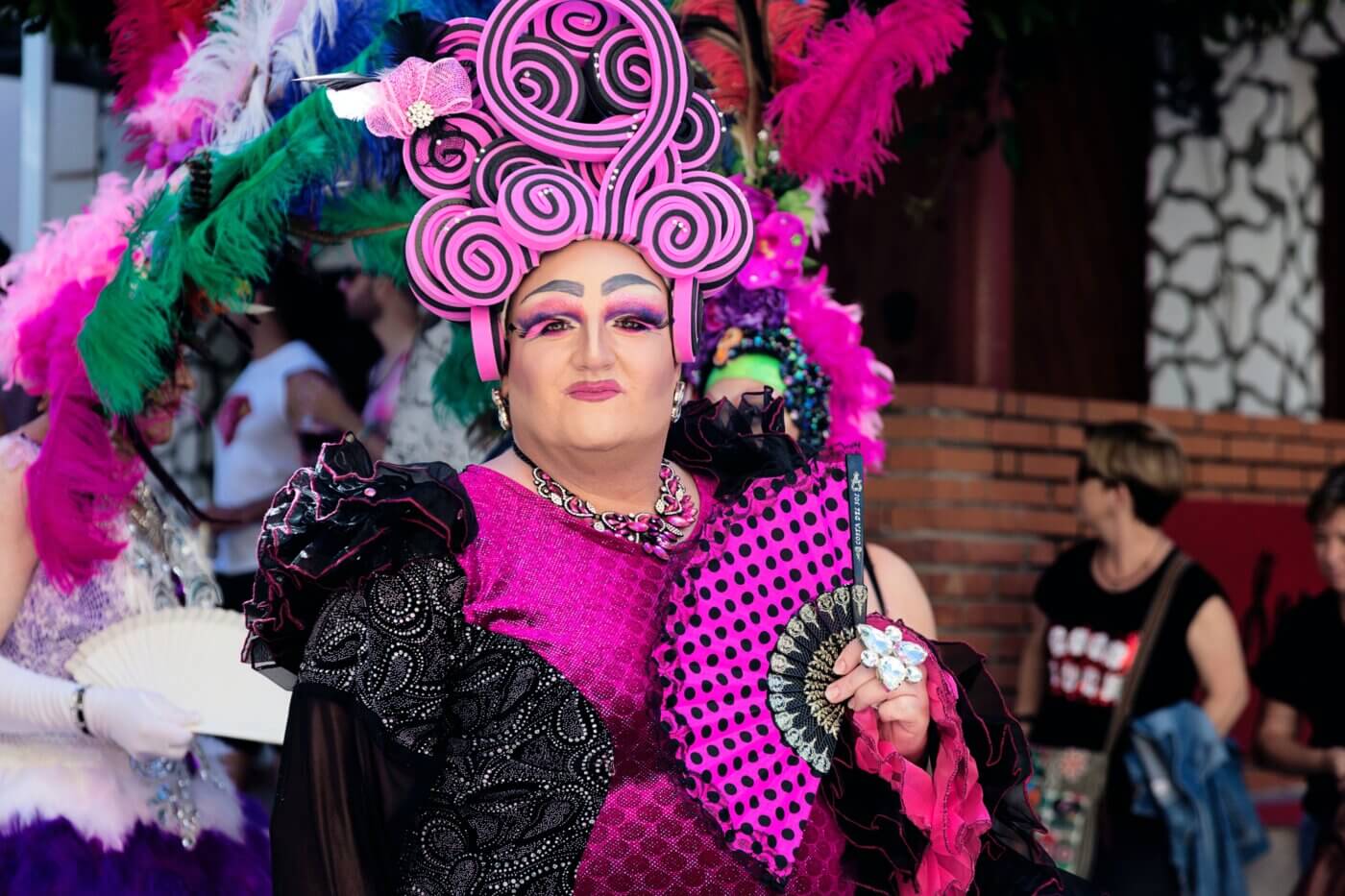 That's it for now angels!
If you know of anything that should be on this list, please let us know.
Send your tips and recommendations to Joanna@thegardensofbabylon.com

---