From April 28 to May 1 you can join our very first edition of The Monastery in Mexico. Time to introduce the creators behind this magical weekend. First up: The Spiritual Village. We are talking to beautiful souls that will offer you their knowledge and more at the spiritual epicentre of this festival. Meet Kareem Mansour, also known as The Pyramid Yogi and find out what he will teach at The Monastery Mexico.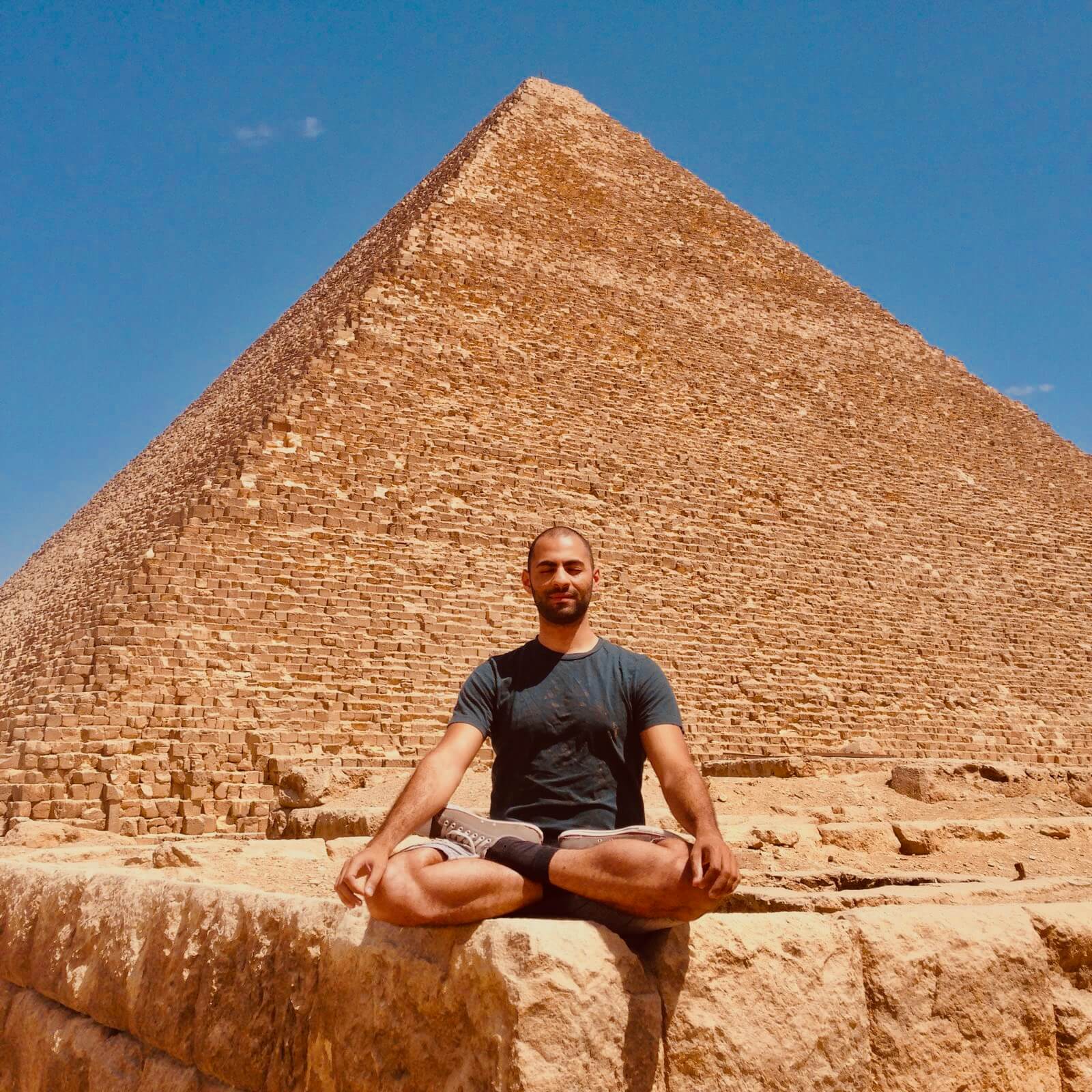 Kareem, tell us a bit about yourself. Where are you from? What is your background?
Hi everyone, my name is Kareem, and I am from Egypt, along with my ancestral bloodline. I am a seeker on an endless journey of spiritual and self-discovery. I started learning and practicing in Egypt 16 years ago. After spending all these years embarking on spirituality trainings around the world in the USA, Qatar, Bulgaria, Bali, Nepal, Sri Lanka, South Korea, and Turkey and many more – there has always been a piece of me connected to my home, to Egyptian spirituality. While Yoga centric practices were the focal point of my studies for many years, I've always felt more connected to ancient Egyptian spirituality. So, I have spent the last ten years delving deeper and deeper into ancient Egyptian practices that enable me to connect with the divine and achieve a state of higher consciousness.
After spending years, researching Egyptian mythology, I wanted to test my theoretical research with real Egyptologists. So, I embarked on several missions, guided by Egyptologists through real archaeological sites, tombs, pyramids, places of worship and museums through Luxor, Cairo, and Aswan over the last few years to find spirituality beginnings with my ancestors.
To fully immerse myself spiritually, I have spent nights in the Egyptian desert close to spiritual sites on the sand connecting with my ancestors allowing them to speak to me and guide me from within. I am excited to uncover some of those teachings and excavate those hidden treasures and bringing them to light. It is meant to unite us as there is something in it for every person with different backgrounds and practices.
"It's remarkable how much similarities there are between Ancient Egyptian philosophy and the Indian Yoga system."
I have worked with Egyptologists studying with them the Ancient Egyptian philosophy and meanings, contemplating on the spiritual practices and deciphering meanings in the Ancient Religion. It's remarkable how much similarities there are between Ancient Egyptian philosophy and the Indian Yoga system, along with many other spiritual practices all over the world – including the Mayan culture that I hope many will be able to experience while here in Mexico.
For me, finding balance is a constant journey through life. I've been gathering and applying the teachings from all around the world from different teachers, spiritual systems, and approaches, and many of them has helped me through some mental disorder and bridged the gap between spirituality and mental health. But, the most important thing for me was bringing those teachings to my every day and incorporating them without losing my identity and my life.
When the student becomes the teacher..
I was never interested in teaching for many years and thought I would only be a student forever. Still, I felt a force pulling me towards giving back and sharing what I have researched and discovered, which has served me throughout the years.
I'm here to share with you some of the practices I've gathered throughout my spiritual journey, it's never-ending. I've been collecting the things that worked for me and leaving behind those that didn't. The challenges are what make this journey interesting for all of us, merging both paths, the spiritual and the mental. And I'm here to share some of those things that resonated with me, and hopefully, you can find benefit in them and take some home with you to your practice.
Is this the first time you will be joining The Gardens of Babylon or The Monastery?
Fortunately, it is not my first time joining the TGOB family; I have been to many events and two of the Monasteries. I had a fantastic opportunity to facilitate a life-changing workshop in the last Monastery (in Goch, DE); from the vibe to the spiritual connection to the attendees – it was one big family full of love.
What can you tell about The Gardens of Babylon?
For me, The Gardens of Babylon is what a true chosen family is all about. The ethos and manners of everyone and the organization help connect people of all cultures and backgrounds – despite the challenges we face in every part of our current world. You always find happy smiley faces sharing their love, hugs and everything in between. The sharing vibe and the offerings made by all of the light workers in the GOB are very genuine, and we are lucky to be part of that inclusion, acceptance, and good intentions.
What are you providing at The Monastery Mexico?
This time, I offer to introduce the Ancient Egyptian Yoga system (Tama-re Sema Tawy). We will explore some Spiritual concepts about Ancient Egyptian Religion and its connection with our spiritual practices today. Meditation was an integral part of ancient Egyptian religious and spiritual practices. The ancient Egyptians believed that meditation could help them connect with the divine and achieve a state of higher consciousness. We will be starting with some philosophy, then ancient Egyptian Breathing techniques and Poses of the Neterus (gods and goddesses) of Egypt (Asanas/physical practices) that bring us to balance and harmony – preparing our physical, energetic, and mental bodies to be aligned and to sit in meditation that would allow us reaching a higher state of consciousness and awareness.
The practice of magic was also important in ancient Egyptian spirituality. Egyptians believed that magic could be used to influence the gods and goddesses, as well as to protect themselves from harm. Magic spells and amulets were often used to ward off evil spirits and protect individuals from harm. Both in this life and in the afterlife.
What made you sign up for this edition?
As this is the first time the Monastery has gone to Mexico, I wanted to be part of the support of new beginnings. In addition, I wanted to share my spiritual background and practices in a place such as Mexico, which has a lot of similarities to the Ancient Egyptian system.
Join The Pyramid Yoga and his Tama-re Sema Tawy class on Sunday at 12:30 in the Spiritual Village. For more information on The Monastery in Mexico check the website.
Get tickets to The Monastery Mexico right here.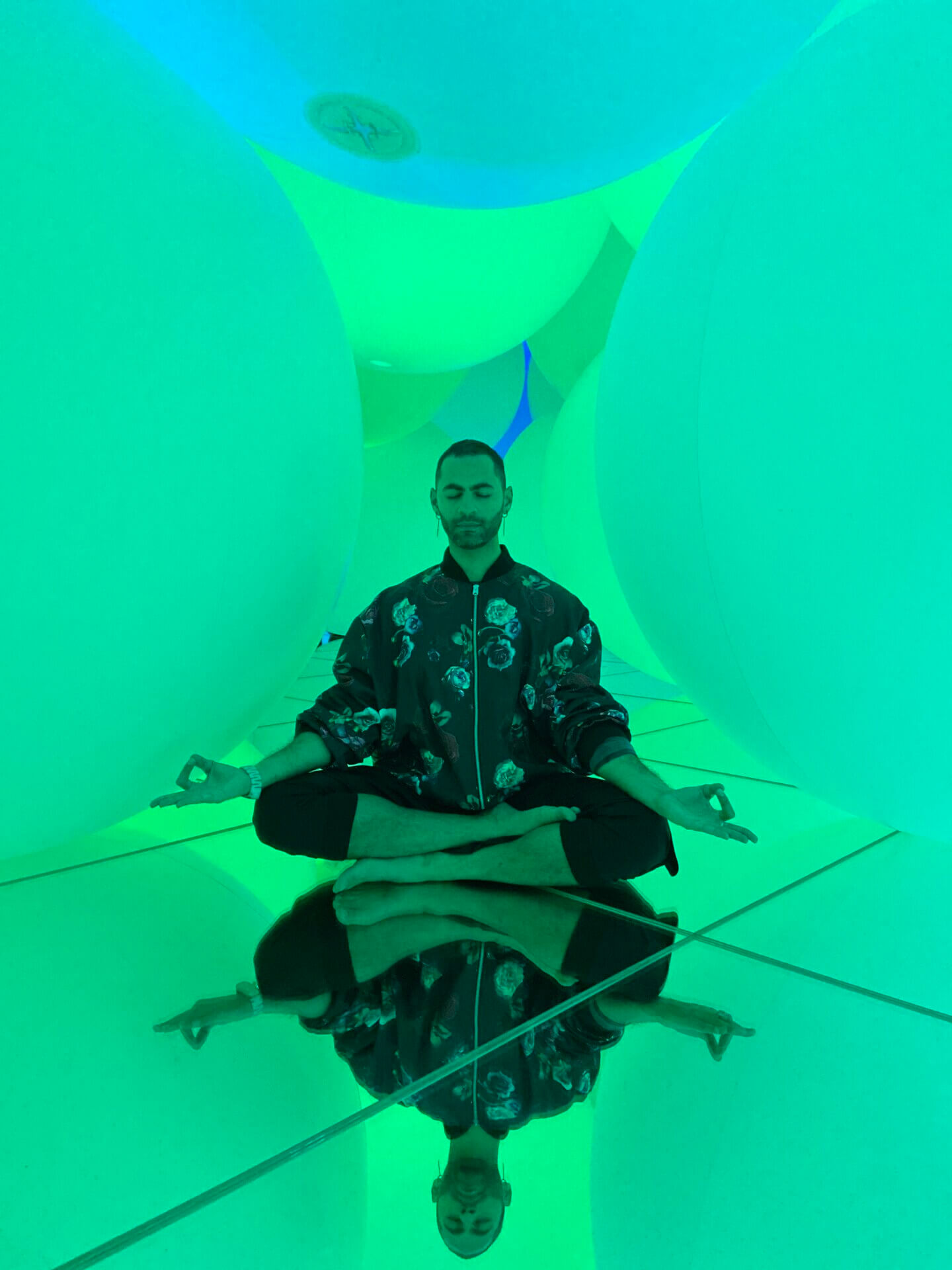 ---