Meet Pascal, who is the proud owner of Karma Kebab. Some of you might remember the Karma Kebab food truck from the Monastery festival, serving the most delicious plant-based kebab dishes. Find out more about the man behind this innovative concept, and how he made it a great success. Equally important, how did he find The Gardens of Babylon community and what does it mean to him?
Hi Pascal, can you share with us a bit more about who you are and where you're from?
Currently, I live in Zaandam with my 2 kids Lucas & Olaf. Before settling here I was born in Friesland and moved from there to London and Aberdeen. During all these years I worked as a chef or worked with food in some other form, developing recipes, starting up kitchen teams etc. This all resulted in the innovation of our plant-based Kebab which many of your visitors tasted during the amazing Monastery! Apart from cooking, I'm a big fan of nature and I love snowboarding. Moreover, I find my stillness in meditation every now and then.
When was the first time you connected with The Gardens of Babylon?
Oooof that was during an ADE event in the Westerunie some years ago.
In what way is The Gardens of Babylon special for you? Maybe you have a nice moment or anecdote to share with us?
The whole season of 2019 was a pretty intense wild ride for us. With the Karma Kebab truck, we did an astounding 40+ festivals of which The Monastery was an absolute highlight for the team. It was super hot and sweaty that first Monastery. During the hard work, a lot of love came back from the lovely people who came to eat with us.
Tell us a bit more about your company?
Lowlands was doing a project around sustainability with the Rabobank & The food line-up. They asked me to create the most sustainable night snack possible. When I was working on this I was thinking; in order for it to have impact on a large scale, I must make something that appeals to the biggest group of eaters; carnivores. So to convince them with a plant-based snack was a pretty challenging task I gave myself. This turned out to be a recipe with only local ingredients, mainly veggies and grains, which resulted in a kebab made of celeriac.
Ever since the launch on Lowlands, it all seems like a crazy rollercoaster! We even won the Innovation-Award last January on the Horecava, haha! So from a former chef, I turned into a kebab business owner driving around in Foodtrucks with some amazing people. Meeting new people can inspire people to incorporate more plant-based food in their diet. That's 1 of the big reasons why we do this… To leave this planet a little bit better than how we found it. Together we can eat the planet a little better 🙂
What is the biggest compliment someone gave you on your food or made you smile from ear to ear?
It never gets dull to see people smile because of your food. Food is emotion and it's something that can spark joy and happiness. Even beyond that, it can bring back memories by smelling something that reminds you of something that happened long ago. Being able to lock in memories for people with food, giving them energy, and making them smile is pretty amazing….
It would be amazing if you could share a recipe with the family.
At every festival, we do different sauces and toppings. One of the favorites was our super green Zhoug, the winner for everybody! I've added a recipe with some tips & tricks in the booklet of our DIY shoarma kit that we currently sell during Corona times.
Let's hope we will meet again soon at an event!
Contact Karma Kebab: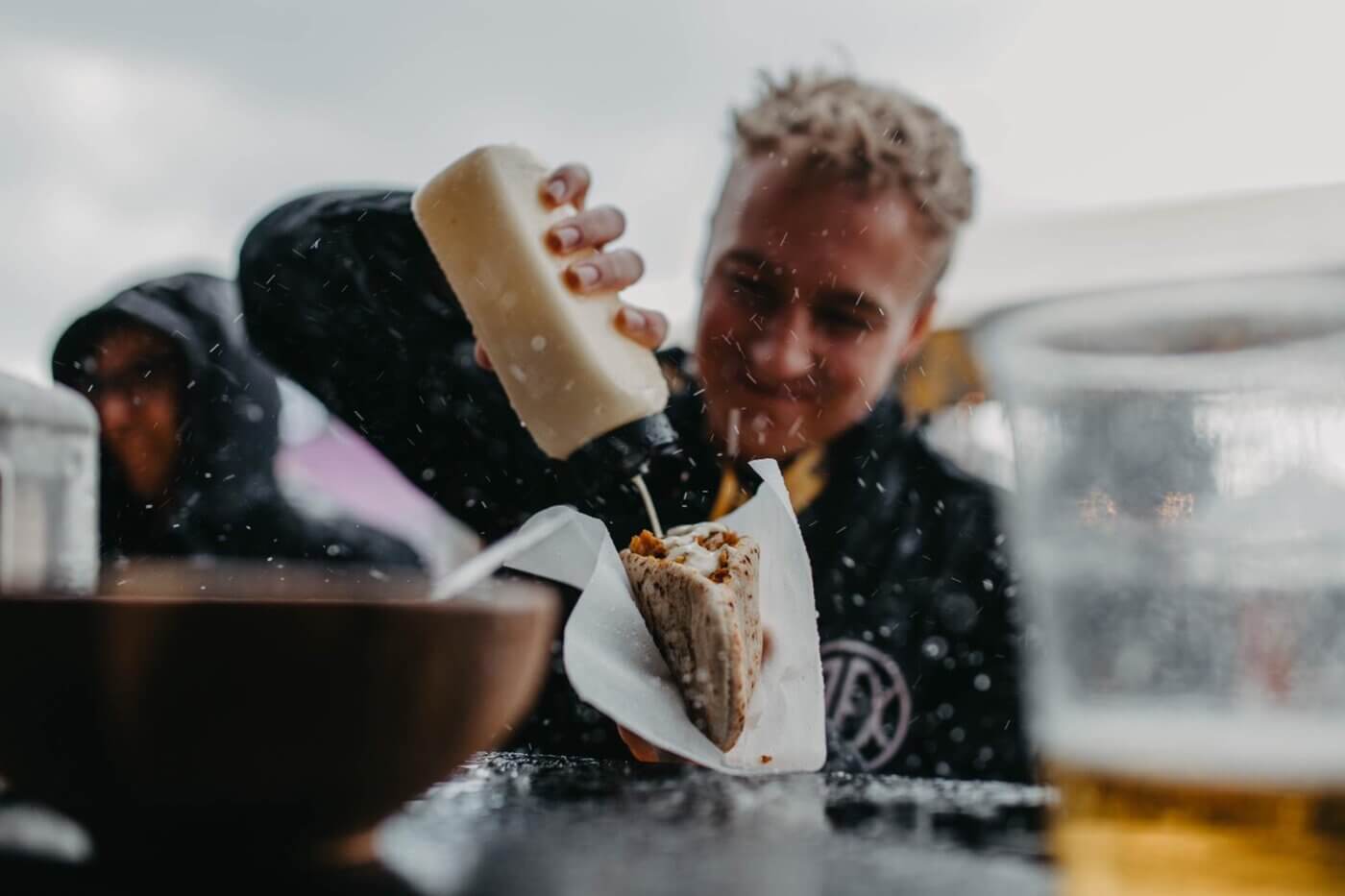 ---