Meet Bart, who is the man behind Açaí Bar. If you joined us for the Monastery Festival, you must remember the long queue for açai bowls in the morning, and how the wait was worth it! Find out more about the owner of this fruity food truck, and how it became such a great success. Also important, how did he find The Gardens of Babylon community, and what has this experience been like?
Hi Bart, can you share with us a bit more about who you are and where you're from?
My name is Bart Hermans, a surfer and free spirit. As a health food addict, I started a healthy food bar a few years ago. I'm a big music lover and I'm not really a routine person, so I quickly gravitated to festivals. Ever since, I've been gratefully invited by festivals that are close to my heart.
When was the first time you connected with The Gardens of Babylon? Hi Bart, can you share with us a bit more about who you are and where you're from?
I think the first time I connected with The Gardens of Babylon was in 2018 at Café D'Anvers, Antwerp. What can I say? I immediately got hooked on the vibe and energy. So many of you wonderful people I can call family now. It's a strong connection that stayed ever since.
Tell us a bit more about your company.
As a dedicated surfer, I always had a strong connection with nature and healthy food. Spending a lot of time in Brazil for training, that's where I got to know the delicious berry called Açaí. A berry is considered a superfood because of its high amount of antioxidants, calcium, fibers, vitamins, minerals, and energy. It's a refreshing snack, immune booster, and the perfect hangover cure. Moreover, it's exactly what you need to start your day in a healthy way. It's simply nature taking care of us. 
As mother nature takes care of us, we want to take care of her too. Thus, I've been very picky about the Açai we use for Açaí Bar. Searching for the most natural and pure Açaí of the best quality, we partnered with The Holy Berry. Importing Açaí from Brazil, they abide by an incredible ethos. Their Açaí is consciously sourced, and 100% organic. Clean, simple, and pure, just as it should be. Additionally, this means there are no big plants that harm the rainforest. Instead, the berries are wild picked and the trees are not manipulated. Left in their original state, they are harvested when nature is ready for it.
In what way is The Gardens of Babylon special for you? Maybe you have a nice moment or anecdote to share with us?
Looking back at The Monastery, I feel honored and grateful to have been able to make so many people happy. Every year you blew us away with your love for what we do, literally overwhelming us. God, this never-ending queue! How could we ever be prepared for this huge amount of love?
What is the biggest compliment someone gave you on your food or made you smile from ear to ear?
I just want to say thank you for your love and appreciation and for all the heartwarming messages we receive. It left us speechless. From the bottom of my heart, I can say that you are the reason for our existence. And the reason we'll continue spreading Acai-love. Nevertheless, we are organizing ourselves to build a bigger bar so we're able to reduce the waiting line. Unfortunately, there was no Monastery in 2020. We missed the magical moments, your smiling faces and shared dances! It's a struggle to get through these times, but I can't wait until this is all over so we can connect again.
It would be amazing if you could share a recipe with the family!
Maybe, this can be something I could do, to bring us back to the Monastery! I'd love to share this recipe so you can make a delicious Açaí bowl at home. It's the basic recipe for a traditional bowl from the Açaí Bar. Be creative and give it your own twist, a lot of fruits go well with Açaí.
Ingredients:
– 1 pack of frozen Açaí (find The Holy Berry for the purest quality)
– 1/4 th of a banana (preferably frozen)
– Almond milk (or Alpro Mild and Creamy for a more creamy texture)
– A squeeze of lemon
– Optional: 2 Medjool dates for extra sweetness
If you like it more fruity, add some frozen berries, mango, pineapple or beetroot (Shishi's favorite).
Instructions:
1. Put everything in a blender and mix it up.
Watch out with fluids like almond milk. Don't add too much so you still get a nice and creamy texture (almost like an ice-cream).
2. Use your fantasy for toppings!
Natural granola is a must because… açaí and crunchiness, mmmm! We like to add coconut chips, chia seeds, goji berries, cacao nibs,  and a scoop of nut butter. Also, we add different fruits like banana, strawberries, mango, passionfruit, kiwi, or whatever you like! Let yourself go, make it a piece of art 😉
3. Serve and enjoy! Share your bowl with us on Instagram if you like, I'm really curious to see some results!
If you have questions or you don't get the texture you want, leave us a message, I'd be happy to help. 
A lot of love and hugs!
– Bart
Contact Açaí Bar: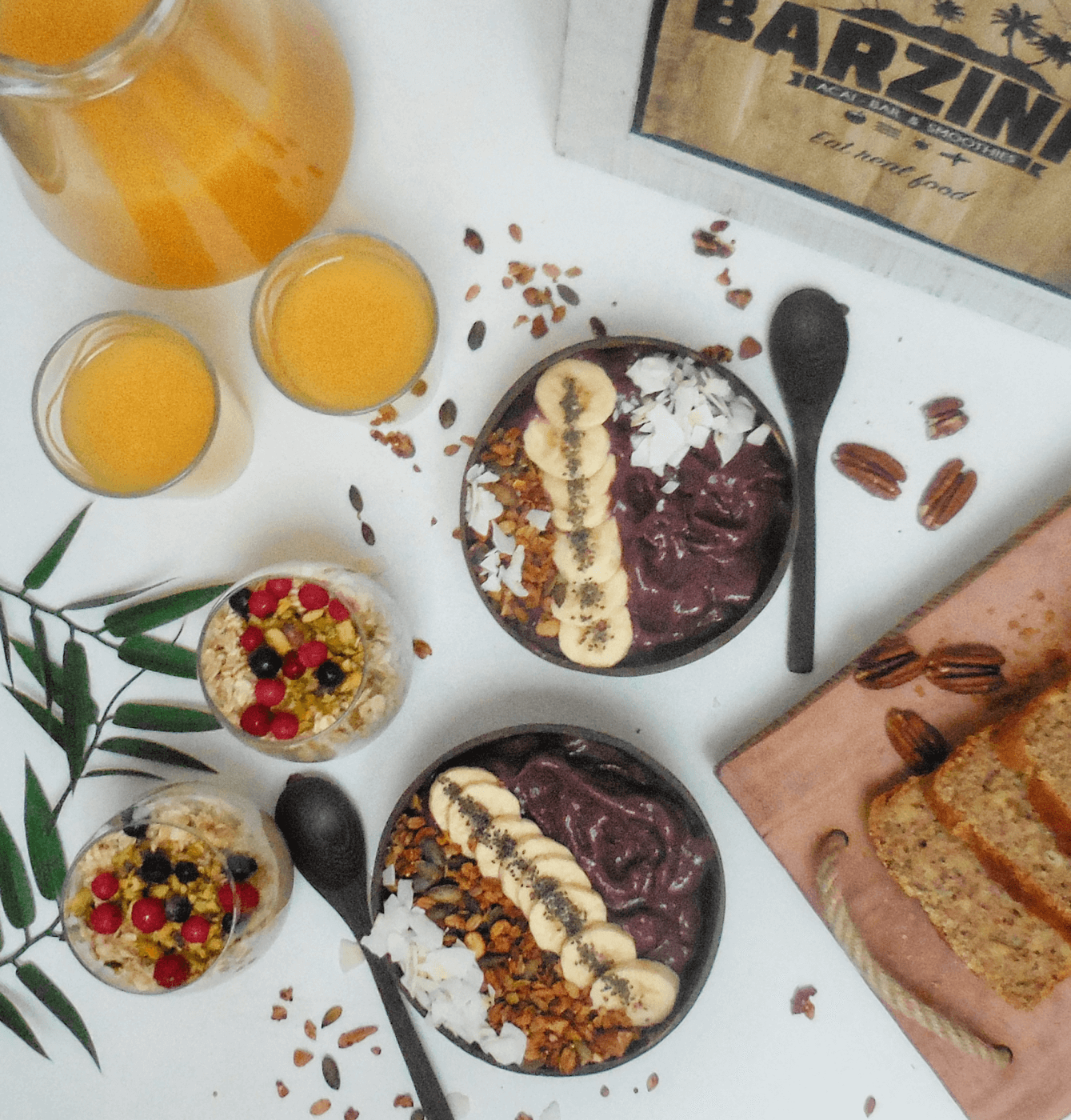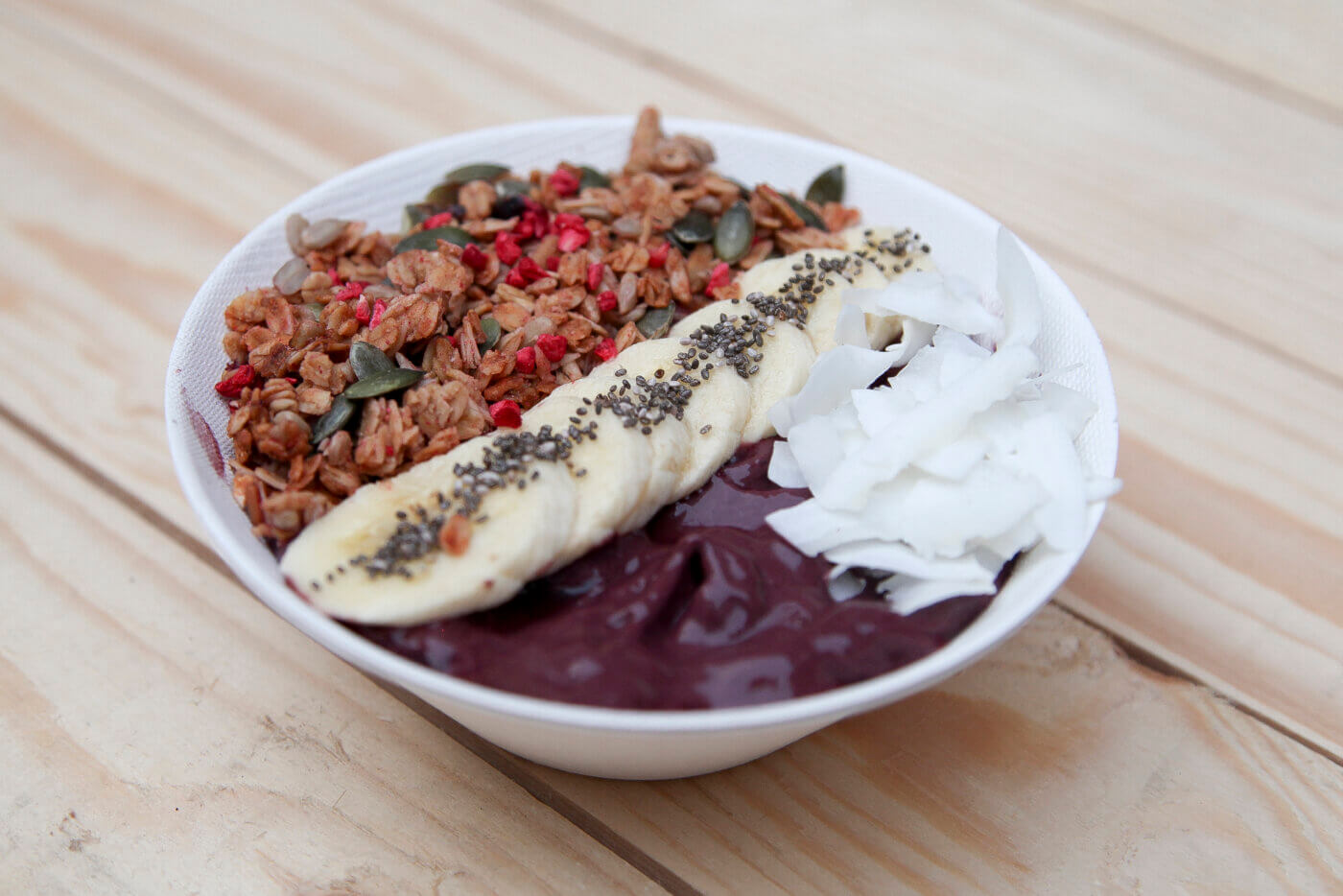 ---