ADE: The Seekers of Light Weekender
Venue: WesterUnie
It's time to manifest the return of The Seekers of Light to Amsterdam Dance Event. Because this year we host the WHOLE weekend with a stacked up program of all our favourite musicians.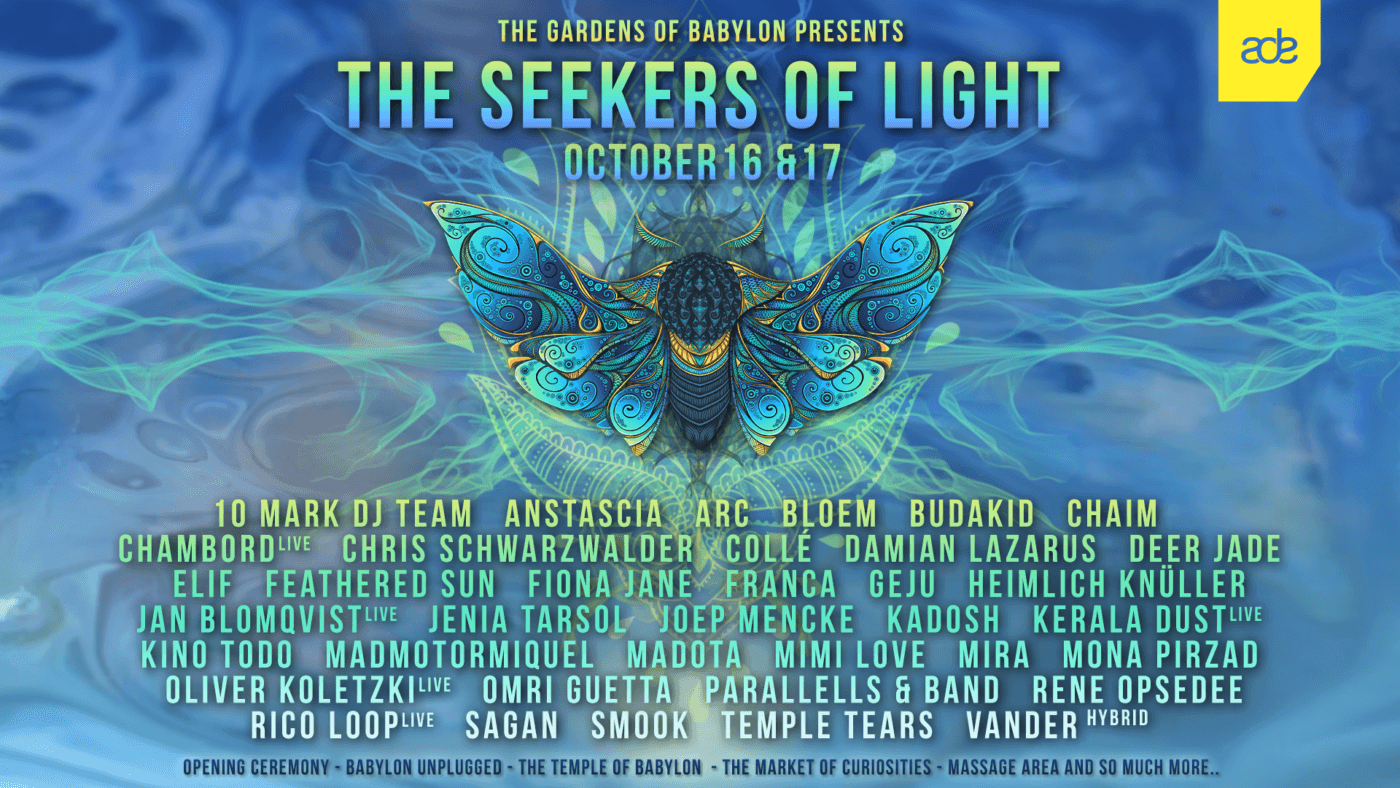 ADE: The Seekers of Light Weekender program
We are over the moon excited that < even with insane regulations imposed by our government > we can go ahead with ADE. WHAT IS THE PLAN? We are allowed to organise an event until midnight… Where is the logic in this? We don't know. But we take the opportunity to reunite with our family with both hands. So now we have re-created our full ADE program to a double dancing day event on both Saturday and Sunday!
Saturday:
☆ Saturday Psychedelic Breath session
We will start the day with an incredible Psychedelic Breath session by Eva Kaczor. This world-famous sound journey will transcend parallel universes, taking you beyond galaxies. The perfect way to start this Babylon weekender.
The session will be guided with music by Deer Jade.
Doors open: 10:00
Breathwork starts: 10:30
Opening Ceremony at 12:30
Time to party at 13:00
☆ Saturday Showcase
Transformatorhuis:
10:00-10:30 Doors Open
10:30-12:30 Psychedelic Breath by Eva Kaczor
12:30-13:00 Openings Ceremony
13:00-14:30 Rico Loop [live]
14:30-16:30 Vander as Andy Anderson
16:30-18:30 Loewenthal
18:30-20:30 Deer Jade & Elif
20:30-22:30 Madmotormiquel & Mimi Love
22:30-00:00 Jan Blomqvist [live]
WesterUnie
13:00-14:30 Arc
14:30-16:00 Joep Mencke
16:00-17:30 Temple Tears
17:30-19:30 Madota
19:30-21:00 Chambord [live]
21:00-00:00 Mira & Chris Schwarzwälder
The Basement
15:00-17:30 René Opsesee
17:30-19:30 Fiona Jane
19:30-22:00 Mona Pirzad
22:00-00:00 Sagan
Sunday:
☆ Sunday The Gardens of Babylon Concert
We will start the day with Babylon in Concert. Welcoming you to the Transformator Huis, for the most incredible premier we could have imagined for our Amsterdam Dance Event showcase. We are opening the day with our meditation after which we can enjoy the new live of Oliver Koletzki. A promising set up where the master himself plays the piano amongst many other things.
Doors open: 11:30
Opening Ceremony at 12:00
☆ Sunday Showcase
Transformatorhuis:
11:30-12:00 Doors Open
12:00-12:30 Openings Ceremony
12:30-13:30 Oliver Koletzki [live]
13:30-14:00 Change Over
14:00-15:00 Parallells & Band
15:00-17:00 Kino Todo
17:00-18:30 Budakid [live]
18:30-20:00 Collé
20:00-22:00 Jenia Tarsol
22:00-00:00 Damian Lazarus
WesterUnie
13:00-13:30 Doors Open
13:30-16:00 10 Mark DJ Team
16:00-18:00 Omri Guetta & Kadosh
18:00-20:30 Heimlich Knüller
20:30-22:30 Franca
22:30-00:00 Kerala Dust [live]
Basement
14:00-16:00 Smook
16:00-19:00 Mâhfoud DJ set
19:00-21:00 Omer Tayar
21:00-00:00 Geju
☆ AVAILABLE TICKETS :
The ADE ticketsale for The Seekers of Light Weekender will re-start on Tuesday 28 Oct at 17:00 sharp. Go to https://tickets.twelveticketing.eu/events?distributionId=179451 to access the sale.
– Saturday: – Start price € 47,50. Doors open 10:00. End event 00:00.
– Sunday: – Start price € 47,50. Doors open 11:30. End event 00:00.
– Full Weekender – Start price: €95,00. Limited availability! Doors open Saturday 10:00. End event Monday 00.00
What to expect besides the insane musical line up?
☆.* THE OPENING CEREMONY
All our events share a special Opening Ceremony. ADE: The Seekers of Light Weekender will be no different. A short group meditation allows you to arrive at the Gardens, setting the right intention to experience the most beautiful time together, and to let go of whatever is holding you back in the outside world. Connect with yourself and everyone around you, finding each other at an event that combines the power of musical, visual and even spiritual dream effects.
☆.* THE TEMPLE OF BABYLON
Time to relax… Here you can find a place to calm down, taking a moment to wander inside the
deep corners of your being while refilling your batteries to be able to dance the days and nights away to the
most beautiful and inspiring music.
☆.* THE MARKET OF CURIOSITIES
Browse through the unique creations at our Market of Curiosities and marvel at the most beautiful
clothes, accessories, and jewellery to add a dash of glamour to your beautiful presence. It will be at the event both Saturday and Sunday from the start until approximately 22:00 latest.
☆.* THE GARDENS OF BABYLON EXPERIENCE
Treat yourself to a rejuvenating session in the massage corner, a journey inwards with a card reader or some extra sparkles on your cheeks by the glitter girls. Throughout the venue, you will be able to encounter and enjoy various creative artists, acts and wonderful dancers and performers.
☆ WHO ARE WE?
The Gardens of Babylon is a global family that organises full experience events that combine music, spirituality and visual dream effects. This powerful combination brings a more conscious and high vibrational way of coming together at a party or festival.
☆ OUR WORLDWIDE FAMILY
Our community flocks together from across the globe to hear the most talented artists play and invite them inside our Gardens. We always try to create a perfect balance between upcoming local talent and the vested or most adored musicians.
There's so much more to our events… From the most amazing international artists to world-changing spiritual experiences, from dancing to relaxing the mind, from reading to healing… Our Gardens are a space that we create for you to lose yourself inside and find yourself in life.
☆.* COVID Health Check
Covid information provided by Amsterdam Dance Event:
"ADE aims to ensure the health and safety of all our visitors. We work in close collaboration with the municipality of Amsterdam to present the best possible ADE experience while ensuring public health guidelines set by the RIVM and Dutch government.
If you would like to attend an event or activity in the Netherlands, you will usually have to show a negative test result, proof of vaccination or proof of recovery. You can present these using the CoronaCheck-App or other applications (for European/Schengen citizens). The COVID Certificate for travel with CoronaCheck is also known as the EU Digital COVID Certificate. You can find more information here.
Visitors that do not have a vaccination-QR will need to be tested through 'Testen voor Toegang' in order to receive a valid QR-code. Don't forget to bring your ID as we have to verify it's you.
For visitors outside the EU/Schengen it is required to get tested via 'Testen voor Toegang' in order to access events. This includes people who have been fully vaccinated. The test result will be granted with a QR-code.
The cost of the access test is currently paid for by the central government. With this, there is no cost to you as a visitor. The test result is valid for 24 hours. For scheduling an appointment at 'Testen voor Toegang' or more info click here: https://testenvoortoegang.org."
Important for Testen voor Toegang (test for access):
– Unlike the statement on the website you CAN use an international phone number.
– Results are also emailed.
– Enter postal code 1056JJ and you'll see the location plus options to book.
We can't wait to reunite!
Stay in touch:
Sign up to the Family Portal
Check out our Website
Like us on Facebook
Follow us on Instagram
Find us on Soundcloud
Subscribe on Youtube
Sign up for our Newsletter to not miss any events!