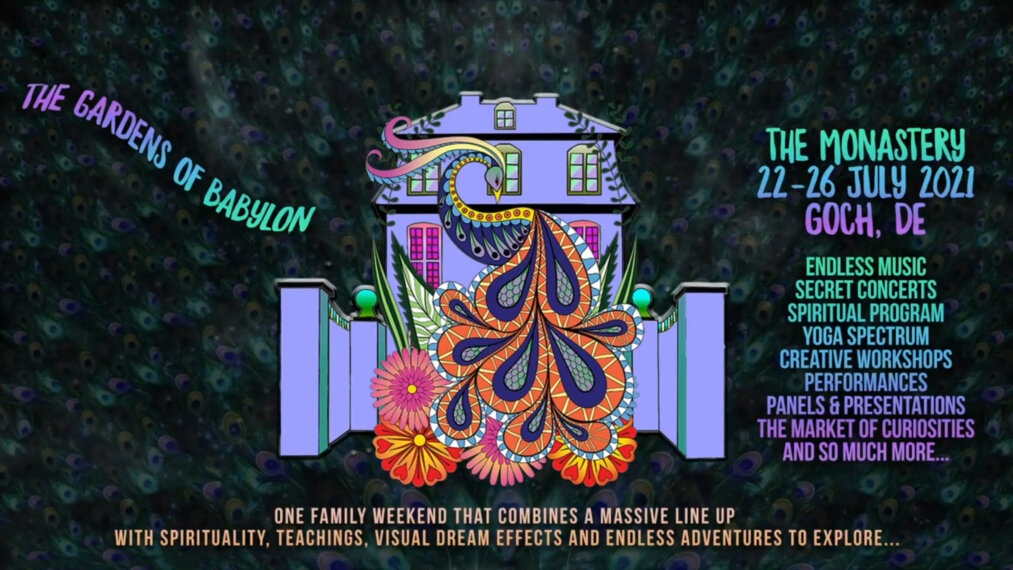 28. July 2022 — 1. August 2022
Goch, DE
The Monastery Festival Experience
Venue: Kloster Graefenthal, Goch
Country: GER
Dearest family…
In light of the current COVID-19 pandemic, we at The Gardens of Babylon promised ourselves to be driven by love instead of fear and we kept hoping for that message of relief, for vaccins and for the reunion at The Monastery 2020. We put the health and safety of our beautiful community above all.
And so it is with great sadness that we have to officially inform you that The Monastery Festival Experience 2020 will be postponed.
We would like to take a moment to thank the core team, the musicians, the spiritual teachers, the freelancers, the builders to be, the performers, the site crew, the chefs, the bar crew, the glitter girls, the volunteers, the food trucks and all the other ones on our team for joining us to initially create this magical weekend with so much love and commitment.
You can hardly believe how many people are involved in a production like this.
And it pains us to see it all go up in smoke.
We would also like to thank you. Thank you for wanting to join our beautiful family reunion.
We will return in 2021 with so much preparation that we can top any expectation whatsoever.
What happens next?
WHAT TO DO WITH YOUR TICKET?
1. Keep it! Be that one of incredible support and value for the future of The Gardens of Babylon. Your ticket remains valid for The Monastery next year. We would like to urge our dear family members to choose this option. Not only will you avoid the stress of buying a ticket, our ticket price will have to go up next year for those that have not yet bought a ticket, but you will be the reason we can continu this event.
2. Get a refund. The procedure how to get a refund plus the timeframe of refunding your ticket is formulated as we speak and will be at your disposal in the next week or two.
You will receive the option to choose either to keep your ticket or to request a refund in the next week or two.
WHAT ELSE CAN YOU DO?
If you feel inspired to support our beautiful family, we have set up a GoFundMe page for extra donations in these hard times… gofundme.com/f/extra-support-the-gardens-of-babylon
We live in a strange time.
A time to be thankful for and yet a resentful time when news like this reaches us.
We welcome all the waves of our emotions and look forward to next year.
Mark your calendar angel:
The Monastery 2021
22-26 July
Goch
All the love and stay safe,
The Gardens of Babylon