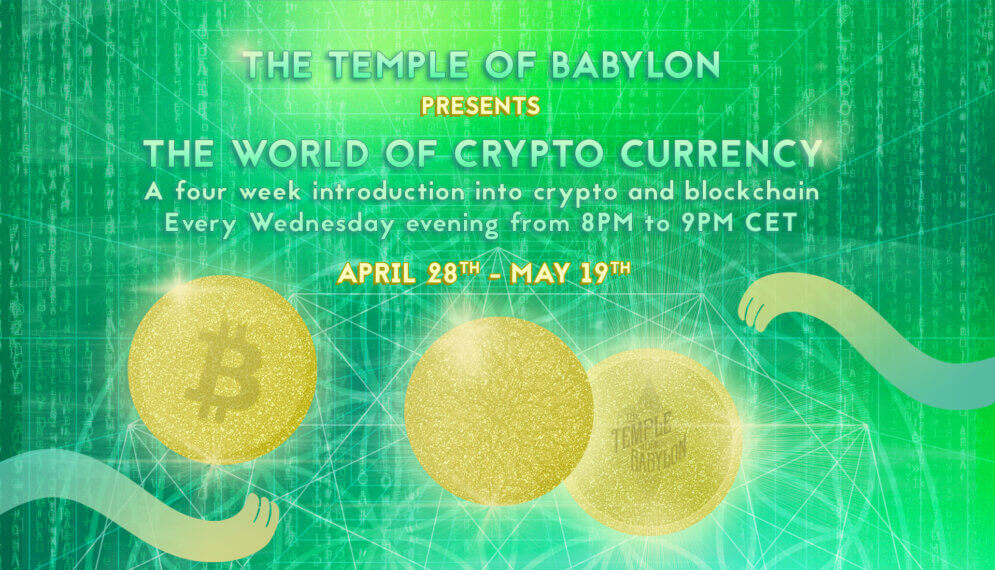 28. April 2021 — 19. May 2021
The World of Crypto Currency
Venue: Online
There's so much going on that we find it hard to keep up sometimes. What actually is the fuss with this Crypto and Blockchain in general? And what are NFT's or EFT's and why do a lot of your favourite musicians suddenly work with them?
After numerous questions popped up and our Ravi at the Babylon HQ started her own Crypto club, we all decided it was time to get an idea of what is going on.
The Temple of Babylon presents:
A Four Week Course on an Introduction to The World of Crypto Currency.
Dates: Every Wednesday 8PM-9PM CET
28th April, 5th May, 12th May, 19th May
LESSON I Wednesday 28th April – ORIGIN STORIES
In this first lesson you will gain an understanding about the foundational building blocks of understanding Bitcoin and cryptocurrencies by learning about money, the systems behind them and the powers that govern and control them. We will compare these OLD SYSTEMS with Bitcoin and other NEW SYSTEMS. You will learn about the origins of Bitcoin, it's creator and the decades of work that preceded Bitcoin but vital to the very existence of Bitcoin.
LESSON II Wednesday 5th May – THE MONEY PROTOCOL
In the second lesson we will zoom in on Bitcoin and Money. We will compare and contrast the architecture and functioning of the systems. You will get an explanation on how the marriage of economics, game theory, computer science & networks and cryptography make Bitcoin function. This lesson will be slightly more technical in nature, but critical to your overall understanding of the entire crypto space.
LESSON III Wednesday 12th May – THE INTERNET OF VALUE
Now that we have covered the basics of both Money and Bitcoin, we will focus in the third lesson on how Bitcoin is an evolution to a new internet, Web 3.0. This new Internet, the Internet of Value, is about far more than Money. Different blockchains, coins and tokens have different use-cases and purposes ranging from identity, voting, real estate to art. We will discover how this general purpose technology can be applied to a breadth of applications and use-cases.
LESSON IV Wednesday 19th May – INVESTING, DeFi, NFT's and SECURITY
In this final lesson, we will go into topics that are important when becoming an active participant in the space. We will learn basic buying/investing techniques and how to protect yourself and your assets. We will also get a short introduction about DeFi (decentralised finance) and NFT's.
A note from the teacher: Colin Meulema:
"I have been teaching about Bitcoin and cryptocurrencies for over 4 years. It has been my personal mission to spread the importance of this invention and the impact it will have on society. My goal is to enlighten and share the magic of the most important innovation since the internet. Teaching is my passion.
As for my background, I have spent the last 15 years of my career in tech companies such as Cisco Systems, EMC and Nvidia in commercial roles where it was my job to translate deep technological solutions to business outcomes. Working in this field brought me the foundational understanding about data science, computer networks and technology that laid the basis for my understanding of Bitcoin and the technology behind it.
The last 3 years I was Sales Director of an AI and computer vision scale-up (Robovision.ai). Since 2017 I have been teaching about Bitcoin with my own company and am doing so now on a full time basis.
Check out my Facebook page  where my reviews will make clear about how my students experience my teachings."
No time to loose! Be crypto savvy and join us on this journey. 
Tickets are online now:
Early Bird: €99,- for four classes
Regular tickets: €149,- for four classes