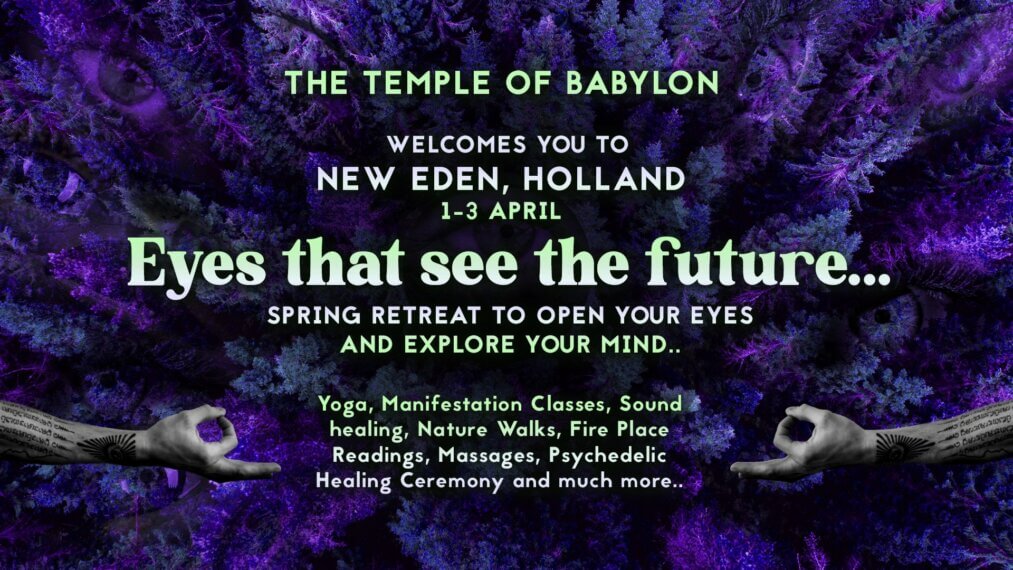 1. April 2022 — 3. April 2022
Eyes that See the Future – The New Eden Reset
We are delighted to welcome you to our first offline retreat in the Netherlands only 90 minutes from Amsterdam. And just by deciding to attend you have set the Universal wheels in motion. Your journey to deepen the connection with yourself and your internal landscape, receiving wholeness and healing has begun…
What to expect:
Focus on resetting your perspective on life and what your Heart and Soul really desired to manifest in 2022 begins on Friday, April 1 at 15:00 and ends Sunday at 16:00.
Tickets:
Tickets start at €650,- and include the psychedelic experience. The link will be online Monday, November 22.
All accommodation is shared in rooms of 2 or 3 persons with en-suite showers & WC in each shared room. Perfect to come to with your buddies.
Ticket link: https://bit.ly/NewEdenReset
Teachers:
We have created a group of teachers that can take you through movement, meditation and sound. All based in Holland. Stay tuned for more information.
This retreat is a wonderful opportunity for you to reset your perspective and set the course to your true north. Find yourself in the beautiful countryside of Holland, surrounded by nature on the private grounds of New Eden. You will be pampered by professional chefs serving 3 sumptuous Vegetarian/Vegan meals per day & surprise snacks and fresh fruit throughout the day.
You will see things in a totally new light, by expanding your vision through a variety of classes as well as a Psilocybin Truffle Ceremony and sound healing. Time to discover the pathway to take to your desired manifestations. An interactive and creative space, where we start our day with Yoga, daily focus meditation and manifesting masterclasses, nature hikes. And end the day cuddled up with your Babylon Family by the campfire. We have crafted a unique program that will leave you relaxed with a fresh perspective, focus and insight as you walk your new heart-led pathway.
How to prepare?
1. Sign up for this retreat by purchasing tickets.
2. Check the packing list on what to bring.
3. Send any diet restrictions once requested by the organisation.
4. Sign up for the rideshare document and join a family member on your travel to the retreat centre.
5. Join the Whatsapp group we have created for this retreat.
Packing list:
The average temperature will be between 6 and 7 degrees (°C) during the day but it can get quite a bit colder at night, frosty in the morning and quite damp.
– Gift yourself a beautiful Journal for your retreat process
– Pen you love writing with
– Yoga Mat
– Yoga clothes
– Meditation cushion
– Comfortable warm soft lose clothes
– Blanket for meditations that can also be used outside
– Warm sweater/poncho
– Raincoat/Wet weather gear
– Trekking shoes/boots
– Water bottle
– Warm slippers
– Eye mask
– Thermo cup
Dietary restrictions
The food served will be strictly vegetarian/vegan, please advise us if you have any food allergies we need to be aware of or if you follow a vegan diet.
All accommodation is shared in rooms of 2 or 3 persons with en-suite showers & WC in each shared room.
If you have any questions for now, please let us know!
We will see you soon.
With love,
Shishi & Villia