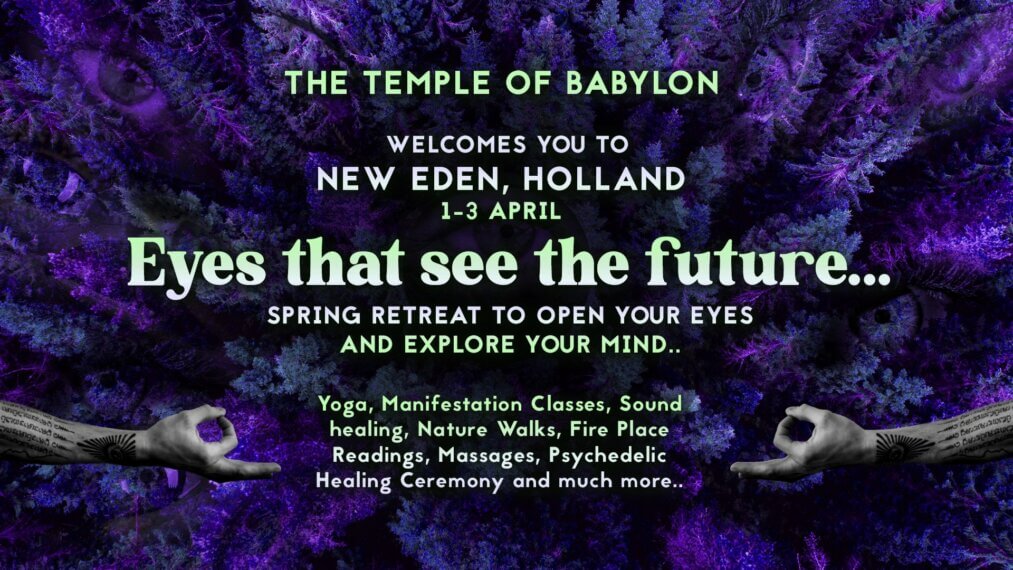 1. April 2022 — 3. April 2022
Eyes that See the Future – The New Eden Reset
After three successful Yoga & Meditation retreats in sunny destinations (Ibiza & Turkey), we organise our first one close to home.
Join us on the Dutch countryside for a Yoga Retreat that includes many different meditation teachings, a Psilocybin truffle ceremony and much more. Three beautiful days for YOU, including nutritious food, great sleeps and much more.
✨ Dates: From Friday, April 1st at 15:00 to Sunday, April 3rd at 16:00.
Location: New Eden Retreat Centre, Sparjeburd 2, 8409 CK Hemrik, The Netherlands. 1,5 hours from Amsterdam.
Cost:
Early bird €650,- SOLD OUT
Regular €750,- all-inclusive
Tickets: https://bit.ly/NewEdenReset
✨ The Program
The retreat program consists of a variety of classes for body, mind and soul. Start the day with yoga & meditation. Let us guide you through manifestation classes and visualise the year ahead. Expand your vision through an entheogenic ceremony and sound healing. Walk-in nature. Cuddle up next to the fireplace and read.. An absolutely beautiful way to start the year.
✨The Teachers
Shishi Meriwani – Manifestaion mediation class and Art of Journaling
Villia de Koningh – Conscious Manifestation class, Ceremony & Creative Integration
Katty Heath – Sound healing
Monique Drent – Yoga
Rudi Somerlove and Brid Ni Fhoighil –
Metamorphogenesis psychedelic ceremony
✨ New Eden
New Eden is a unique residential retreat centre surrounded by 50 acres of calm and quiet land 90 minutes from Amsterdam. More than a venue, New Eden is a healing environment perfectly suited for deep-dive immersive experiences. With beautiful communal rooms and comfortable bedrooms.
NB: All students are accommodated in shared rooms of 2 or 3 persons with en-suite showers & WC in each shared room.
✨ Food
You will be pampered by professional chefs serving 3 sumptuous Vegetarian/Vegan meals per day & surprise snacks and fresh fruit throughout the day.
✨ How to prepare?
1. Sign up for this retreat by purchasing tickets: https://bit.ly/NewEdenReset.
2. Check the packing list on what to bring.
3. Send any diet restrictions once requested by the organisation.
4. Sign up for the rideshare document and join a family member on your travel to the retreat centre.
5. Join the Whatsapp group we have created for this retreat. Find the link below..
✨ Packing list:
The average temperature will be between 6 and 7 degrees (°C) during the day but it can get quite a bit colder at night, frosty in the morning and quite damp.
– Gift yourself a beautiful Journal for your retreat process
– Pen you love writing with
– Yoga Mat
– Yoga clothes
– Meditation cushion
– Comfortable warm soft lose clothes
– Blanket for meditations that can also be used outside
– Warm sweater/poncho
– Raincoat/Wet weather gear
– Trekking shoes/boots
– Water bottle
– Warm slippers
– Eye mask
– Thermo cup
✨Dietary restrictions:
The food served will be strictly vegetarian/vegan, please advise us if you have any food allergies we need to be aware of or if you follow a vegan diet.
✨About the venue:
Explore our magical retreat centre. Home to our future gatherings.
https://www.neweden.org/
All accommodation is shared in rooms of 2 or 3 persons with en-suite showers & WC in each shared room.
✨Whatsapp group:
In this group, we will share the full schedule, information on the teachers and more. Please join here: https://chat.whatsapp.com/KJNzL7qYDRsKFmqef5o36M
If you have any questions for now, please let us know!
We will see you soon.
With love,
The Temple of Babylon